Mass text messaging angers Italian left
The Italian left is crying foul after the office of the prime minister, Silvio Berlusconi, sent 56 million text messages to mobile telephones urging their owners to turn out to vote in today's European and local elections.
The ballot has assumed a much greater importance in Italy than in most other EU nations, and a high turnout traditionally favors parties of the right-wing ruling coalition, including that of Berlusconi, Forza Italia.
But last night some opposition politicians were comforting themselves with speculation about a possible boomerang effect.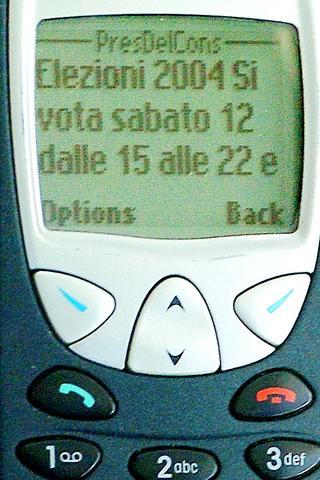 The start of an SMS reading ``Election 2004, you can vote Saturday 12 from 15h00 until 22h00,'' seen on a mobile phone in Italy on Friday.
PHOTO: AP
Many of the messages arrived in the night, activating the alarms of hundreds of thousands of mobiles and waking their owners. More than 90 percent of Italians own a mobile phone.
The left claimed that the mass texting was a breach of Italy's electoral rules and a violation of its privacy laws.
"Clearly, the ownership of three television channels and political control of the RAI (Italy's public broadcasting network) are no longer enough for [Berlusconi]," joked one center-left member of parliament, Roberto Giachetti.
Berlusconi, speaking from the US where he is attending the G8 summit, said: "We noted not all Italians were aware of the hours within which they could exercise their right to vote.
"This initiative was needed to inform the Italian people and make life easier for them."
Italian law authorizes the government to carry out mass texting "in cases of disaster or natural calamities" and "for reasons of public order or public health and hygiene."
Berlusconi's supporters argued that a decree authorizing the move, issued early on Thursday, complied with the law.
Comments will be moderated. Keep comments relevant to the article. Remarks containing abusive and obscene language, personal attacks of any kind or promotion will be removed and the user banned. Final decision will be at the discretion of the Taipei Times.