Foreign workers protest for better rights
LABOR ACTION While many workers say their employers treat them well, others are concerned that Taiwanese law does not protect their human rights
Foreign migrant workers took to the streets of Taipei yesterday to fight for better treatment from the government, their employers and employment agencies.
"The Council of Labor Affairs [CLA] has made many promises regarding our basic rights for many years, but has yet to deliver on its promises," said Ellen Panaligan, a Filipino domestic helper who has been working in Taipei for two years.
About 600 Thai, Vietnamese, Indonesian and Filipino migrants along with representatives from several Christian groups and labor unions gathered at the 228 Peace Park and marched toward Taipei Railway Station.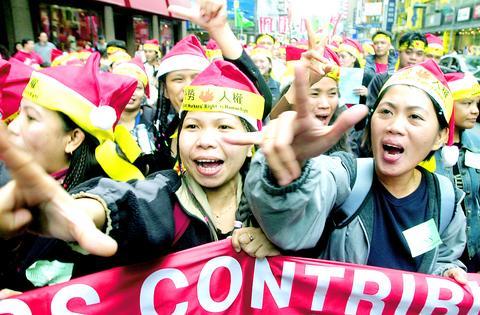 Almost 600 foreign workers stage a demonstration in Taipei yesterday to demand human rights guarantees and protest abuses by employers.
PHOTO: SEAN CHAO, TAIPEI TIMES
"There are four main requests we are petitioning for today," said Reverend Peter O'Neil, director of the Hope Workers' Center in Taoyuan County.
"The first is asking the CLA to re-include foreign workers under the protection of the Labor Standard Law (勞動基準法); the second is to remove the current employment agency system and replace it with a direct employment system to end agency-fee exploitation; the third is to set up a regulation to enforce time off for these workers. Lastly, we are asking for the right to switch employers freely."
The Hope Workers' Center was founded to assist needy foreign migrant workers in Taiwan. It helps more than 70,000 foreign workers a year.
According to O'Neil, in 1998 the CLA included foreign migrant workers in the Labor Standard Law, which aims to protect the basic rights of employees. For instance, the law specifies that the total number of working hours shall not exceed 48 per week, while overtime hours have to be strictly recorded and paid by employers.
"However, after foreign workers had been included in the law, employment agencies and employers started to file complaints about the hassle of keeping track of overtime hours and asked the CLA to exclude foreign workers from the law. As a result, in January 1999, foreign workers were once again deprived of their rights. Right now, there is no law to protect them at all." O'Neil said.
O'Neil also pointed out that many of the migrant workers that call his center for help have been overworked or physically abused by their employers.
"Many migrant workers work 16 to 18 hours a day and can't get overtime pay. Furthermore, many workers are not given any days off each week. Some female domestic helpers are even raped or physically abused by their employers. These workers are not only victims of the Taiwanese legal system but also victims of physical and sexual abuse," O'Neil said.
Panaligan participated in the protest in part to fight for the fair treatment of female domestic workers.
"My employer treats me very well. However, two Indonesian domestic workers in my building have been sexually abused by their employers. One has already asked for help from a counseling center that assists foreign workers, while the other dares not to say a word to the authorities because she is afraid of being repatriated and losing her job," Panaligan said.
O'Neil also pointed out that criminal cases against employers who have abused migrant workers are too time-consuming.
"We have a case where a female domestic worker has been staying in our shelter for over two years. She is almost blind now as a result of being physically abused and raped by her employer. Her employer recently received an eight-year prison sentence but has filed an appeal, which means the case is still open. It is not uncommon that cases against abusive employers drag on for years," O'Neil said.
Comments will be moderated. Keep comments relevant to the article. Remarks containing abusive and obscene language, personal attacks of any kind or promotion will be removed and the user banned. Final decision will be at the discretion of the Taipei Times.