No illusions about planetary threats and aging populations
Dance productions by two southern-Taiwan born choreographers examine major issues facing Taiwan, one through ballet and the other through contemporary dance
Works by two southern-born choreographers are being staged in Taipei this weekend. Although the men could not be more different — Tainan-born Allen Yu (余能盛), who was the first male Taiwanese professional dancer in Europe and the first Taiwanese director of a European ballet company, has spent most of his life working abroad, while the much younger Chang Chung-an (張忠安), a contemporary dance choreographer, has remained in Pingtung County — both have created a string of works inspired by the problems they see in Taiwanese society.
Yu, who has returned from Europe each summer for more than two decades to produce ballet productions in Taipei, and who two years ago was named Tainan Municipal Cultural Center's first artistic director, has been busy this week putting the final touches on Lost Illusion (失落的幻影), which opens at the Metropolitan Hall on Saturday.
Chang's troupe, Resident Island Dance Theatre (滯留島舞蹈劇場), will perform Collapse (鏽塔) at the National Experimental Theater, which the company premiered late last year down south, starting tomorrow night.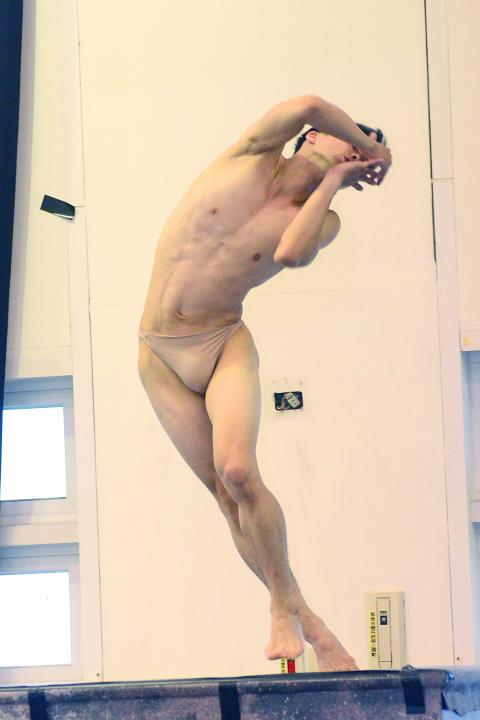 The Formosa Ballet will perform Allen Yu's new work, Lost Illusion, at the Metropolitan Hall in Taipei on Saturday and Sunday, followed by shows next week in Taichung and Hsinchu County's Jhubei City.
Photo courtesy of Sandy Ouyang
Lost Illusion
In an interview on Monday, Yu said he has sort of come full circle with Lost Illusion. He says the piece grew out of one he created 24 years ago in Germany as a 35-minute work, which was performed in Germany and the National Theater.
"The story is the same, about war and man-made disasters, but the music is different," he said, adding "I really wanted to do this piece; it holds a lot of memories of my career."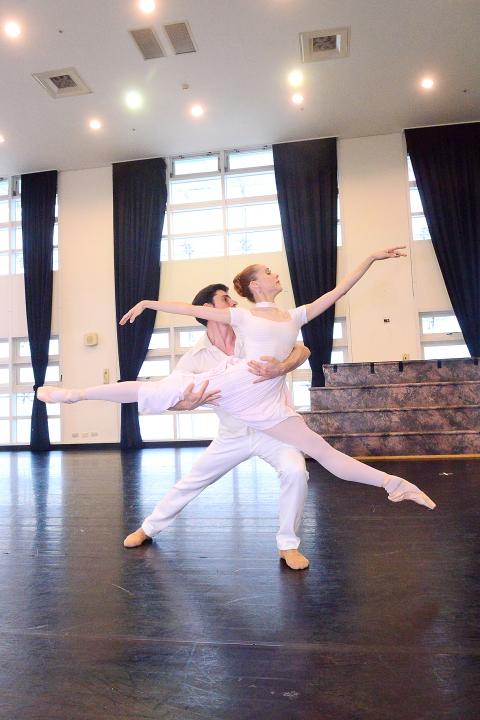 Bogdan Stefan Canila and Christina Dijmaru from the Bucharest National Opera ballet are back in Taipei to dance with Allen Yu's Formosa Ballet in his latest production, Lost Illusion.
Photo courtesy of Sandy Ouyang
Yu said he was originally inspired by a sculpture with missing limbs that he saw in a museum and the decay exposed by the missing parts. He wondered what it looked like when it was first made and how it had come to be damaged.
"I started to imagine the sculpture in antiquity must have been very beautiful, so maybe an earthquake, war or something else had destroyed it," he said.
While a damaged museum relic was the inspiration for his initial version of the work, in the years since, he said he has been shocked by the many examples of ancient sculptures and objects being wantonly destroyed, including the Taliban's dynamiting of the Buddhas of Bamiyan in Afghanistan in 2001 and the Islamic State group destruction of ancient monuments in the Iraqi city of Palmyra.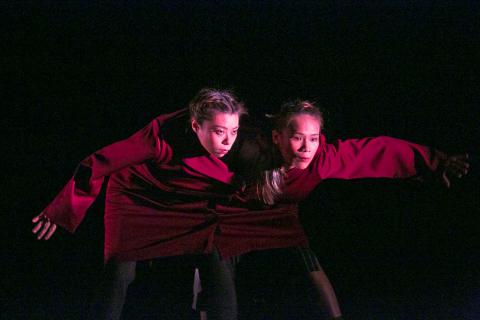 Resident Island Dance Theatre will perform Collapse, about an aging society and migrant caregivers, at the National Experimental Theater in Taipei, starting tomorrow night.
Photo Courtesy of Resident Island Dance Theatre
He also thought about how damaged artworks are repaired.
"We can make statues look like new, but if you look inside you can see the rot," he said.
That pretty much sums up what Yu sees as a major issue today: the way mankind has been destroying the Earth, while pretending on the surface that everything is still alright, that life can still be pretty.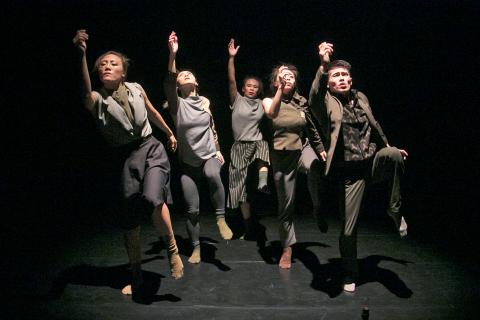 Resident Island Dance Theatre will perform Collapse, about an aging society and migrant caregivers, at the National Experimental Theater in Taipei, starting tomorrow night.
Photo Courtesy of Resident Island Dance Theatre
However, he acknowledges that natural disasters also have a major impact, so while the first act of Lost Illusion covers mankind's degradations, act two covers Mother Nature's ravages.
Yu says the piece is quite modern and he constructed it as 12 pictures: Number 1 is Greece's Golden Age; number 2 is human life; 3, is the prelude to war; 4 is departures and family separations; 5 is war; 6 is after the war. In the second half 7 is about human destiny; 8 is natural disasters; 9 is after the disaster; 10 was inspired by [Edvard Munch's] The Scream; 11 is about confession and begging the gods for mercy and 12 is the return of the golden age, where the gods show their forgiveness.
Yu said he used sculptural props, thematic colors schemes and a variety of music to set the tone for each of his "pictures."
Natural disasters may be inevitable, but the human factors can be avoided and prevented, he said.
"I have set a challenge for the audience," he said, adding that he wants to inspire audience members to think about what they are seeing and how it is reflected in their own lives.
Lost Illusion has also been a major challenge for him — well, more of a musical headache. He decided not to use the same music from the 1994 version and spent two years selecting eight works, which range from his favorite composer, Peter Tchaikovsky, as well as Ludwig von Beethoven, Gustav Mahler and Johann Sebastian Bach.
One of the great joys of seeing one of Yu's ballets in Taipei is his insistence on orchestral accompaniment, not canned music, and he turned to the Evergreen Symphony Orchestra (長榮交響樂團), which he has worked with several times.
However, using the orchestra did create another headache. Since he wanted to use just portions of the various symphonies, he ran into copyright restrictions.
Yu says he originally wanted to use Dmriti Shostakovich's Symphony No. 7 in C major, Op. 60, also known as Leningrad, because it was ideal for the war segment, but we couldn't get permission to use it, so he chose Gustav Holt's The Planets instead. He also had to drop Carmina Burana for the same reason.
Gernot Schmalfuss, who has been music director and chief conductor of the orchestra since January 2007, will conduct at all four shows.
Yu hired 28 dancers, including two Romanian soloists for the leads, husband and wife Bogdan Stefan Canila and Christina Dijmaru from the Bucharest National Opera ballet.
The couple danced for him in 2012's Romance — The Music and The Destiny of Tchaikovsky (羅曼史 — 柴可夫斯基的音樂與人生) and again the following year in Swan Lake, while Dijmaru was also in 2014's The First Day (第一天).
"She's improved so much in modern [ballet], I am very happy in rehearsals with them," he said.
He said he was also happy with the development he has seen with his Taiwanese dancers, several of whom have also worked with him before.
Following this weekend's two shows in Taipei, the Formosa Ballet will take Lost Illusion on the road, with one show in Taichung on Wednesday and one in Hsinchu County's, Jhubei City on Saturday and then two at the Tainan Cultural Center on Aug. 25 and Aug. 26.
Collapse
Across the city, Resident Island Dance Theatre has taken up residence at the National Experimental Theater, where it will give the first of three performances of Collapse tomorrow night.
Collapse looks at Taiwan's rapidly aging population and the growing dependence on migrant caregivers from Southeast Asian nations to take care of elderly family members as well as the growth of an M-shaped society and the expanding gap between rich and poor.
It also raises questions about consistency and truth, and how the doubts of others can cloud a person's judgement.
It is set on five dancers, with costumes by Huang Chih-yang (黃稚揚) and lighting by Chiu Yu-wen (邱郁雯).
Chang's works for his troupe have largely focused on crucial issues in today's society, including mental health, economic disparities and disability issues.
Chang said he wants to do more to develop the issue of art and disabilities, something he feels very strongly about since illness robbed him of sight in his right eye at age 18 and put an end to his dream of being a professional dancer, although not his desire to be involved in dance.
Taichung residents will have a chance to see the company later this month, when it performs Chang's dynamic 2015 production, Lost in Grey, on Aug. 26 at the Taichung Tun District Art Center (台中市立屯區藝文中心), 201 Dasing Rd (台中市太平區大興路201號).
The show asks the question: Can one person bombarded by the pressures of modern life destabilize an entire society?
Chang and crew head to Europe at the end of this month, first to attend the international Tanzmesse in Dusseldoft, Germany, a major exhibition-performance-networking gathering for contemporary dance troupes, and then to London for Unlimited Symposium and festival, which focuses on disability-led arts in the 21st century.
This story has been updated since it was first published to include the two performances in Tainan.
Performance notes:
WHAT: Lost Illusion
WHEN: Saturday at 7:30pm and Sunday at 2:30pm
WHERE: Metropolitan Hall (城市舞台), 25 Bade Rd, Sec 3, Taipei (台北市八德路三段25號).
ADMISSION: NT$400 and NT$2,000; available at NTCH box offices, online at www.artsticket.com.tw and convenience store ticketing kiosks.
ADDITIONAL PERFORMANCES: Wednesday (8/15) at 7:30pm at Taichung Chungshan Hall (台中中山堂), 98 Hsuehshi Rd, Taichung City (台中市學士路98號); Aug. 18 at 7:30pm at the Performance Hall of the Hsinchu County Cultural Affairs Bureau (新竹縣文化局演藝廳), 146 Siancheng 9th Rd, Jhubei City, Hsinchu County (新竹縣竹北市縣政九路146號) and Aug. 25 at 7:30pm and Aug. 26 at 3pm at the Tainan Cultural Center (臺南文化中心演藝廳), 332, Chunghua East Rd Sec 3, Tainan (臺南市中華東路3段332號). Tickets for the Taichung show range from NT$400 to NT$1,200, those for the Hsinchu show are NT$400 and NT$800, and those for Tainan are NT$400 to NT$2,000; available online at www.artsticket.com.tw, convenience store ticketing kiosks and at the door.
WHAT: Collapse
WHEN: Tomorrow and Saturday at 7:30pm, Sunday at 2:30pm
WHERE: National Experimental Theater (國家實驗劇場), 21-1 Zhongshan S Rd, Taipei City (台北市中山南路21-1號)
ADMISSION: Tickets are NT$500, available at NTCH box offices, online at www.artsticket.com and convenience store ticket kiosks
Comments will be moderated. Keep comments relevant to the article. Remarks containing abusive and obscene language, personal attacks of any kind or promotion will be removed and the user banned. Final decision will be at the discretion of the Taipei Times.