Restaurant review: Mount Kao Sandwich Shop (漫高三明治)
Evans Burger, Awesome Burger, Burger Ray — Taipei's foodie scene has been spawning burger joints lately for whatever reason. Passing fad or not – Burger Fix recently closed after being in business for slightly over a year — time will soon tell, but one joint that has flown under the radar is Mount Kao Sandwich Shop (漫高三明治).
Opened a year and a half ago, the tiny glass-walled corner shop lies hidden in a narrow lane by the Technology Building MRT. Don't be fooled by the whiff of Japanese pancakes coming from the vendor next door. Mount Kao serves burgers and sandwiches — lots of it. Inside is industrial and minimalistic — a wooden bar top displaying locally brewed craft beer, compact tables and chairs arranged for intimate seating and floor-to-ceiling blackboards showing off their hand-written menu.
The burgers and sandwiches are indeed as tall as mountains, as Mount Kao's Chinese name suggests (gao, 高, or kao as it is spelled in the Wade Giles Romanization system, means "tall").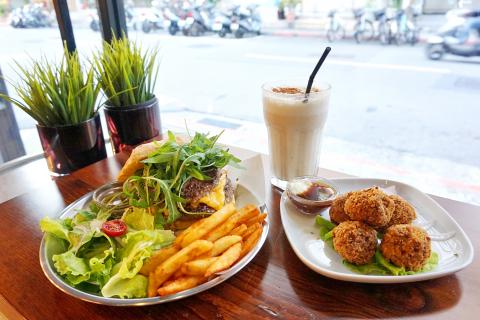 Sizeable portions at Mount Kao.
Photo: Dana Ter, Taipei Times
I go for the mounted cheeseburger ciabatta (NT$240) and decide to make it a double, which means extra cheese, bacon and a double layer of egg and meat for an added NT$90. The two slabs of 4oz meat are tender and chewy. I wasn't sure what to think of the cooked egg white occupying the center of the meat (the meat is sliced like the shape of the bagel with a hole in the center), but the egg worked amazingly well, lending gooey texture and moistening the palate.
The bacon added extra crunch and saltiness, though the cheese could have been a little runnier. The arugula in the burger was a surprisingly nice touch – much fancier and more multi-dimensional flavor and texture-wise than basic lettuce. Its natural pepperiness complements the other ingredients.
Normally, I detest side salads in burger joints — my theory is that they're just slapped on to make customers feel less guilty of ingesting so much red meat — but Mount Kao's isn't bad. For one, it doesn't come with overly sweet dressing, but with a tasteful dollop of vinaigrette instead, separate from the salad. The burger also comes with a side — either fries, wedges or sweet potatoes. I choose the fries, thinking that sweet potatoes with burger might be an odd combination. It's a good choice as the fries are warm and crispy. All of this I wash down with a banana milkshake topped with cinnamon (NT$110), which is rich, creamy and divine.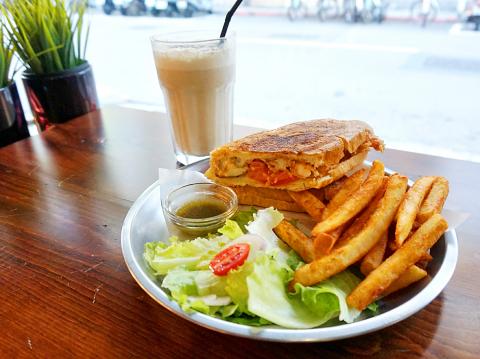 The ingredients in Mount Kao's mushroom shrimp grilled sandwich are warm, crisp, succulent.
Photo: Dana Ter, Taipei Times
My friend wishes to order the tarragon chicken salad sub (NT$195) but they're out of tarragon chicken that day. Dismayed, he settles for the mushroom shrimp grilled sandwich (NT$245), which did not disappoint. The bread is warm and crisp, the mushrooms succulent and juicy, the shrimp chewy while the tomato adds some juiciness. I found the bacon bits to be a nice surprise — salty, crunchy — though I probably would have appreciated it better had I not already eaten so much from my own burger. Thick and creamy, the garlic mayo sauce brings the other elements in the sandwich together.
Because there just isn't enough meat to go around, we also order a side of fried meatballs (NT$150). The granules of meat on the outer layer are discernably crunchy. Inside is warm and chewy while the barbecue sauce makes for a hearty dip.
Mount Kao certainly lives up to its name. While I certainly relished their monster-sized burgers and sandwiches — every last morsel of it — that was a lot of meat and I might have to stay away from burgers for a while.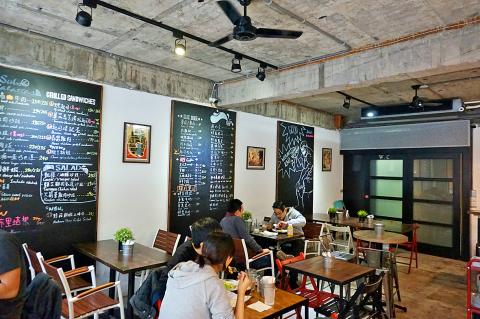 Mount Kao, one of the city's many burger joints.
Photo: Dana Ter, Taipei Times
Publication Notes
Mount Kao Sandwich Shop
(漫高三明治)
Address: 35, Ln 175, Heping E Rd Sec 2, Taipei City (台北市和平東路二段175巷35號)
Telephone: (02) 2755-3863
Open: Tuesdays to Fridays from 11am to 10pm, Saturdays and Sundays from 10am to 10pm
Average meal: NT$250 to NT$500
Details: Menu in English and Chinese, cash only
On the net: www.facebook.com/mountkao
sandwichshop
Comments will be moderated. Keep comments relevant to the article. Remarks containing abusive and obscene language, personal attacks of any kind or promotion will be removed and the user banned. Final decision will be at the discretion of the Taipei Times.