Demographic shift spells language decline
The Hakka language remains a daily form of communication for the elderly, but only 22.8 percent of Hakka between 19 and 29 speak it
Hsu Wan-ling (徐婉綾), 23, sits at the front desk of a veterinary clinic in Miaoli County, keeping a watchful eye on several dogs. An elderly woman walks in with her small dog on a leash.
"Fon ngiang," Hsu says. "Ngi ho mo?"
Hsu works at her father's clinic, and when elderly customers come in, she greets them in Hakka.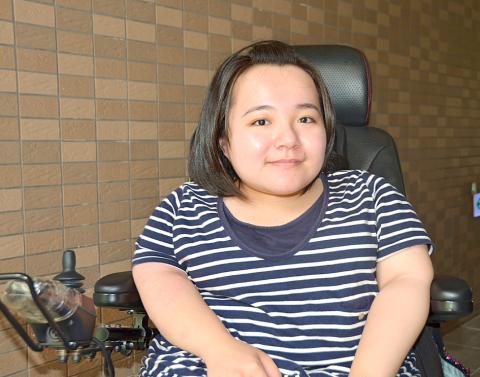 Huang Ying-chia watches Hakka TV every day to practice the language.
Photo:Rosalie Chan
Like 62.2 percent of Miaoli residents, Hsu identifies herself as Hakka. And like 62.6 percent of Hakka people in Miaoli, Hsu also knows how to speak the language. However, speaking to elderly customers at work is the only time she will regularly use the language.
The use of the Hakka language is declining among Hakka youth, even in areas of Taiwan with a higher concentration of Hakka speakers, with only 22.8 percent of those aged 19 to 29 speaking the language. That number plummets for those below age 18.
Chang Jen-yang (張潤洋), 19, comes from Hsinpu Township (新埔), an area with a high concentration of Hakka people. He speaks Hakka with his parents and sometimes with his friends, but he does not plan to continue learning the language.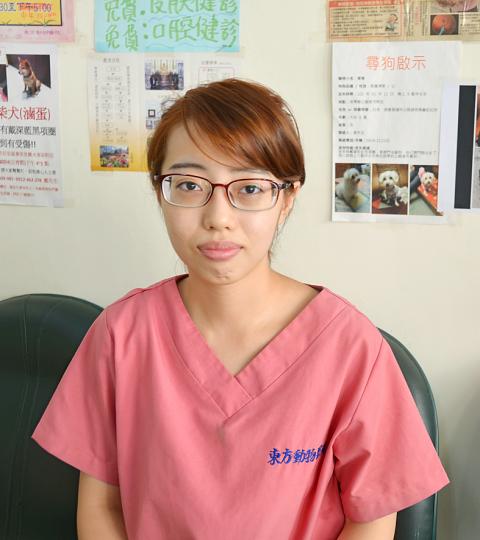 Hsu Wan-ling usually only speaks Hakka with the elderly customers who visit her father's veterinary clinic.
Photo: Rosalie Chan
"I don't usually use [Hakka]. For me, self-study is enough," Chang said.
According to Liang Cheng-liang (梁正亮), deputy director-general of the Taoyuan Department of Hakka Affairs, a major goal of the department is to promote Hakka culture and language to youth. With almost 800,000 Hakka people, Taoyuan City has the highest Hakka population of all Taiwan's administrative divisions.
A 2014 survey by the Hakka Affairs Council estimates that there were 4.2 million Hakka people in Taiwan, or 18 percent of the population.
LANGUAGE LEARNING
The Taoyuan Hakka Culture Hall tries to attract the younger generation by hosting events such as Hakka language, video, song and dance contests, and offers financial incentives to youth who want to take the Hakka language test. However, at the cultural hall's events, most visitors are elderly, Liang said.
"Hakka youth aren't really interested in Hakka culture," Liang said. "Finding [them] is difficult because they don't want to come to these events. Without language there is no culture. Without culture there is no ethnic group."
However, for a few young people from Hakka areas, their background and observation of the Hakka language's decline has inspired them to further explore their culture.
Huang Ying-chia (黃映嘉), 22, was raised by her relatives, who spoke to her in Hakka. The Guanyin Township (觀音鄉) native says she was more fluent in elementary school, but after starting middle school, her speaking skills declined. To refresh her language skills, she regularly watches Hakka TV.
"When I got to middle school, I started forgetting [the Hakka language] and felt that I was lacking a sense of belonging. After I started watching Hakka TV, I recovered that sense of belonging," Huang said. "It would be a pity if I could no longer speak my mother language,"
Her family follows traditions such as venerating ancestors at ancestral temples and cooking Hakka cuisine like glutinous rice dumplings, or tangyuan (湯圓), and hongban (紅粄), red sticky rice pressed into festive molds. But Huang worries these traditions will one day disappear.
"When it comes to my generation and my mom's generation, we have no idea how to make [them]," she said.
It is somewhat of a crisis, she adds.
"Who will pass on their skills? I feel a sense of emptiness when I think that [the knowledge needed to produce] what I like to eat might soon disappear."
KEEPING HAKKA CULTURE ALIVE
Although the number of Hakka language users is on the decline, some are delving into their culture through higher education.
Hsieh Ming-heng (謝名恒), 25, grew up in Hsinchu, a Hakka-speaking area, and became interested in learning about his background when he took ethnic studies courses in college.
Hsieh was also inspired by his mother, who encouraged him to speak Hakka, and she was supportive when he decided to pursue a Hakka studies graduate degree at National Central University, the first school in Taiwan with a Hakka studies program.
According to Chang Han-bi (張翰璧), a professor in the university's Graduate Institute of Hakka Social and Cultural Studies, the undergraduate and graduate programs combined have about 50 students.
Chang, who teaches sociology, said many of her students are Hakka or come from Hakka areas, but hopes that Hakka culture can reach beyond that demographic.
"We don't want Hakka research to be done only for Hakka people," Chang said.
Hsieh agrees.
"A culture's development, change and growth needs new blood," he said. He added that students should study the language for learning and communication, not only for the sake of its preservation.
But it is not all bad news. According to a Hakka Affairs Council survey, from 2011 to 2014, there was a 6.6 percent increase in people who voluntarily identify as Hakka.
"If you don't have the a sense of identity," Liang said, "you won't think it's important."
Comments will be moderated. Keep comments relevant to the article. Remarks containing abusive and obscene language, personal attacks of any kind or promotion will be removed and the user banned. Final decision will be at the discretion of the Taipei Times.