Cloud Gate 2 prepares to take center stage
The smaller of the two companies in the Cloud Gate family will have the honor of performing the first show at Cloud Gate Theater, the troupe's new 450-seat complex in Tamsui
Next Friday is a big day for the Cloud Gate Dance Theatre (雲門舞集) family as they throw open the doors of their new home, the Cloud Gate Theater in Tamsui, New Taipei City, to the public.
It also marks the start of a much bigger role for the dancers of the 16-year-old Cloud Gate 2 (雲門 2), which is often seen as the "junior troupe" instead of the polished, seasoned company and platform for works by rising Taiwanese choreographers that it is.
It is Cloud Gate 2 that has the honor of the inaugural performances at the new complex, which houses the two dance companies and the Cloud Gate Culture and Arts Foundation, and includes a 450-seat theater, a 1,500 person outdoor theater and two studios.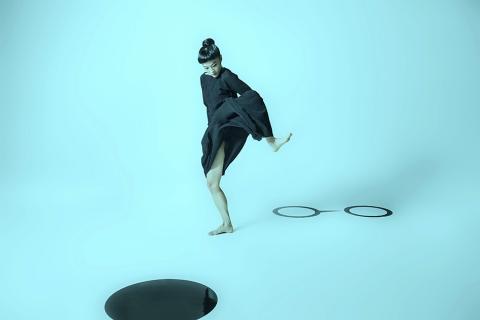 Cloud Gate 2 will perform artistic director Cheng Tsung-lung's Beckoning as part of its Spring Riot 2015 tour, which opens on Friday next week at the new Cloud Gate Theater in Tamsui, New Taipei City.
Photo courtesy of Lee Chia-yeh
Cloud Gate 2 starts a 14-show run of their annual Spring Riot production at the indoor theater, before taking the show on the road to Taichung and Kaohsiung.
This year's Spring Riot features three works: Beckoning (來) by the troupe's artistic director, Cheng Tsung-lung (鄭宗龍); Hell Groove (衝撞天堂) by Chen Yun-ju's (陳韻如) and Horde (暫時而已) by Huang Huai-te (黃懷德).
The 39-year-old Cheng has a strong track record of critically acclaimed dances for the company, such as The Wall (牆). On the Road (在路上), which Cheng directed solo, won the 2012 Taishin Arts Award for Performing Arts and Best Group at Premio Roma Danza's First International Choreographic Competition in July 2011. The other two choreographers are no fledglings, although this is the first time they have choreographed for company.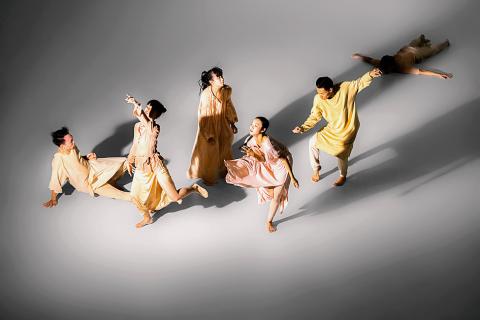 Cloud Gate 2 will perform Horde, choreographed by dancer and choreographer Huang Huai-te, as part of its Spring Riot 2015 tour, which opens next Friday at the new Cloud Gate Theater in Tamsui, New Taipei City.
Photo courtesy of Lee Chia-yeh
The presence of Chen on the program ends a long drought of new works by female choreographers for the troupe.
Like Cheng, an alumni of Taipei National University of the Arts (TNUA, 國立臺北藝術大學), the 31-year-old Chen has spent most of her career in Germany, where she danced with the Anhaltisches Theater Dessau. She has stayed in touch with the Taipei dance scene with regular trips home to perform both her own choreography and others' works. Her solo pieces for Meimage Dance's (玫舞擊) new choreographer project, Playback in 2012 and Breathing (呼吸) in 2013, showed both her incredible versatility as a dance and a fine grasp of choreographic necessities.
Since 2009 she has also worked with Torsten Blume, artistic director of the Bauhaus Dessau Foundation, on Play Bauhaus's dance installations, including Hallway and Apparatus. It will be interesting to see how she handles working with a larger group in Hell Groove.
Huang is a graduate of National Taiwan University of Arts (國立臺灣藝術大學) and has choreographed with Horse (驫舞劇場) and for the Kaohsiung City Ballet (高雄城市芭蕾舞團) as well as on his own, with I Had a Chair at Dance Round Table/New Asian Inspiration (圓桌舞蹈計畫/亞裔新思維) in 2013. This is his first time working with a larger number of dancers.
There will be Q&A sessions with the choreographers after each of the shows in Tamsui and after the shows on May 16 in Taichung and May 22 in Kaohsiung.
Tickets for the Tamsui shows have been selling well and there are seats left for just three shows, on May 2, May 7 and May 8.
Cloud Gate has organized free shuttle buses to take ticketholders from the Tamsui MRT Station to a parking lot near the theater, leaving about an hour before each performance. For example, for a 2pm show, the bus departure times are between 12: 50pm and 1:10pm, while for an 8pm show, the shuttles will depart between 6:50pm and 7:10pm.
However, to catch one of the shuttles, you must register online on Cloud Gate's Web site and the reservation form is only in Chinese (docs.google.com/forms/d/1IwWrbyzgXMdFyfxzGuklTVUrbDdw2uq1c631oVYjlX0/viewform?edit_requested=true).
Next week not only marks the start of the Spring Riot tour, but a much busier year for Cloud Gate 2, both at home and abroad. In the past, the troupe was confined to just one set of shows a year in Taipei, not including their outreach programs at hospital and schools, but with the Tamsui complex, it has a venue to give more performances at home. The troupe is already scheduled shows for September 12 and 13 in Tamsui, before starting a tour of Taiwan that will run from September 14 to October 11 and then a four-city tour of China.
Performance Notes
WHAT: Cloud Gate 2 Spring Riot 2015
WHEN: April 24 to May 10; the only tickets left are for May 2 at 2pm, May 7 and May 8 at 8pm
WHERE: Cloud Gate Theater (淡水雲門劇場), 36, Ln 6, Zhongzheng Rd Sec 1, New Taipei City (新北市中正路一段6巷36號)
ADMISSION: NT$1,000 and 1,500; available at NTCH box offices, online at www.artsticket.com.tw or www.service@cloudgate.org.tw and at convenience store kiosks nationwide. For more information, call (02) 2692-8711.
ADDITIONAL PERFORMANCES: May 15 and 16 at 7:30pm at Taichung Chungshan Hall (台中中山堂), 98 Syueshih Rd, Taichung (台中市學士路98號); May 22 and May 23 at 7:30pm, May 24 at 2:30pm at the Dadong Cultural Center (大東文化藝術中心), 161 Guangyuan Rd, Kaohsiung (高雄市光遠路161號); Ticket prices are NT$300 to 1,500; available online at www.artsticket.com.tw or www.service@cloudgate.org.tw and at convenience store kiosks nationwide.nience store kiosks nationwide.
This story has been corrected since first published. Cheng Tsung-lung is the company's artistic director, not associate artistic director.
Comments will be moderated. Keep comments relevant to the article. Remarks containing abusive and obscene language, personal attacks of any kind or promotion will be removed and the user banned. Final decision will be at the discretion of the Taipei Times.