Dracula's true legacy
Since Twilight hit the box office in 2008, primetime television has been overrun by images of sex-crazed, blood-sucking teenage vampires.
The latest exhibition at Taipei's National Museum of History (國立歷史博物館), Dracula: History and Art of Vampires (德古拉傳奇:吸血鬼歷史與藝術特展) is refreshing in the sense that it strays from these types of over-saturated pop culture displays catering to emo tweens and their wannabes.
As with most art exhibitions, the focus is on creating ambiance. Displays are simply accompanied by matter-of-fact descriptions in Chinese and English listing names, dates and countries of origin, leaving viewers to believe whatever they wish to believe.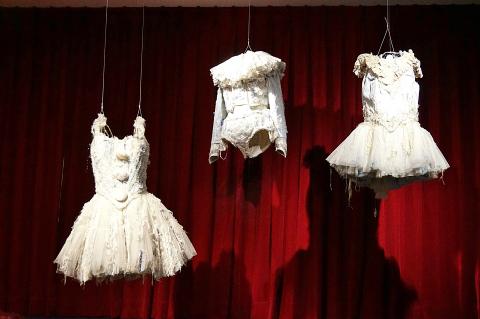 White dresses evoke innocence and flirtatiousness.
Photo: Dana Ter
Through showcasing literary texts to high fashion, the exhibition explores the historical influences which spawned modern day renditions of Dracula. Open to the public until Oct. 5 with tickets priced at NT$280, the exhibition does not just poke at people's fantasies, but it is educational in the way it links various historical artifacts to contemporary pop culture.
COUNT AND COUNTESS
A series of old portraits, armors, maps and booklets in a dimly-lit room sets the mood for the rest of the exhibition which escalates in intensity. The feature piece is a 16th century oil painting of Vlad Dracula (1431-1476) who ruled Wallachia, or a region of present-day Romania. His patronymic and his cruel method of impaling enemies inspired Bram Stoker's 1897 novel Dracula.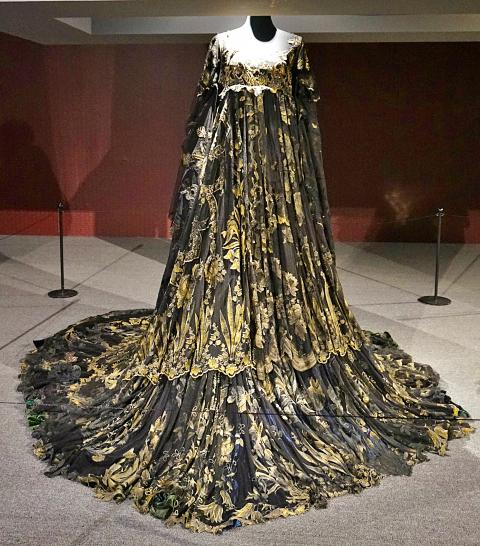 Black and gold flowing dress on a headless mannequin.
Photo: Dana Ter
Also on display are 16th century maps of Transylvania etched on copper, Turkish shields and Moorish masks worn at masquerade balls — all of which feed into preconceived notions of associating vampires with mystery and romanticism. On the other hand, historical documents including frayed booklets and handwritten dissertations from the 17th and 18th centuries on vampirism blur the lines between fact and folklore.
The exhibition places equal emphasis on highlighting the influence of Countess Elizabeth Bathory of Hungary (1560-1614), Vlad Dracula's female counterpart. She is believed to have slaughtered countless numbers of young girls to bathe in their blood in order to retain her youth.
The myth surrounding the "Blood Countess" has inspired generations of fashion designers, and the exhibition certainly has no shortage of gothic dresses and winged costumes donated from European operas. The dresses range from matronly to seductive and somewhere in between.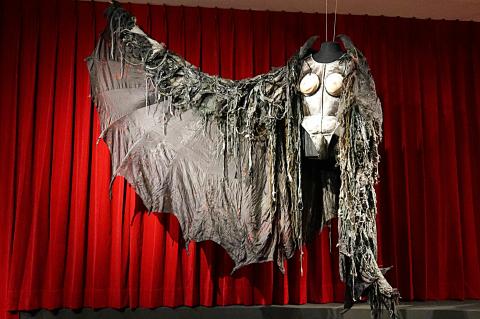 Black winged opera costume connotes prowess and danger.
Photo: Dana Ter
Female vampires are too often merely depicted in folklore as secondary in nature to Dracula, but the exhibition portrays them instead as active agents of their own, using their prowess (and impeccable fashion sense) to compete with male counterparts.
POP CULTURE MANIFESTATIONS
The original manuscript for Bram Stoker's Dracula divides the historical and contemporary displays. Two of the feature displays in the contemporary section are Francis Ford Coppola's original screenplay for the 1992 movie Bram Stoker's Dracula and the red armor from the film designed by Ishioka Eiko.
Also noteworthy are photographs of Dracula-inspired men's haute couture from capes and dark colors to lots of eye shadow. Dolce and Gabbana, Prada, Gucci and Alexander McQueen are among the big names.
Dracula's legacy is not just confined to the Western world, though. The exhibition emphasizes Dracula's influence in Japanese animanga as well, mostly through posters from the Blood Lad series created by Kodama Yuki and Don Dracula created by Tezuka Osamu.
Dracula: History and Art of Vampires manages to conjure up an alternate world without being too fantastical. Catering to history buffs and fashionistas alike, the displays are evocative of many "forbidden" human desires — including longing for immortality, the desire to love and be loved, and the ability to morph from good to bad come nightfall.
Publication Notes
Exhibition notes
What: Dracula: History and Art of Vampires (德古拉傳奇:吸血鬼歷史與藝術特展)
Where: National Museum of History (國立歷史博物館), 49 Nanhai Rd, Taipei City (台北市南海路49號), tel: (02) 2361-0270
When: Until Oct. 5. Open Tuesdays to Sundays from 10am to 6pm
Admission: NT$280
On the Net: www.nmh.gov.tw
Comments will be moderated. Keep comments relevant to the article. Remarks containing abusive and obscene language, personal attacks of any kind or promotion will be removed and the user banned. Final decision will be at the discretion of the Taipei Times.