Live Wire: How would the cross-strait service trade agreement impact live music?
Music venues are one sector that would be opened to Chinese investment by passage of the trade pact, and with concerts, parties and events at a virtual standstill for the past three weeks as both promoters and the youth that form their main audiences were camped out around the Legislature, this came up for discussion and scrutiny. There are serious concerns that Chinese ownership — even part ownership — of music venues would result in censorship in Taiwan.
For Taiwan's pop musicians, Chinese censorship is already a reality. China regularly punishes Taiwan's top pop stars with performance bans, radio bans, online attacks meant to destroy an artist's fan base and other means of control. The crimes that trigger these bans range from singing Taiwan's national anthem in public (as A-Mei (阿妹) famously did more than a decade ago — much to the chagrin of Chinese authorities) to Facebook posts that even vaguely displease China's government.
Speaking on a stage outside the Legislature on March 25, singer Ying Wei-min (應蔚民) addressed this issue head on, saying, "If the commercial situation is affected by political factors, how is it that independent music will not also be affected? It most definitely will be, and even more seriously. "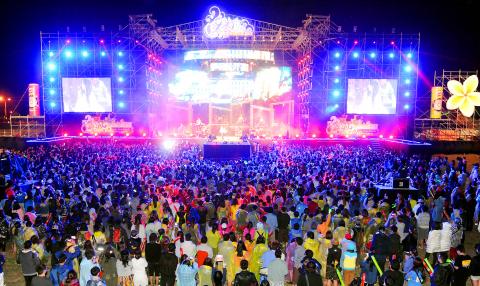 Tens of thousands of revelers descended on Kenting last weekend for Spring Scream.
Photo: TT and courtesy of Ying wei-min
Ying became famous after playing a major role in the hit film Cape No. 7 (海角七號), and has been performing for nearly two decades as leader of an indie band called The Clippers (夾子電動樂隊). He spends one or two weeks each year performing in China, and has seen Chinese musician friends subjected to police surveillance or banned from public performance for criticizing the government.
Ying once posted one of his own performances on China's biggest streaming video Web site, Tudou, but "within 10 minutes it was taken down, because the content did not accord with the norms of a caring society," he said.
The cross-strait service trade pact, among its three provisions for opening up the entertainment industry, would allow Chinese investors to buy up to 49 percent of music performance venues or theaters for live performances. Though Chinese could not own a controlling interest in these venues, Ying argues that this level of ownership would have dire political consequences, as Chinese shareholders would be able to influence content.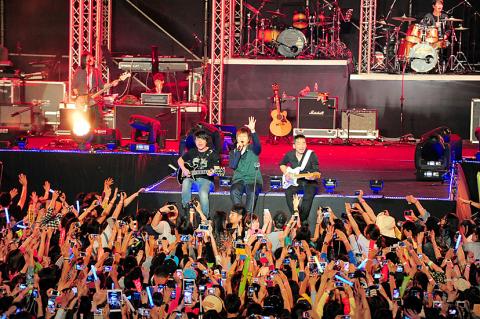 Tens of thousands of revelers descended on Kenting last weekend for Spring Scream.
Photo: TT and courtesy of Ying wei-min
Hypothetically speaking, if a Taiwanese singer supported Tibetan freedoms, the Dalai Lama, Taiwanese independence or was critical of China — and a huge number of indie musicians in Taiwan do — Chinese investors could tell their Taiwanese counterparts that allowing such artists to perform would have adverse effects on business. If the Taiwanese live house is connected to other music venues in China, this threat has real teeth, especially if the venues in China earned most of this hypothetical group's income. The effect would be censorship of free speech in Taiwan's theater and music circles.
Given that Taiwan's pop music industry has completely caved in to the Chinese Communist Party, the scenario is not very far-fetched. Adding to Taiwan's vulnerability would be its small market size. There are really only two live houses of commercial significance in all of Taiwan, The Wall and Legacy. Control of one major venue, would have far reaching effects.
"We can see Mayday and some Taiwanese singers have been banned in China for supporting the protests against the services trade agreement," said Ying. "So to this I must say, as an artist or singer or performer in Taiwan's music circles, this result tells us something very simple. It tells us that there can be no free trade without political repercussions. So in any cooperation with China, we absolutely must remember this."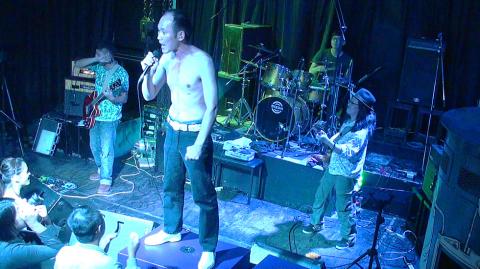 Tens of thousands of revelers descended on Kenting last weekend for Spring Scream.
Photo: TT and courtesy of Ying wei-min
CONGRATS TO SPRING SCREAM
I would say that this audience not only remembered the threat from across the Taiwan Strait, they were fairly preoccupied with it. So were the media, and the rest of Taiwan. It was easy to forget that last weekend was also the 20th incarnation of Spring Scream, which only made a few mentions in the news — the journos seemed more preoccupied with such important issues as what brand of socks the student leaders at the legislature were wearing. Nevertheless, congratulations are in order to Spring Scream and its organizers Jimi Moe and Wade Davis for making it this long, and also helping to kickstart a musical and social transformation of Taiwan. Without events encouraging self-expression, as Spring Scream has done over the past 20 years, it would be difficult to imagine the Sunflower Movement happening in Taiwan today.
Even so, Spring Scream founder Jimi Moe told the Apple Daily that he felt "tired." The tabloid quoted him as saying, "After 20 years, maybe we should think about whether it's time to stop." Later in the interview he however said, "We will definitely keep going."
As for the numbers, the town of Kenting received around 200,000 individual visits last weekend over the holiday weekend, with as many as 100,000 individual visits on a single day. The crowds were attracted by at least six separate concerts and musical events, including Spring Scream, Spring Wave, Free the Beach and others. Visitors spent more than NT$ 200 million in the area, according to media reports.
Comments will be moderated. Keep comments relevant to the article. Remarks containing abusive and obscene language, personal attacks of any kind or promotion will be removed and the user banned. Final decision will be at the discretion of the Taipei Times.