Restaurant review: Vege Creek 蔬河
Let's face it, vegetarianism is trendy and even the manliest of men are turning, if only just occasionally, to nutrient-rich and plant-based meals. Whether you are a vegan, vegetarian or simply someone looking for a low-fat meal, Vege Creek is an ideal option.
Vege Creek is the right blend of East meets West, and you get this impression as soon as you walk in the door. Its ultra-modern design concept strips the space down to the bare essentials. Exposed concrete walls and ceiling lends the tiny interior an industrial vibe, and is tempered by long sheets of honey wood, adding a touch of warmth. A small island in the middle of the room is constructed from polished wood. Vege Creek can only sit 10 customers, so you might wait a few minutes if you come during peak hours. Take-out is also available.
Along one wall, large metal bowls are fastened to the wall and in them sit uncooked and pre-packaged ingredients (NT$35 each). Vegetable options include, but are not limited to, carrots, green peppers, several varieties of mushroom, fermented and dried tofu, rice balls, fish balls, baby corn, okra, bamboo, green beans, cabbage, cucumbers, broccoli, seaweed, fungus and pumpkin.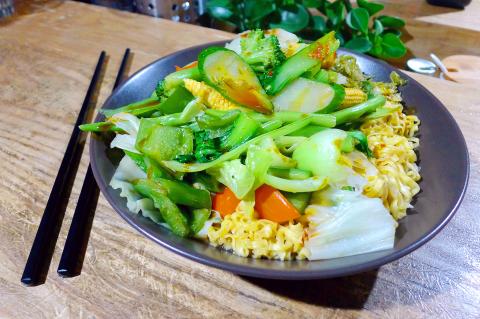 The final product is a made-to-order vegan bowl of noodles.
Photo: Olivia Wycech
A stunning green wall of leafy vegetables lines the adjacent wall. It almost looks like a vertical garden, except that the vegetables are bundled and sit in plastic cylinders. Each row is a different type of plant, and on the day I visited there were eight to choose from. The labels are all in Chinese but I recognized sweet potato leaves, bok choy, water spinach, Chinese cabbage and rape. Each bundle costs NT$35.
A little further over, a small case contains small wooden chips in a variety of colors. Each color represents a different type of noodle that will eventually get prepared with everything else in your basket. If you can't read Chinese you needn't grab one. Simply ask the staff to show you what they have when you get to the counter. There are five different types of noodles and all are egg and dairy-free. You can choose between rice noodles, wheat noodles, ramen noodles and green bean noodles. Each package of noodles is NT$20.
But be warned: It's easy to get carried away with the ingredients when they are separated. That's what happened to me, and my bowl eventually contained way more than I could eat and cost me NT$200. Black tea is also available for NT$25. Vege Creek's standout broth is a clean and simple brew of Chinese medicinal herbs, salt and pepper. There is no oil masking any flavors, nor making you feel heavy, no MSG and no fat. As I slurped it down, I kept asking the staff if they were positive there wasn't anything else in it. I couldn't believe it wasn't beef.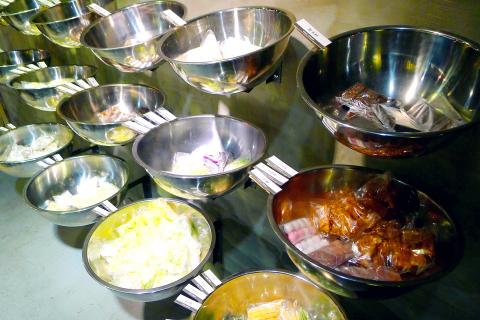 Vegetables for your bowl are pre-packaged and can be selected individually.
Photo: Olivia Wycech
The noodles and vegetables are cooked in the broth just long enough so they tenderize and swallow up some of the flavor, yet still remain firm. Everything is then transferred into a bowl and is topped with more broth. There is an ever so slightly spicy soy sauce that is drizzled over the dish, and a few strips of dried seaweed add the finishing touches to a gorgeous bowl of noodles.
Vege Creek also offers an interesting health-conscious lunch special, which includes three options for NT$99 and falls between 350 to 500 calories depending on your choices. Each set includes one type of noodle, two green vegetables, and either tofu, taro and a rice cake, or pumpkin, fungus and konjac, or a mushroom medley.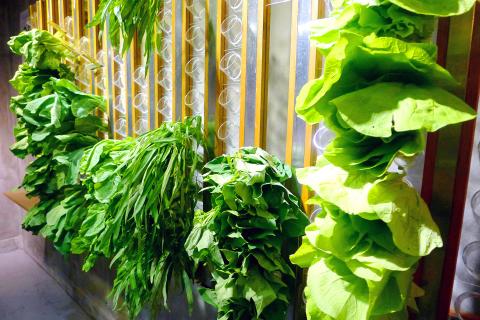 You pick your greens from a stunning leafy green wall at Vege Creek.
Photo: Olivia Wycech
Comments will be moderated. Keep comments relevant to the article. Remarks containing abusive and obscene language, personal attacks of any kind or promotion will be removed and the user banned. Final decision will be at the discretion of the Taipei Times.