Pop Stop
Whatever his faults — and they were many, and highly publicized — the demise of raucous cross-dressing actor Da Bing (大炳), whose real name is Yu Bing-hsian (余炳賢), who went by the English name Tony Fish, will be greatly lamented. It was confirmed early this week by his manager that Da Bing had died in Beijing on July 20. He was just 37.
Da Bing came to prominence as a female impersonator and as a regular participant in various variety shows, and at the height of his career was particularly known for his comic impersonations of DPP heavyweight Frank Hsieh (謝長廷) and current affairs show host Sisy Chen (陳文茜). He was much in demand and had a huge career ahead of him, but this promise was recklessly squandered as the result of four convictions for drug use.
The image of Da Bing as a confirmed drug abuser, as well as his association with various criminal characters, gradually turned audiences away. In recent years, Da Bing had been working in Beijing, and a return to Taiwan in November last year for a show generated only a lukewarm response. For all that, Da Bing retained many friends in the entertainment industry, and Big S (徐熙媛), Aya (阿雅), and Blackie (黑人, aka 陳建州) all posted emotional statements on their blogs soon after news of his death was released. "We must never forget that he was a great entertainer, a great performer," Blackie posted.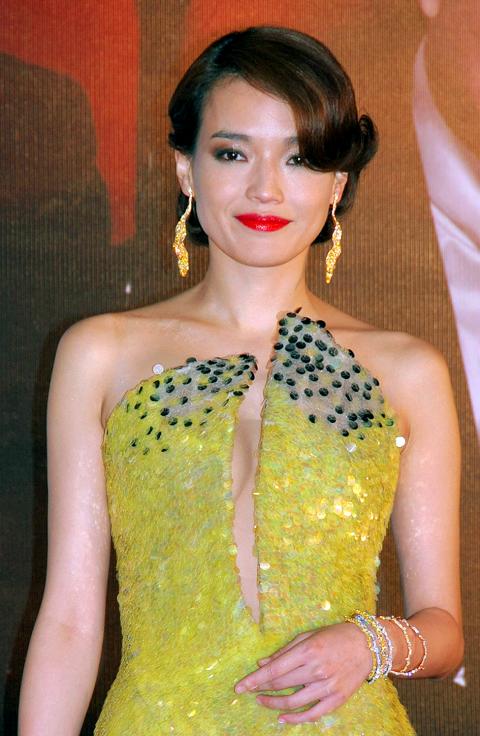 Actress Shu Qi has come a long way, but she cannot quite put her past behind her.
Photo: Taipei Times
In other news, there is gridlock on the divorce and separation proceedings between Hu Ying-chen (胡盈禎), daughter of variety show host Hu Gua (胡瓜), and plastic surgeon Lee Chin-liang (李進良).
Lee has made new demands, and the matter was clouded with the release of photos of two "hot chicks" leaving Lee's home earlier this week. They were together with the five-year-old Emma, daughter to Hu and Lee.
According to Lee, the presence of the two women was entirely innocent, as one was a cousin, the other the wife of another cousin. The Apple Daily cast doubts on the veracity of Lee's account, citing suspicious behavior and the sexy get up of the two women.
Whatever the truth of the matter, Hu has maintained that it was part of a family day that Emma spent with her father and his family.
Hu continues to insist that the relationship is on hold, with Lee granted limited access to his daughter. But things could get nasty, as not only has Lee now proposed joint custody, but has also found himself involved in a NT$200 million financial dispute with Hu and her father, who invested heavily in Lee's career when the two were first married.
Pop Stop would not be complete without some update of news about Edison Chen (陳冠希) and his painful efforts to work his way back into the public eye. It is hard to believe that it has been nearly five years since graphic details of his sexual exploits with a number of celebrities, some married, hit the Net. Since then, Chen has been in the wilderness, trying every possible means to get back into the charmed circle of Asian celebrity life from which he was expelled for his impropriety.
He has had considerable support from a number of high profile members of Taiwan's entertainment industry, but some people just don't manage to play their cards right. Earlier this week, according to the Apple Daily, Chen was attending the launch party for rapper MC Hotdog's new album, and was basking in favorable attention. Leaving the party, he found himself followed by paparazzi, and in order to shake the tail, ran two red lights. (It should be pointed out that it is not even certain whether the car that ran the lights was Chen's or another accompanying vehicle.) This is a minor event in the annals of celebrity transgression, but the media have been gleeful in picking up on it and watching Edison squirm.
Another celebrity who the media enjoy teasing is actress Zhang Ziyi (章子怡), who is regularly mocked as a bit of a gold-digger for her relentless romantic association with the rich and powerful. Ever since she broke up with Vivi Nevo, with whom she was briefly engaged, her tastes seem to have changed, and her most recent liaison is with the multi-talented Beijing show host Sabeining (撒貝寧). A graduate of the Beijing University Law School, Sabeining is equally at home hosting serious talk shows about legal issues as he is in comedy and variety shows. Whether Zhang will give up her luxurious lifestyle for an association with this rising star is no certain matter, but watch this space.
Another star who is having trouble shaking off a dodgy reputation is Shu Qi (舒淇), whose past on the seedy end of the movie industry — we will not go so far as to call her a porn star — continues to haunt her even after years of mainstream success. Her relationships with actors Leon Lai (黎明) and Wang Lee-hom (王力宏) both came a cropper when scraps of her lurid past floated to the surface, and now its seems that a promising association with Stephen Fung (馮德倫), which even has the prospect of wedding bells, might fall apart because of Fung's mother's objections to her lubricious past.
Comments will be moderated. Keep comments relevant to the article. Remarks containing abusive and obscene language, personal attacks of any kind or promotion will be removed and the user banned. Final decision will be at the discretion of the Taipei Times.