American art museums freshen up
Across the US, old art museums are undertaking massive renovations while new ones are springing up — a construction surge occurring in spite of the nation's souring economy
Art museums throughout the US have gone on a construction binge as older institutions freshen up and expand and fast-growing cities, especially in America's Sun Belt, tap into new wealth to show they have arrived in the art world.
Old or new, art museums also are striving to compete better with shopping malls and other leisure-time activities.
"Museums are in a transition moment," said Anne Helmreich, associate professor at Cleveland's Case Western Reserve University.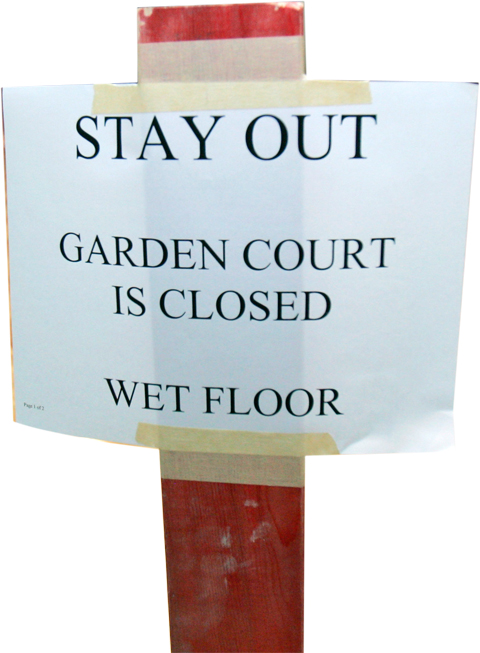 A sign at the Garden Court at the Cleveland Museum of Art. The museum is nearing the halfway point of one of its biggest projects, a seven-year, US$258 million expansion and renovation.
PHOTO: AP
The Cleveland Museum of Art is nearing the halfway point of one of the biggest projects, a seven-year, US$350 million expansion and renovation of a renowned institution that opened in 1916 with money from industrial magnates.
The museum, located in the city's tree-lined University Circle arts and education district, on Sunday will reopen 19 galleries that have been closed for three years.
Elsewhere, the US$158 million renovation of the Detroit Institute of Arts debuted last fall, the Los Angeles County Museum of Art opened the US$156 million first phase of an expansion in February, the Art Museum of Western Virginia moves to a new US$66 million home on Nov. 8 and Sacramento's Crocker Art Museum is working on an US$85 million expansion.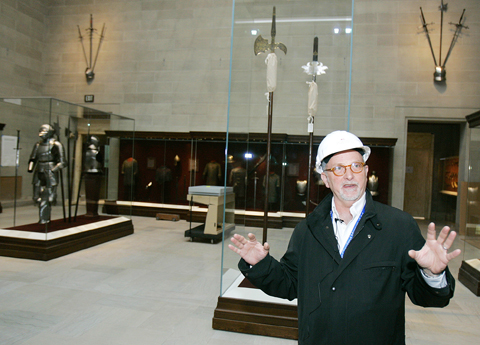 Jeffrey Strean, Cleveland Museum of Art director of design and architecture, talks about the renovations underway at the Cleveland Museum of Art.
PHOTO: AP
Detroit's renovation arranged European masterpieces to tell the story of an 18th-century grand tour of Italy. The Los Angeles project, part of a multiyear redesign of its 8.1-hectare campus, highlights the museum's contemporary collection.
There's more. In a survey last year involving 167 museums, the Association of Art Museum Directors said 66 percent were moving ahead with expansions, the highest share in three years. Most museums reported increased attendance, overall revenue and endowment income.
The construction surge amid a sour economy reflects the long-range planning involved. Museums often develop projects years in advance and have much of the needed money in hand from deep-pocketed donors before work begins.
Peter Yesawich, chairman of the Ypartnership travel industry marketing agency in Orlando, Florida, said museums can expect an attendance bounce with a new project, but it won't necessarily last.
He said a museum facelift's impact on attendance in a tight economy may depend on pricing, the public response and how long it takes to see the collections.
Still, the pattern of museum construction has spread across the nation, said Marc Wilson, director of the Nelson-Atkins Museum of Art in Kansas City, Missouri, which opened a US$196 million expansion last year. Planning began in 1993.
Wilson said the 75-year-old Nelson-Atkins, like Cleveland's museum, needed updating and more space. In other, newer cities, art museums have sprung up as wealth migrates to fast-growing areas, especially the Sun Belt, he said.
The Art Museum of Western Virginia in Roanoke, Virginia, saw that happen, according to executive director Georganne Bingham. "What we're seeing is people who are moving into the region are excited about the arts," she said, including expanded museum memberships and donor rolls.
An art museum can reflect a community's sense of having arrived, said Case's Helmreich. "A city reaches a certain critical size, then you've got both the financial resources and also the intellectual resources, the community goodwill, to want to have a museum and support it." A makeover also can reinvigorate old-line museums. The reopened museum at Detroit drew 400,000 visitors — normally a year's worth — in six months.
"Many people have this extraordinary desire to connect with works of art," said DIA director Graham W.J. Beal, who said people "do not want a mall-like experience" when they go to a museum.
In Cleveland, more than US$204 million has been raised for a project lasting into 2012, one year more than first planned.
The expansion and renovation will unravel a sometimes confusing labyrinth of galleries and corridors to create a more visitor friendly feel for what's ahead in a museum with a collection of 43,000 items, including works by Rodin, Monet, Degas, Gauguin, Renoir and Van Gogh.
For art patrons, "It means that they're not going to have to spend as much time figuring out where they are, that they'll be reassured by what they can see ahead of them," Jeffrey Strean, CMA director of design and architecture, said during a hard-hat tour.
That should relieve visitor fatigue, he said.
"Hopefully, we've built into the finished project places to stop — not only amenities — but places just to stop and rest, places to find out more, places to eat, places to shop," he said.
World-class art must compete with shopping malls and "every other sort of entertainment for folks these days," Strean said.
"We have to kind of make it as unobstructed and comfortable a thing as it can be." But the art always comes first, according to Wilson of the Nelson-Atkins.
"If you do not have in some way on your terms a meaningful relationship in those galleries, with works of art, the coffee isn't enough to bring you back," he said. "There are too many places where you can get coffee today." Part of that transition is a trend toward making museums more community friendly, reflecting local interests and traditions, such as the southern Appalachian music and crafts programming of the Roanoke museum. The goal is to attract visitors and keep them for longer stays.
"Museums are very complex institutions," said Saul Ostrow, who teaches at the Cleveland Institute of Art. "They are not just warehouses, storehouses of art. They are educational institutions, they are social, they bring people together. They imbue values and standards to the community. They offer a whole other range of experiences."
Comments will be moderated. Keep comments relevant to the article. Remarks containing abusive and obscene language, personal attacks of any kind or promotion will be removed and the user banned. Final decision will be at the discretion of the Taipei Times.