'Love Actually' sets new standards for bad taste and inconsequentiality
The British seem to have cornered the market in whimsy and another Hugh Grant filler will not dispel that impression
Love Actually, which opens around the country today, is an indigestible Christmas pudding from the British whimsy factory responsible for such reasonably palatable confections as Four Weddings and a Funeral, Notting Hill and Bridget Jones's Diary. A romantic comedy swollen to the length of an Oscar-trawling epic -- nearly two and a quarter hours of cheekiness, diffidence and high-tone smirking -- it is more like a record label's greatest-hits compilation or a "very special" sitcom clip-reel show than an actual movie. \nThe air is thick with bad pop songs, which those plucky, ironical Britons seem to love in spite of their badness. A sparkling British-American cast of newly minted and long familiar stars chirp, swoon, pine, quip and shed the odd tear. Presiding over it all is the new prime minister, a twinkly bachelor with a tonsorial resemblance to Tony Blair, who is played by none other than Hugh Grant. As he did in the far superior About a Boy, Grant makes a climactic onstage appearance at a school talent show. He also sings Good King Wenceslas and disco-dances around 10 Downing Street in his shirt sleeves. \nIn his opening voice-over, Grant establishes a new standard for bad taste masquerading as its opposite when he introduces this fluffy farrago, written and directed by Richard Curtis, with a reference to the World Trade Center attacks. The phone calls made from the towers, he suggests, show that however perilous the state of the world, "love is all around." Further support for this thesis is gleaned from the arrival gate at Heathrow, where people tend to hug and kiss each other a lot. \nLike much else in Love Actually, you almost buy this moment of banal sentiment, because it is so prettily shot and smartly spoken. But the film's governing idea of love is both shallow and dishonest and its sweet, chipper demeanor masks a sour cynicism about human emotions that is all the more sleazy for remaining unacknowledged. It has the calloused, leering soul of an early-1960s rat-pack comedy, but without the suave, seductive bravado. The worst kind of cad is the one who thinks he's really a \nsensitive guy deep down. \nMost of the picture's half-dozen or so romantic subplots -- which lie scattered about like torn wrapping paper on Christmas morning -- involve workplace dalliances of one kind or another. The ones with the best chances of success all involve an older male boss and a young female subordinate. Jamie (Colin Firth), a writer cuckolded by his own brother, retreats to a villa in the South of France and falls for his Portuguese housekeeper, Aurelia, who speaks no English and who obligingly strips down to her underwear to rescue manuscript pages that have blown into the lake. \nHarry (Alan Rickman), the head of a nonprofit organization, is besotted with his secretary, Mia (Heike Makatsh), who makes no secret of her attraction to him. The prime minister, moral exemplar of the nation, develops a crush on Natalie (Martine McCutcheon), a member of the Downing Street household staff. When the goatish president of the US, in London for a state visit, puts the moves on her, the PM's jealousy precipitates a chill in British-American relations (and also makes him a national hero). \nThe funniest and most winning on-the-job romance bubbles up between two people (Martin Freeman and Joanna Page) who work as body doubles on a movie set, miming explicit sex scenes in the absence of the prudish stars. As their naked bodies go through the motions, the two of them chat mildly about traffic and the weather and their mutual attraction is sealed, on the first date, by a chaste kiss on the cheek. \nThe other genuine comic spark comes from Bill Nighy, playing a washed-up, dissolute rock star named Billy Mack, who is trying for a comeback with a treacly Christmas record. Billy says shocking, hilarious things in television and radio interviews, and his casual indifference to proper decorum makes him the most honest character in the film. \nThe problem is that the movie, more than any of the characters in it, is a mess of crossed signals, swerving between cynicism and sincerity without quite knowing the difference between them. It is most grotesque when it tries for earnest drama, parading the grief of a widower (Liam Neeson) and the humiliation of a middle-aged wife (Emma Thompson) before us when it thinks our throats need lumping. \nIt is disturbing to see Thompson's range and subtlety so shamelessly trashed, and to see Laura Linney's intelligence similarly abused as a lonely, frustrated do-gooder. The fate of their characters suggests that women who are not young, pert secretaries or household workers have no real hope of sexual fulfillment and can find only a compromised, damaged form of love. Perhaps Curtis wishes to offer this as an insight into contemporary social arrangements; if so, his indifference to the cruelty of those arrangements is truly breathtaking. \nBut it is unlikely that any particular insight was intended. Instead, Love Actually is a patchwork of contrived naughtiness and forced pathos, ending as it began, with hugging and kissing at the airport (where returning passengers are perhaps expressing their relief at being delivered from an in-flight movie like this one). The loose ends are neatly tied up, as they are when you seal a bag of garbage -- or if you prefer, rubbish.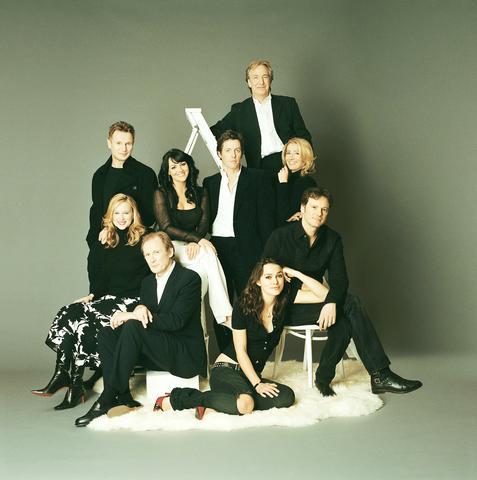 The cast of Love Actually is strong on British actors with a comedic bent.
PHOTO COURTESY OF UNIVERSAL
Publication Notes
Film Notes
Directed by: Richard Curtis
Starring: Alan Richman (Harry), Bill Nighy (Billy Mack), Colin Firth (Jamie), Emma Thompson (Karen), Hugh Grant (Prime Minister), Liam Neeson (Daniel), Martine Mccutcheon (Natalie), Heike akatsh (Mia) Rowan Atkinson (Rufus)
Running Time: 128 minutes
Taiwan Release: Today
Comments will be moderated. Keep comments relevant to the article. Remarks containing abusive and obscene language, personal attacks of any kind or promotion will be removed and the user banned. Final decision will be at the discretion of the Taipei Times.