Live at last! Again
Alternative rockers Cat Power and Dirty Three will return to Taiwan for the Leaf International Festival in Taichung and Taipei, alongside a lineup of local indie bands
It's rare that a big-ticket foreign independent rock band, or any foreign band for that matter, passes through Taiwan, but when one does it's often enough to generate a dedicated and thankful following. \nIn the case of Cat Power and Dirty Three -- two of alternative rock's most acclaimed groups -- the thanks have extended to an invitation to return to Taiwan this weekend for the second Leaf International Festival in Taichung and Taipei, alongside a lineup of local indie bands. \nCat Power, which is primarily singer-songwriter Chan (pronounced Shawn) Marshall's personal project with all-star backup help over the years from the likes of Steve Shelly, Dave Grohl and Eddie Vedder, was on the festival's ticket last year as the headliner, while Dirty Three were in town in October, 2002. The festival will mark the first visit to Taiwan for Damon and Naomi, both former members of the legendary alt-rock band Galaxie 500. \n"We had such strong reactions after the Dirty Three show, and since they recorded before with Cat Power, we decided it would be a good lineup to bring them back for people who didn't get to see them last time," said Nuno Chen (老諾) of Gama Music, which is organizing the festival. \nThis year Dirty Three will be headlining the shows, which is probably a wise choice on the part of Gama, because Cat Power is notorious for her painfully awkward stage presence and long trail of wash-out concerts, while Dirty Three are one of the loudest, most exultant live-show experiences in rock. \nSince forming in the early 1990s, Dirty Three have become known for their all-instrumental songs that usually begin with some swooning, discordant notes from Warren Ellis' violin, followed by guitar and drums to build into a massive heart string-pulling arrangement. \nLike Cat Power, Dirty Three make rainy-day music, but while Marshall finds vocal expression of sadness, Dirty Three achieve the same effect merely through instrumentation, turning the violin's groan into the hoarse voice of someone who's been mourning the loss of a family member all night. \n"Our music comes from a really private, personal space," Ellis said by phone from Taichung on Wednesday shortly after landing in Taiwan. "It's from a very basic and simple place." The band formed in Melbourne in 1993 and has since released six albums. With band members now living in New York, Paris and Melbourne working on their own projects, Dirty Three nonetheless join up frequently for tours and to record. Their latest LP, She Has No Strings, Apollo, was released last year and Ellis said there were plans to lay down tracks later this year for a new album. \n"We all do our own things. But the band is like our baby," he said. \nToo drenched in sorrow to ever become epic, Dirty Three songs are more like drawn-out wordless confessions told at a heel-dragging cadence until they peter out, or occasionally explode with violent feedback, creating large, emotive soundscapes. \nWhat helps take some of the sting out of the drama of Dirty Three's music is watching Ellis' excited gyrations on stage, or marveling at the brush drumming of Jim White, whose timing and subtle touch gives the impression of a master jazz drummer. Guitarist Mick Turner is also outstanding by adding subtle melodic ornamentation that tries to become background but ultimately steals the show on numerous tracks. Only between songs do the bandmembers communicate with the crowd, losing themselves in their sound as soon as the music starts up again. \n"For us it's all about the moment. I don't look at the crowd. I don't want to. As soon as you notice it you sort of cease to exist, in a way. Being on stage is what it's all about for us. It's like fishing; it's time that doesn't count in your life." \nCat Power, who has previously recorded with Dirty Three, brings star power to the festival, despite Marshall's on-again-off-again performance style, which is dismissed by true fans as part of her idiosyncratic self-expression. \nMarshall writes music that, while neither technically brilliant nor catchy, is profoundly moving and honest with simple chord progressions and mournful lyrics reminiscent of Depression-era country blues. A lot of her songs, in particular those from You are Free (2003) and The Covers Album (2000), sound as though they were recorded on a rickety porch in Mississippi, plucked out lazily while sitting in a rocking chair with a rusty Danelectro on her lap, her voice betraying a person teetering on the edge of total breakdown. \nLike Smog and Silver Jews, she plunders the blues tradition for its grit and soul, but where these two contemporary alterna-folk outfits indulge in dark humor, Cat Power is simply dark. \nGrowing up in Atlanta, Marshall played in a band and came up with the name Cat Power by looking at a friend's cap that advertised heavy machinery by the name Cat Diesel Power. When the group broke up she got the band's name and took it to New York where she began playing solo with intermittent accompaniment from a retinue of the East Village's indie elite. It was with encouragement from Wharton Tiers and the underground successes of her Matador albums What Would the Community Think (1996) and Moonpix (1998) that Marshall edged along the path to reluctant stardom, where she now stands in the spotlight of her Shortlist Award nomination last year for You are Free. \nThe lyrics in Cat Power songs tend to overshadow the music by packing the punch of catharsis and it's the intensely personal aspect of Marshall's songs that has led her to alternately refuse to recall certain songs, or to play them with the tenderness of someone looking through a lost photo album, depending on her mood. \nMarshall is also a master cover song player, taking, for instance, Oasis' Wonderwall and removing Noel Gallagher's impish whine while ratcheting up the heartbreak, or taking Sonic Youth's Schizophrenia and turning it into a meandering folk-blues anthem. \nListening to her creaky voice and the deeply personal tales of private misery in Cat Power songs, it's clear that, at 31, she's already done plenty of hard living and suffers from not a small amount of self-loathing, which is how she explains her spotty live shows. She has a tendency to start songs over half a dozen times before being satisfied with the sound and with herself. And it's not uncommon for her to disappear behind a piano to finish a concert out of view from the audience. But when she hits her stride, as she more often than not does, then a Cat Power concert can provide a refined moment of catharsis. \nThe only first-timers to Taiwan in this year's festival, Damon and Naomi are mainstays in American independent music, sticking together following the demise of their previous band Galaxie 500. "Galaxie 500 and Damon and Naomi have been popular in Taiwan for a long time. We got a lot of requests to bring them for the show," Chen said. \nSo, finally, after more than a decade of recording and performing everywhere else in the world beside Taiwan, they will have a chance to play their jangly and, yes, sad acoustic arrangements to highly expectant crowds. And the way things seem to work, fans here will be so thankful they made it that the band will probably get invited back before too long.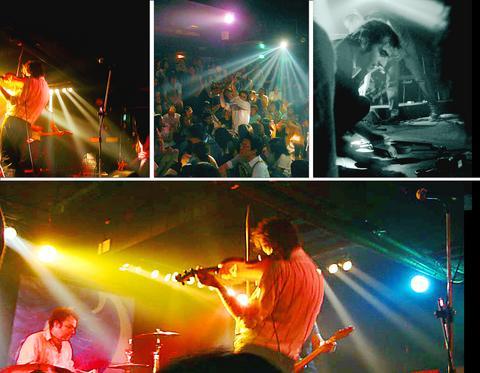 Dirty Three, will be heading at The Leaf Internaitonal Festival, along with Cat Power, Damon and Naomi, plus local Indie bands. Dirty Three are one of the loudest and liveliest shows around.
PHOTO COURTESY OF THE LEAF INTERNATIONAL FESTIVAL
Publication Notes
Performance Note:
What: The Leaf International Festival, featuring Dirty Three, Cat Power, Damon and Naomi.
When, where and tickets: Tonight at the Taichung Cultural Center, 600 Ying-cai Rd, Taichung.
Doors open at 4:30pm.
Opening bands: .22 and Tuxing. NT$1,050, or NT$850 with student ID.
Tomorrow at The Wall, B1, 200, Sec 4, Roosevelt Blvd, Taipei (台北市羅斯福路4段200號B1). Doors open at 6pm. Opening bands: LTK, Tin Pan Alley, WonFu, at NT$1,250, or NT$950 with student ID.
Sunday at Taipei County Culture Center, 62 Zhuangjing Rd, Banqiao, Taipei County. Doors open at 11:30am.
Opening bands: The Hohak Band, Groupie, Tizzy Bac, Panai, Mr. Pig Head Skin, Xiao Fude, Braces. At NT$1,250, or NT$850 with student ID.
Comments will be moderated. Keep comments relevant to the article. Remarks containing abusive and obscene language, personal attacks of any kind or promotion will be removed and the user banned. Final decision will be at the discretion of the Taipei Times.