The Leslie Cheung legend lives on
For 20 years he was one of the Chinese-speaking world's most popular artists, and although he decided to end it all on April 1, he'll never be forgotten
Leslie Cheung's dramatic death marked an end to his colorful life. It also served to cement the legend he built up in the course of his career -- for the high standards he set himself and the bravery he showed in being the first openly gay actor in contemporary Chinese cinema.
On screen and stage, Cheung charmed audiences with his androgynous good looks and his wild antics. His concerts were always dramatic -- and so was the manner of his death.
During the rush hour on April 1, Cheung plummeted 24 floors from the gym of the five-star Oriental Mandarin onto the busy streets of Hong Kong's Central district, bringing traffic to a halt.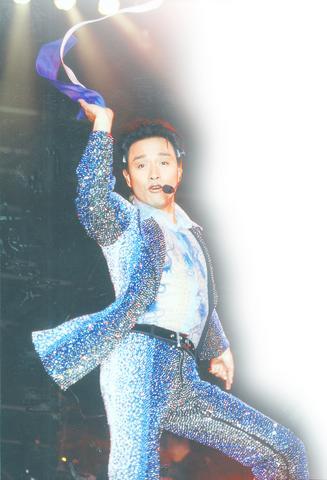 The news of his bloody death shocked Asia, for the 46-year-old star, who had reached the peak of his fame back in the 1980s, still had a solid fan base. Anyone growing up in Hong Kong, Taiwan or China during the 1980s will remember the glamor of his concerts; he remains an idol to many Asian women at their late 20s and 30s, who remember him from the days of A Better Tomorrow (英雄本色, 1986) and A Chinese Ghost Story (倩女幽魂, 1987).
Chinese-language media gave prominent coverage to Cheung's death, three full pages in some instances. Tabloids are already speculating on the reasons behind the tragedy, probing the nuances of the mysterious suicide note and the ups and downs of a long-term gay relationship that turned sour. Such heavy coverage of a celebrity's death is on a par with the media frenzy that surrounded the deaths of singer Teresa Teng (鄧麗君) and action star Bruce Lee (李小龍).
Thousands of fans from around Asia ignored the danger of SARS, traveling to Hong Kong for a final farewell. Tong Hok-tak (唐鶴德), Cheung's long-time partner, performed the role of Cheung's bereaved spouse at the ceremony.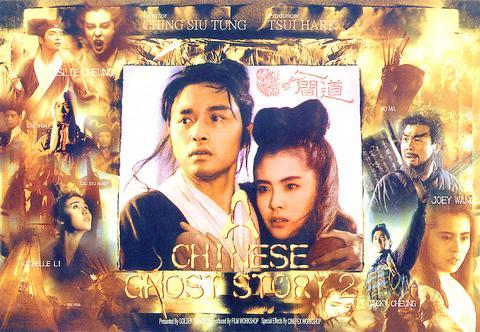 Leslie Cheung established himself as a cinema idol playing the handsome and good-hearted hero in popular films such as A Chinese Ghost Story and its sequel.
PHOTO COURTESY OF GROUP POWER
The youngest of ten children of a well-known tailor, Cheung once described his childhood as an unhappy one. He was deeply affected by his parents' divorce and experienced racial discrimination as a student in Leeds, England.
From his childhood, he devoted himself to singing and dreaming. After returning to Hong Kong from the UK, Cheung worked as a sales person in a jeans store and then as a member of staff at a law firm. His break came when he won second prize at a pop contest in 1977, (where he sang American Pie). He jumped into the world of showbiz with his first album, titled Like Dreamin'.
The Hong Kong pop music scene of the 1980s emphasized expressive sentiment and romantic tunes, and there was a massive demand for baby-faced stars who were packaged as idols by the music industry. It was in this context that Cheung became popular.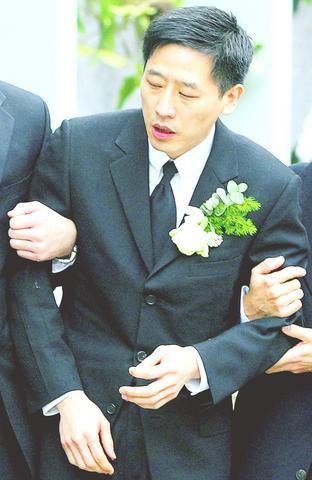 Tang Hok-tak, the bereaved "spouse".
PHOTO: REUTERS
With the 1984 hit Monica, Cheung was launched as a star. In 10 years, he published 18 records, and in 1989, set a record with 33 consecutive concerts.
At this time, Cheung's acting career also took off. John Woo's (吳宇森) gangland action drama A Better Tomorrow brought fame to both Chow Yun-fat (周潤發) and Cheung. The success was followed by Tsui Hark's (徐克). The Chinese Ghost Story, in which Cheung successfully managed the transition from impulsive young policeman to romantic lover. In 1988, in Stanley Kwan's (關錦鵬) elegant ghost story, Rouge (胭脂扣), Cheung was clearly a rising star.
In the film, Cheung plays an opera-loving, opium-smoking dandy who falls for a beautiful courtesan. They decide to kill themselves when marriage plans are blocked by family pressure. Cheung's character gets cold feet and he survives. Thirty years later, the ghost of his lover comes in search of him.
In real life, Cheung was never a person to get cold feet. He was regarded as a perfectionist by many directors who worked with him, including Tsui Hark and Wang Kar-wai (王家衛). And his standards rose as he became more successful. Wang's 1990 film, Days of Being Wild (阿飛正傳), marks the first recognition of Cheung as a major actor.
In it he plays a self-indulgent prodigal in the 1960s, a slicker who beats up people and enjoys wooing women. A scene in which Cheung narcissisticly dances a solo cha-cha in front of a mirror is reminiscent of John Travolta's self-involved dancing in Saturday Night Fever.
Days of Being Wild won Cheung Best Actor in the Hong Kong Academy Awards. It was Cheung's only acting award, despite his numerous nominations at both the Hong Kong Academy and Taiwan's Golden Horse Awards.
Cheung's roles are a strange mix of defiance, passion, pride and sophistication -- not unlike his private life. His rebellious, sexy image can be traced back to a 1982 film Nomad (烈火青春) where he boldly played a sex scene in a Hong Kong tram.
At his 1980s concerts, Cheung loved to wear open necked shirts, shiny embroidered suits and feather boas. In 2000, he pushed the limits still further when he got designer Jean-paul Gautier to create female costumes for him, including a short tartan skirt, feminine sandals and toe rings.
In the Oscar-nominated Farewell My Concubine (霸王別姬, 1993), Cheung plays an obsessive art lover and artist Cheng Tieh-yi (程蝶衣), who gets his own sexual identity confused with the female roles he plays in Beijing operas. It was a daring role in which Cheung learned to act as a woman. "I am exactly Cheng Tieh-yi," said Cheung before taking the role.
This statement was a prelude to Cheung's official announcement of his sexuality.
The only actually gay character Cheung played was in Wang Kar-wai's 1997 film Happy Together (春光乍洩), in which he has passionate gay sex with Tony Leung (梁朝偉) at the very beginning of the film.
The film won critical acclaim and, during a concert that year, Cheung declared his love for his partner Tong Hock-tak. Before singing the Mandarin love song The Moon is My Heart (月亮代表我的心), he said, "The song is dedicated to my long-time lover Mr. Tong who is in the audience."
The announcement surprised many in the audience but also cleared up a long-time rumor about Cheung's sexuality. Leslie Cheung's brave declaration of his love earned him his place as the first openly gay actor in contemporary Chinese cinema.
The years after 2000 were bad years for Hong Kong cinema as well as Cheung's movie career. Between 2000 and 2002, Cheung made four mediocre films, and his most recent, the action film Double Tap (鎗王) and the ghost story Inner Senses (異度空間), Cheung failed to surpass, or even achieve, the quality of acting he achieved in Farewell and Happy Together.
For a star who had always striven to dazzle and who had grown used to a high level of success and praise, it was an especially difficult time. There had even been talk of the 46 year-old actor, who was proud of his boyish image, going bald. He was also rumored to be suffering from insomnia and depression, which some said was linked to evil spirits that dogged the shooting of Inner Senses.
Romantic problems, an inability to revisit the artistic heights of Farewell and Happy Together, and a decline of his idol status may all have contributed to his suicide. But, for an actor known to be afraid of heights, his jump from the Oriental Mandarin remains mysterious.
"Leslie often joked about being a legend. But I never thought that his legend would be completed in such a dramatic way. We will always remember him," said director Wang Kar-wai.
Comments will be moderated. Keep comments relevant to the article. Remarks containing abusive and obscene language, personal attacks of any kind or promotion will be removed and the user banned. Final decision will be at the discretion of the Taipei Times.