Is the terror business a long-term economic drag?
With the overall amount spent on security approaching US$100 billion, some are beginning to calculate the broader costs to the US economy
The high-pitched whine started suddenly during breakfast in the elegant dining room of the Regency Hotel in Manhattan. Richard Hudak, a good-natured, talkative executive, ignored it at first, but the sound persisted. Clearly distracted, he broke off the conversation, rose from the table and walked slowly toward the lobby, tracking the source of the noise with the concentration of a hunting dog. No one else seated at the elaborately set tables in the crowded room seemed especially concerned. \nThe whine stopped as abruptly as it began, and when Hudak returned a minute or two later, he was his relaxed self again. An elevator had malfunctioned, setting off the alarm, he explained. The whine had not signaled a terrorist attack, which is Hudak's great concern as director of corporate safety and security for the Loews Corp, the Regency's owner. \nBefore 9/11, retired cops did this sort of work, Hudak said, disdainfully. He, by contrast, is a specialist, a former FBI agent and a Harvard graduate who is high enough in the Loews hierarchy to compete successfully for corporate funds to protect the company's many properties from terrorism. "Since 9/11, senior executives listen more closely and I have much more access to them," he said. \nThe 3M Corp brought Hudak to a reporter's attention. Thanks to him, Loews has become a good customer for a 3M product: a paper-thin, puncture-proof film that is affixed to windows so they won't shatter when a terrorist bomb explodes, sending shards of glass flying into employees and customers. Believing that the Regency, particularly the ground floor, is a potential target, Hudak had the film installed on the restaurant's huge plate glass windows, at a cost of US$8 a square foot. \nThe product's first test at the hotel came not from terrorists, but from a disgruntled employee who smashed a window with a hammer. \n"It broke but did not shatter," Hudak said. The shards stayed sandwiched between the two layers of film, as if they were part of a shatterproof auto windshield. "That demonstrated to management the value of applying window film," he said. \nCorporate America is spending heavily for protection. Private-sector outlays for anti-terrorism measures and to guard against other forms of violence may now be as much as US$40 billion to $50 billion a year, or two or three times higher than the annual rate before 9/11, according to estimates compiled by CQ Homeland Security, a daily Internet newsletter published by Congressional Quarterly. The federal government's contribution has also passed the US$40 billion mark, double what it was before 9/11. As the spending soars, domestic security seems poised to become a significant factor in the overall economy, much the way military spending was during the Cold War. \nThe marketplace for domestic security is developing apace. Hudak and his counterparts at more than 300 big corporations have banded together as members of the International Security Management Association. The group says the risk of a terrorist attacks justifies more spending, and it is busy making that case to employers. \nConsultants are entering the field, too. \n"We are telling companies to look at their earnings drivers and protect them from shock," said Mark Gerencser, a senior vice president at Booz Allen Hamilton, the global consulting firm. \nAnd, of course, the sales forces of tens of dozens of companies, offering a huge array of security devices and services, are making their pitches. The products are promoted at domestic security trade conferences that are held almost every week in some US city. \nIf protecting one's employees is not adequate incentive to buy such products, there is also the insurance lure. Congress mandated in 2002 that insurance companies offer businesses protection against liability and property loss from terrorism. \n"Anything you do to mitigate a terrorist attack on your property has a favorable impact on the premiums," said Robert Hartwig, chief economist of the Insurance Information Institute. \nAs the overall cost approaches US$100 billion, domestic security is beginning to take on the characteristics of military spending in the early years of the Cold War. Just as an open-ended fear of Communism drove that spending surge, the open-ended terrorist threat is driving today's spending on domestic security. \nThe Communist scare came alive as China fell in 1949 and North Korea invaded South Korea the next year. Before long, military spending grew large enough to influence productivity and economic growth, often dragging down both. A dollar invested in a weapons system, many economists argue, does not have the multiplier effect of a dollar invested in automated machinery installed in factories to make trucks and computers, which in turn become tools for additional production. \nSpending on domestic security has the potential to become a similar albatross for the economy, although it has not yet reached the proportions of the Cold War era. \nBush administration officials point to spin-offs from spending on domestic security that are likely to offset some of the drag. The Internet, after all, started life as a Pentagon-financed research project, connecting military and academic laboratories. \nDomestic security, however, may be a different animal. In the Cold War, there were vast expenditures from public coffers for troops and weaponry to contain Communism and to prepare for an all-out nuclear war against a Soviet enemy. Domestic security is focused on a different mix of products and services, many of them still coming to market. The primary goal is to build global electronic networks that monitor the movements of cargo and people and thwart terrorists or keep them at arm's length. \nThe innovation required by all of this is showing up in Silicon Valley, although sorting out the spending on domestic security and computer security is difficult. "We are seeing a pretty healthy US$12 billion annual market related to cybersecurity infrastructure," said Ted Schlein, a partner at Kleiner, Perkins, Caufield & Byers, the venture capital firm. \nThat is different from the Cold War, when the government had a more dominant role. But if the private sector is more visible this time, the subsidies that flow from the government still shape the process, albeit on a much less noticeable scale. As Penrose Albright, assistant secretary for science and technology in the Department of Homeland Security, put it, "My job is to steer the existing structure to the needs of homeland security." \nFor example, the Unisys Corp, among others, is developing a system for tracking the tens of thousands of freight containers that move every day across oceans toward major ports in the US. Through the use of special sensors and seals, as well as a satellite network, the containers would be tracked along every step of their journeys. Any attempt to tamper with one -- perhaps to insert a dirty bomb in, say, Karachi -- would be detected, in theory. \nThe tracking would give shippers -- Wal-Mart Stores or Sara Lee, for example -- the precise location of their inventories in transit and much more information about the arrival time. Here, then, is a system that the federal government is paying to develop and that Unisys is beginning to market as a commercial service. Thus does domestic security give birth to a commercial spin-off.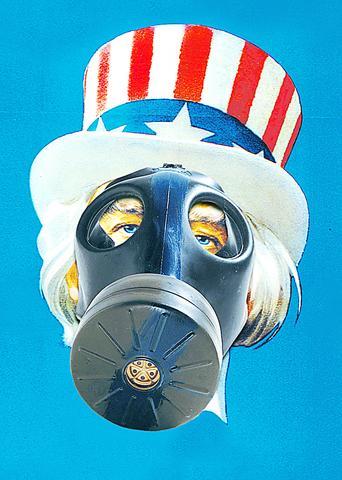 Comments will be moderated. Keep comments relevant to the article. Remarks containing abusive and obscene language, personal attacks of any kind or promotion will be removed and the user banned. Final decision will be at the discretion of the Taipei Times.