HBO chairman looks beyond `Sex and the City'
With his own feel for the industry, Chris Albrecht has led HBO to three Emmys, two Golden Globes and two Peabodys -- now he pushes himself to develop shows as successful as `The Sopranos'
In the six months that Chris Albrecht has occupied the chairman's office at HBO, about the only personal touches he has added are the three Emmy Awards, two Golden Globes and two Peabody Awards lined up on the otherwise empty bookshelf. New couches are on order, he said, as he tries to make himself comfortable in the corner office overlooking the Avenue of the Americas in Midtown Manhattan. \nIf he still seems a bit out of place in the setting, perhaps it is because his recent experience -- indeed, substantially all of his career -- has been in Hollywood, where he has been HBO's most important creative executive: the deal maker, the green-lighter, the programmer in chief for hits like The Sopranos, Sex and the City, Six Feet Under and Curb Your Enthusiasm. \nThe shows made on Albrecht's watch have helped make HBO very profitable. This year, he said, earnings will come in "north of US$800 million," or about three times what they were when he took over programming seven years ago, and very important to HBO's ailing parent, AOL Time Warner. By comparison, NBC, the most profitable broadcast network, will have earnings of just over US$500 million this year. \nAs he settles into his new role, Albrecht, 49, is trying to inject creativity into the business side of the network. While continuing to oversee the development of shows, he is looking for new places to sell HBO's old hits. That means everything from DVDs to video on demand -- and perhaps sales to other networks and TV stations. \n"Really, Chris is like an old-time studio chief," said David Chase, who changed Albrecht's life five years ago when he put a script he had written for a series called The Sopranos into Albrecht's hands. \n"He's the Harry Cohn of today." \nThe comparison with Cohn, who made Columbia Pictures a commercial and artistic success in the 1930s, '40s and '50s, goes only so far. Like Cohn, Albrecht runs a big, hard-nosed business while creating entertainment, chosen largely by a sense of personal taste, that significantly influences popular culture. \nHe does not, however, have the reputation for blunt, sometimes brutal leadership that Cohn had. Rather, he is known mainly as a cordial courter of talent, though some associates describe him as being, in the words of one, "somewhat inscrutable, not that easy to know." \nOver the last five years, Albrecht's programs were not only hits but were also recognized by critics and viewers as cultural benchmarks. "I would have to say he is the top guy working in television right now," said the chief executive of a rival network, who spoke without attribution to avoid comparisons with his own employees. Only one other TV executive has as much power over a network's business and creative sides: Leslie Moonves, the president of CBS Television. \nBut Albrecht's promotion to the job formerly held by his mentor, Jeff Bewkes, surprised some people in the industry precisely because he had been so important in building HBO's programming. They have wondered whether AOL Time Warner's chief executive, Richard D. Parsons, might be diluting Albrecht's creative skills by asking him to run the business end of HBO. \nOne senior television network executive said: "If I'm Dick Parsons, the question I would have is, why do I want to take a great surgeon and put him into a job running an HMO where he's not doing nearly as much operating anymore?" \nHBO's answer, as well as Albrecht's, has been that he is not backing off his creative duties at all. "I'm totally bicoastal now," Albrecht said. "I spend one week in California and then most of the next week here in New York." \nHe acknowledged that he had much to learn about the operations side of the business. His predecessor, Bewkes, had been HBO's chief financial officer and chief operating officer before becoming chairman and chief executive. (Albrecht was picked to run HBO in July, when Bewkes was promoted to co-chief operating officer and chairman of all of AOL Time Warner's entertainment and network businesses. Albrecht was the only real candidate.) \nNow, for the first time, Albrecht is dealing with issues like agreements with cable and satellite operators, who are the channel's partners in gaining revenue from subscribers. "I'm not ashamed to admit I don't know something," he said, "and there's still a lot that I don't know." \nHe is clearly welcome at monthly meetings of AOL Time Warner division leaders in New York, because HBO is very much a part of the solution to its parent company's current lackluster performance. "We're going to be expected to continue to grow at an aggressive pace over the next few years," he said, "because there are challenges facing other divisions that need to be met by the whole company." \nFinding a way to meet those expectations is likely to tax Albrecht's creativity. Even with its hit shows, HBO signs on only about 1 million new subscribers a year, far fewer than in the past. It has 30 million to 35 million subscribers in the US, depending on how many it adds or loses each month. \nThe slow growth rate explains why HBO must find new ways to sell HBO's catalog of hits, either directly to viewers by DVD or video on demand or indirectly through broadcast networks and independent stations. "We need to take the brand and expand it off HBO," he said. \nHBO already offers up to 40 hours a week to cable systems that have the capacity for video on demand, in which viewers order from a menu of HBO programs for about US$6.95 a month. It is also generating more than US$100 million a year in DVD sales, a new business driven initially by the popularity of full-season sets of The Sopranos. \nEven more money may be waiting to be made by selling HBO shows, new and old, to other broadcasters. HBO's production company already makes some programs for first-run use on the networks, like Everybody Loves Raymond on CBS. But the most audacious move Albrecht is contemplating is to sell series that have already played on HBO in the lucrative syndication market -- or, even more boldly, directly to broadcast networks. \n"We've been approached by other networks about some of our shows -- and we're listening," Albrecht said. One broadcast network has already made inquiries about running repeats of The Sopranos as a regular prime-time entry, perhaps a season after the shows first run on HBO. \nTo make the shows acceptable for broadcast stations, however, HBO acknowledges that it must first tone down some of the language and content that have helped make its programs so distinctive. Albrecht said HBO had already edited episodes of Sex and the City and shown them to outside parties with an eye toward potential sale to broadcasters. \nBy reselling its shows to broadcast stations, HBO would take advantage of what seems to be a liability: its limited reach. HBO's relatively small base of subscribers -- two-thirds of homes with television do not get it -- leaves a huge audience potentially eager for some of its more popular shows. And the publicity being lavished on The Sopranos and other offerings suggests that much of that untapped audience wants to see what was causing all the talk. \n"There are no rules," Albrecht said. "We're considering every-thing. We have not said anything is off-limits. But we're only going to consider something we feel is in the best interest of the network, the program, and all the people involved in both." \nAlbrecht acknowledged that the imperative to expand the business beyond HBO created enormous pressure on him to keep finding programs so special that they generate widespread attention and critical praise. "It does scare me sometimes," he said. \nIt may be a monster, but it is one he created himself. When he stepped into the top programming job in 1995 -- just after the ousting of Michael Fuchs, the HBO chairman who had put his personal creative stamp on the network for two decades -- Albrecht made an immediate impression. At the first companywide meeting of HBO that he attended, he stood up and said, "All right, let me ask a question: Do we really believe that we are who we say we are? This distinctive, high-quality, edgy, worth-paying-for service?" \nAs he recalled it, the room fell silent, which he took to be confirmation of his own view. \n"I felt what was missing was a real grown-up plan of how to build an outstanding one-of-a-kind programming service," he said in a recent interview. The company's previous position -- that it should be an "occasional use" service, driven substantially by the acquisition of recent theatrical films -- was no longer sustainable, he said. \n"By 1995, the television landscape had become pretty competitive," he said. "By 2003, it's insanely competitive. We knew we needed to become a regular-use service. We knew that to be something that people would latch onto and keep, most people needed to use us a lot." \nNot everyone at HBO totally agreed with that assessment. Fuchs still has defenders who argue that his strategic vision for the company was very successful. "There is a little revisionism going on with Chris," one longtime HBO staff member said. \nAlbrecht came to his job with a conviction that HBO could be more than it was. "HBO is more than a place; it's an idea," he said. \nHis ideal is to combine "the best of a subscription business and the best of the studio business," with an emphasis on letting the creative talent in Hollywood work without interference. Waxing especially grand -- and perhaps inspired by the ethnic heritage of the network's signature show -- he added, "I've even thought about this: In certain cases, it's like the Medicis, like we're patrons of the arts." \nHis legacy may be on videodiscs rather than canvas, but he has clearly earned respect from his peers. "The success of those shows did not come out of left field," Moonves said. "Chris can spot talent and he has courage, the courage it takes to put on a show like Sopranos or Curb Your Enthusiasm. \nAlbrecht joined HBO in 1985, where he used his comedy connections to put together the benefit show Comic Relief. Eventually, he helped the channel expand its use of series, which gained momentum when Tom Fontana, an Emmy-Award-winning writer, created for HBO a prison drama, Oz. That was followed by From the Earth to the Moon, a miniseries, and Sex and the City before the debut of The Soprano in January 1999. "The Sopranos culminated a change that was really occurring," he said. \nNo one involved in The Sopranos believed that it would become a ground-shaking program, he said. The show had already been rejected at every broadcast network. Albrecht liked the script, but only enough to pay for a pilot episode. \nEven at HBO, there were differences on several issues, especially about who would play the lead. Brad Grey, one of the show's producers, recalled that HBO was not thrilled with James Gandolfini at first, though he won them over. \nGrey's partner, Chase, said HBO also did not like the name of the show. "They thought it would sound too much like a music show, that people would confuse it with the Three Tenors," he said. "I think they wanted something like Family Man. But they always listened when we objected." \nHBO tested the pilot, and the results were mediocre -- at best. Albrecht, who liked the pilot, showed it to Bewkes, who did, too. So Albrecht ordered the show to go ahead. But he had one more issue with Chase: He did not want Tony Soprano to kill someone with his bare hands in the first season. \n"Chris told me: `You've created the most interesting television hero in years in the first four episodes and you're going to destroy him in the fifth,'" Chase recalled. "I told him that if Tony doesn't kill this guy, this traitor, the fans will never believe in him." \nThey compromised, Chase said, after Albrecht asked him to write in a scene that had Tony's victim becoming involved in a drug deal, the better to make him unsympathetic. That episode, in which Tony takes his daughter to Maine to look at colleges, is now hailed as one of the best television episodes ever produced. \nAlbrecht now faces the daunting task of having to replace it, probably after one more season if Chase holds to his plan to conclude the series next year. \n"I'm not worried about what happens after The Sopranos; I really believe that," he said. "As great as that show is and as grateful as we'll always be to have been associated with it, there are other great shows out there."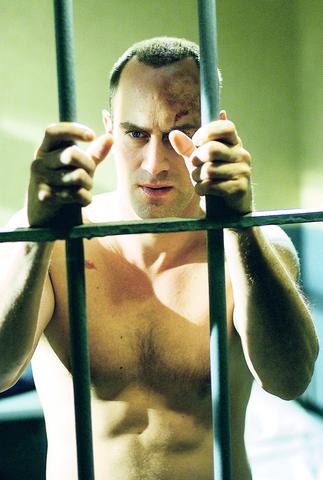 Christopher Meloni acts in the HBO series ``Oz.''
PHOTO: NY TIMES
Comments will be moderated. Keep comments relevant to the article. Remarks containing abusive and obscene language, personal attacks of any kind or promotion will be removed and the user banned. Final decision will be at the discretion of the Taipei Times.