Group touts manufacturing for growth
ECONOMIC DRIVERS: A persistent lack of stable electricity, water, land, labor and talent supply has dampened investment interest in Taiwan, a federation of industries said
The Chinese National Federation of Industries (CNFI, 工總) yesterday called on the government to value the nation's manufacturing industry, as other sectors are not mature or big enough to drive economic growth.
"The US and China have sought to beef up their manufacturers in the pursuit of economic growth, but Taiwan is driving them away," newly installed CNFI chairman William Wong (王文淵) said at the release of the trade group's annual position paper.
Wong, also the chairman of the nation's largest industrial conglomerate, Formosa Plastics Group (FPG, 台塑集團), expressed particular frustration over environmental, energy and labor regulations.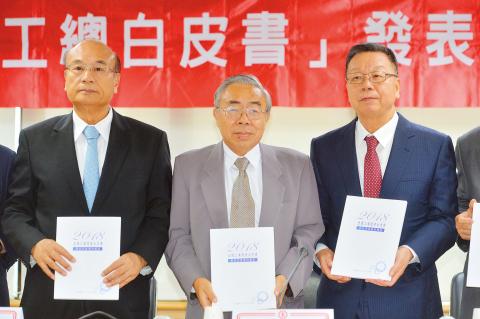 Chinese National Federation of Industries chairman William Wong, center, poses for a photograph at a news conference in Taipei yesterday at which he announced the release of the federation's annual white paper.
Photo: CNA
FPG, which primarily produces polyvinyl chloride (PVC) resins and other intermediate plastic products, has been blamed for poor air quality near its facilities and is waiting for regulatory approval of its capacity expansion plans.
US President Donald Trump has pledged to make the US great again by keeping manufacturing facilities onshore and Beijing has unveiled the "Made in China 2025" program, Wong said.
Bucking the trend, Taiwan has urged manufacturers to expand overseas, especially in Southeast Asia, to take advantage of cheaper land and labor costs there, Wong said.
He questioned the wisdom of the New Southbound Policy, as the government has not yet secured fair taxation, investment or personal safety protection pacts with countries in the region.
The trade group, which consists of 159 member associations and represents a majority of local manufacturing businesses, again pressed the government to push back the schedule of making the nation nuclear free from 2025 to 2050.
Renewable energy is not a reliable source and gas is not more environmentally friendly than coal, Wong said, adding that it would cost less to invest in reducing coal-related pollutants.
In any case, the nation needs more time to develop renewables and it is too risky to phase out nuclear power prematurely, with 120 short circuits reported so far this year, the group said.
A persistent lack of stable electricity, water, land, labor and talent supply has dampened investment interest in Taiwan, it said.
Wong said the government should refrain from unnecessary interventions in the labor market, adding that supply and demand would work out an equitable wage level for workers.
The average wage at FPG is NT$55,000 per month — much higher than the basic wage, Wong said.
Like the US and China, the government should create a more friendly environment for the manufacturing industry, which has underpinned GDP growth over the years, because agriculture and other sectors are too small to sustain the economy, he said.
Comments will be moderated. Keep comments relevant to the article. Remarks containing abusive and obscene language, personal attacks of any kind or promotion will be removed and the user banned. Final decision will be at the discretion of the Taipei Times.