Ukraine revamps its wine culture after losing Crimea vineyards
Oleksandr Kovach takes a glass, swirls the wine a few times and raises it to eye level before taking a sip.
The 47-year-old vintner in the Transcarpathia region of western Ukraine is holding a wine tasting for tourists at his vineyard in the region's largest city, Uzhhorod.
Kovach leads visitors to his softly-lit wine cellar, where a wooden table set with glasses awaits as mood music plays in the background.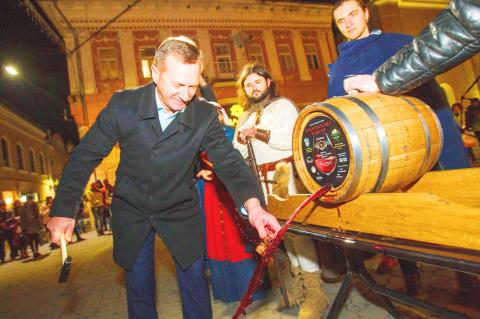 Uzhhorod Mayor Bogdan Andriyiv opens a barrel of wine during the Transcarpathian Beaujolais festival in Uzhhorod, Ukraine, on Nov. 16 last year. Warning: Excessive consumption of alcohol can damage your health
Photo: AFP
He has doubled production of his own-label Kovach's Wines in five years, and believes this is just the beginning.
Ukraine's wine industry is enjoying a revival and branching out into more sophisticated wines after suffering a devastating blow from Russia's annexation of its main vineyards in Crimea.
When Moscow seized the Black Sea peninsula in 2014, Ukraine lost more than half its bottled wines, mostly semi-sweet and dessert wines, the Association of Winegrowers and Winemakers of Ukraine said.
However, the loss of Crimea and the armed conflict in the east ironically gave a giant push to Western-style dry wines, especially in Transcarpathia and the southern Odessa and Kherson regions.
Since 2015, Ukraine's production of dry wines has grown by 7 percent to 9 percent every year, the association said.
"This is a huge leap forward," said Kovach, who now produces 30 varieties of wine, only six of which are sweet.
The winemaker believes that Ukraine has "finally got rid of" its Soviet legacy of sweet wines while adapting to "European standards."
Exports of non-sparkling wines have more than tripled since 2014 to 332,000 deciliters last year, the association said.
"When the first wine festival was held here [in Transcarpathia] in 1995, few winemakers even differentiated red and white wine," Kovach said. "The grapes just grew by themselves, people collected them and processed them without understanding what they were doing."
Transcarpathia is reviving grape varieties destroyed by Soviet collectivized agriculture, said Vasyl Nad, a 54-year-old winemaker in Beregove, a small town near the Hungarian border.
"This land has an advantage — a special microclimate where the temperamental European varieties do well," said Nad, who runs Nota Bene winery.
The forested and mountainous region is known for its dry white wines made from the Riesling, Gewuerztraminer and Leanka grape varieties.
Now Transcarpathia holds nine wine festivals attended by about 150,000 tourists per year, the regional tourist information center said.
They especially draw wine lovers from Slovakia, Poland, Hungary and the Czech Republic to the region, which also offers skiing and hot springs.
For Ukrainians, a renewed interest in local wine is at least partly explained by politics. After Russia-backed rebels sparked a long-running armed conflict in the east, many Ukrainians started buying local brands to support the shaky economy.
"Four years ago, our people didn't know winemaking even existed in Ukraine," said Sergiy Klimov, owner of the Like a Local's wine bar in Kiev — the city's first to offer a large selection of exclusively Ukrainian wines.
"When the public's general interest grew, things started developing," he added.
"Thank God, the wine culture is coming back to Ukraine," said 32-year-old Gergey Paraska, whose family of Hungarian origin has made wine for six generations.
Together with his brother, he is restoring the family's winery in Bene, a small village in the foothills of the Carpathian Mountains.
Paraska's great-grandfather was exiled to Siberia and his vineyards were destroyed during the Soviet repression of peasants in the 1920s and 1930s.
When he returned, he got his three sons together and dictated to them the family's secret recipes for 35 wines, which he still remembered.
Paraska and his brother have revived 18 of those family wines, which they sell under the Paraszka Pinceszet label.
In the next five to 10 years, Ukrainian wine will show "tremendous growth," Klimov said. "We have varieties that are typical only of Ukraine and they are unique."
The devaluation of the Ukrainian hryvnia has helped local wines compete against inexpensive Chilean, Argentine, French and Italian wines.
An average bottle of Ukrainian wine costs about 100 to 200 hryvnia (US$3.83 to US$7.66).
"When the buyer chooses between imported wine for 3 euros and Ukrainian wine for 3 euros, he understands ... what the quality is," Klimov said.
However, small wineries face bureaucratic obstacles.
Only 50 large Ukrainian companies are licensed to sell wine, and winemakers such as Paraska and Nad can only sell their product in their own tasting rooms.
Winemakers have said it is hard to obtain a license in a country fraught with corruption.
"You have to collect 136 documents from seven ministries and pay US$10,000 in bribes in order to buy a license that costs 780 hryvnia," Kovach said.
Yet, they believe the future of Ukraine's winemaking is with small manufacturers.
"Wine with real flair, something true and powerful, can only be created in small family wineries," Nad said. "This is where the person invests as much as possible — both his labor and his soul."
Comments will be moderated. Keep comments relevant to the article. Remarks containing abusive and obscene language, personal attacks of any kind or promotion will be removed and the user banned. Final decision will be at the discretion of the Taipei Times.