Yulon to launch first electric car in Q4
RETURN ON INVESTMENT? A lawmaker said the automaker had failed to produce a commercially available electric vehicle, despite NT$1.6 billion in government subsidies
Yulon Motor Co (裕隆汽車), one of the nation's largest automakers, yesterday said it would launch its first electric car in the fourth quarter of this year, aiming to impress the public with its environmentally friendly vehicles.
The S3 EV, which can accelerate from zero to 100kph in 7.2 seconds and is equipped with a 33 kilowatt-hour battery, is to be Yulon's first production-ready sedan in its electric vehicle lineup, the firm said, without providing pricing information.
On Wednesday, Democratic Progressive Party Legislator Lin Chun-hsien (林俊憲) criticized the automaker, saying that it had failed to produce electric vehicles, despite having received government subsidies since 2011.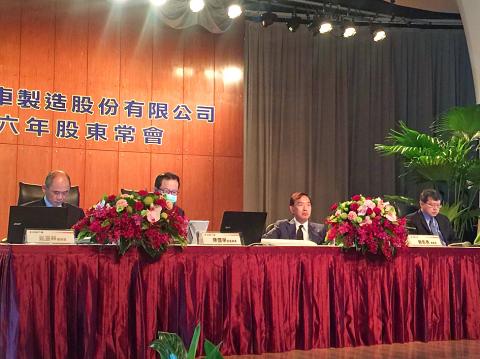 Yulon Group chairman Kenneth Yen, second right, yesterday attends a shareholders' meeting at the company's headquarters in New Taipei City's Sindian District.
Photo: Yang Ya-min, Taipei Times
Yulon said in a statement that it has invested more than NT$50 billion (US$1.64 billion) in electric vehicle research and development since 2006.
Apart from electric cars, Yulon said it plans to launch a small sports utility vehicle under its Luxgen (納智捷) brand in both the domestic and Chinese markets to stimulate sales in the second half of the year.
"Aided by new product launches by most car vendors, we forecast the nation's total car sales for this year will remain at last year's [high] level," Yulon chairman Kenneth Yen (嚴凱泰) said at the firm's annual shareholders' meeting yesterday.
Last year, new car sales rose 4.5 percent to an 11-year high of 439,629 units, data compiled by local motor vehicle departments showed.
Yulon president Yao Chen-hsiang (姚振祥) said that local car distributors would likely take advantage of a government five-year subsidy program.
The company aims to sell 18,000 Luxgen vehicles in Taiwan this year, up from last year's 16,360 units, it said.
Yulon's board on Monday approved a plan to inject NT$1.825 billion into a joint venture in China to replenish its operating capital, despite three consecutive years of losses at the unit.
The company distributes Luxgen vehicles in the Chinese market via Dongfeng Yulon Motor Co (東風裕隆), a joint venture with China's Dongfeng Automobile Co (東風汽車).
Dongfeng Yulon, which last year posted a net loss of NT$4.319 billion, has a paid-in capital of 2.75 billion yuan (US$402.6 million), company data showed.
In the first quarter of this year, Yulon's net income rose 21 percent annually to NT$761 million, but consolidated revenue declined 16 percent to NT$24.79 billion, company data showed.
Yulon attributed the earnings increase mainly to profit generated by vehicle financing subsidiary Taiwan Acceptance Corp (裕融), which began operations in China last year.
Yulon has received a total of NT$1.6 billion in subsidies from the Ministry of Economic Affairs to develop electric cars, which Lin said had gone to waste, as it has only manufactured 489 test vehicles.
While it promised to produce 3,000 electric cars by 2012, it has yet to make a single commercially available model, he added.
The ministry in 2014 lowered Yulon's annual target of electric cars to make to about 200, but it only made three last year, he said.
"Yulon planned to produce a total of 3,564 electric cars over the past six years, but has made only 489, a success rate of 13.7 percent," Lin said. "Has it done right by taxpayers? Is it not necessary to overhaul the subsidy program?"
The 489 cars were sold to government agencies and state-run businesses for NT$2.2 million each, he said.
In 2003, US electric car maker Tesla Inc established an office in New Taipei City's Linkou District (林口), but the government in 2009 drove the automaker away to protect Yulon, Lin said.
By comparison, electric scooter maker Gogoro Inc (睿能創意) in 2015 received NT$1 billion in government subsidies to develop its business, selling thousands of scooters and securing a 58 percent share of the market, he added.
Lin called on the government to stop subsidizing Yulon if it fails to produce commercially available electric cars within a reasonable time frame.
"It is not that the government cannot develop local industries, but it should have the resolve to terminate its support when they underperform," he said.
The Industrial Development Bureau said that Yulon has helped 38 local firms gain access to the electric car industry's global supply chain, but technological hurdles remain to lowering the production cost of locally developed electric vehicles.
Subsidies were awarded to other companies as well, the bureau said, adding that the government would continue to subsidize the development of electric cars.
Additional reporting by Chen Wei-han
Comments will be moderated. Keep comments relevant to the article. Remarks containing abusive and obscene language, personal attacks of any kind or promotion will be removed and the user banned. Final decision will be at the discretion of the Taipei Times.