Bad year for Wall Street's golden boy Ackman
For a Wall Street star once dubbed the "Baby Buffett," Bill Ackman is having a pretty bad year.
Huge bets on companies like Valeant Pharmaceuticals International Inc and Herbalife Ltd have delivered steep losses to the flamboyant billionaire's Pershing Square Capital Management LP hedge fund.
With about US$12 billion under management, Pershing lost about 20 percent in the first half this year, securities filings show.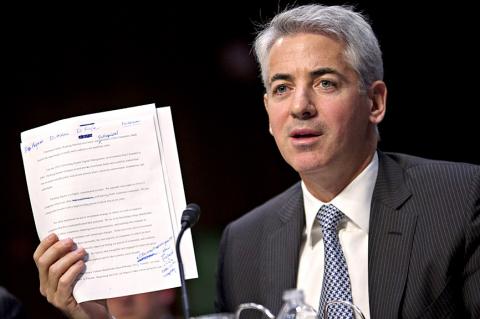 Pershing Square Capital Management LP founder and chief executive officer Bill Ackman shows a copy of his testimony during a Senate Special Committee on Aging hearing on Valeant Pharmaceuticals International Inc in Washington on April 27.
Photo: Bloomberg
Everything suggests that the second half is unlikely to be much better, after Ackman's crusade against nutritional supplement direct sales company Herbalife, which he shorted as he labeled it a pyramid fund, was rebuffed on Friday.
Agreeing with Ackman's longtime rival in Wall Street big-time activist investing, Carl Icahn, the US Federal Trade Commission ruled Herbalife is not a pyramid operation and, while forcing it to pay out US$200 million to injured distributors, said the company could stay in business.
Herbalife shares jumped 9.9 percent, generously benefiting Icahn, who holds 25 percent.
It is not clear how Ackman, 50, fared financially at the apparent end of his three-year siege of the company, in which Pershing took a large short position, betting Herbalife shares would sink.
"This is a victory for Herbalife shareholders and a total defeat for the short camp," Pivotal Research Group analyst Timothy Ramey said.
Ackman did not concede, even if the market moved against him.
He said that the US Federal Trade Commission had ordered changes to the way Herbalife does business and that eventually those would undermine the company's business model.
"We expect that once Herbalife's business restructuring is fully implemented, these fundamental structural changes will cause the pyramid to collapse," Pershing said in a statement.
The stylishly coiffed, Harvard grad golden boy of the exclusive New York hedge fund billionaires club, Ackman has a history of taking contrarian stakes and then going very public with them.
After Pershing made a US$1 billion bet in 2012 that Herbalife's shares would tumble, he publicly labeled the company a Ponzi scheme, comparing it to Enron Corp, the high-flying energy group that plunged into bankruptcy in 2001, and the Bernie Madoff fund collapse seven years later.
Putting his credibility on the line, Ackman inundated media and the Internet with appearances and videos arguing his case that Herbalife would collapse.
The Pershing short gambled on Herbalife shares falling from US$47, but they have traded well above that level since February and finished at US$65.25 on Friday.
Ackman has admitted that carrying the short bet has cost the fund US$20 million a year.
Ackman's emotional commitment to his positions was also apparent in his investment on Valeant Pharmaceuticals International Inc.
He took a huge position on the future of the Canadian drugmaker as it expanded via aggressive takeovers, only to see the shares plummet in scandals over Valeant's business model and accounting methods.
After surging to a peak of more than US$263 in the middle of last year, Valeant's shares have plunged to below US$23, while Pershing has clung to its sizable stake in the debt-laden company.
Ackman's style and recent record has not impressed some on Wall Street.
"We believe Ackman typifies the activist behaviors that destroy, rather than create, long-term shareholder value," David Trainer and Sam McBride from investment research house New Constructs said in a note.
Joseph Fahmy, managing director at Zor Capital in New York, tweeted a similar view.
"I don't feel bad for Ackman. I feel bad for the people who piggy-backed his trade without doing their own due diligence," he said.
Comments will be moderated. Keep comments relevant to the article. Remarks containing abusive and obscene language, personal attacks of any kind or promotion will be removed and the user banned. Final decision will be at the discretion of the Taipei Times.