China steel exports surge
WEAK DOMESTIC DEMAND: Steelmakers in China last year exported a record 112 million tonnes, sending the global market into a tailspin as profits and prices fell
A surge in China's prices failed to stem steel exports in the first four months of the year, signaling that demand remains weak in the top user. Futures in Shanghai slumped by the exchange limit yesterday.
Shipments climbed to 36.9 million metric tonnes in the four months to last month, up 7.6 percent from a year earlier, according to data released by China's General Administration of Customs on Sunday. Mills boosted exports even as prices of steel rebar in Shanghai advanced by more than 50 percent at one point this year to their highest level since September 2014.
Steel prices in China had rebounded from five years of losses as the economy stabilized, the property market improved and investors piled into raw material futures.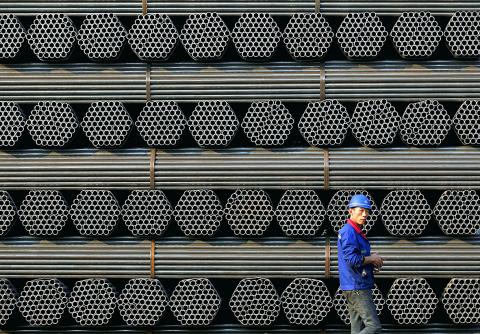 A worker walks past steel pipes at the Youfa steel pipe plant in Tangshan, China, on Nov. 3 last year.
Photo: Reuters
Shipments of the raw material slid to 9.08 million tonnes last month from 9.98 million tonnes in March as a rally revived profit margins at some mills and curbed their need to seek increased income from markets outside the country.
Steel-product exports surged "despite a rebound of domestic steel prices, indicating that Chinese steel demand might be weaker than expected," analysts, including Edward Morse at Citigroup Inc, wrote in a note dated yesterday.
Steel rebar, used to strengthen concrete, yesterday slumped by the exchange limit to 2,175 yuan (US$334) a tonne. Futures had surged to 2,787 yuan on April 21, the highest intraday level since September 2014, spurring bourses in China to take steps to curb a speculative frenzy in commodities.
Last year, steelmakers in China shipped a record 112 million tonnes overseas, sending the global market into a tailspin as profits and prices collapsed. This year, the sales might ease to 100 million tonnes as local demand strengthens, according to an estimate from the China Iron and Steel Association.
Iron ore imports last month totaled 83.92 million tonnes, compared with 85.77 million a month earlier, according to customs figures.
Over the first four months, purchases of ore were 325 million tonnes, about 6.1 percent more than in the same period last year. China is the world's largest buyer of seaborne iron ore, and its mills account for about half of global steel supply.
ArcelorMittal, the biggest steel-producing company in China, last week cautioned that while it saw a broad recovery in the global market, Chinese prices might have overshot and could fall back.
Risks remained in China because fundamental overcapacity still existed, ArcelorMittal chief financial officer Aditya Mittal told reporters as the Luxembourg-based company reported a drop in quarterly earnings.
"Steel mills, skeptical of whether the high price is sustainable, continued to be keen to sell overseas," said Wei Yingsong, an analyst at Mysteel Research.
Comments will be moderated. Keep comments relevant to the article. Remarks containing abusive and obscene language, personal attacks of any kind or promotion will be removed and the user banned. Final decision will be at the discretion of the Taipei Times.