Canberra cracks down on foreign property investors
BLAME GAME? The government has unveiled increased penalties on foreigners violating real-estate laws, as they are blamed for raising prices beyond ordinary Australians
Foreigners who break rules on buying Australian real estate are to face up to three years in jail or fines of A$127,500 (US$100,100) for individuals, and A$637,500 for companies, under tougher rules unveiled yesterday.
In announcing the changes, Australian Prime Minister Tony Abbott said his government was in favor of foreign investment.
"But it does have to be the right foreign investment, in the right things, and we do need to have a foreign investment review system which encourages public confidence that the foreign investment we need really is in Australia's national interest," Abbott said.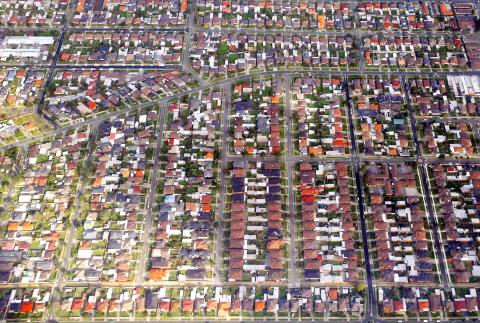 Houses in Sydney's eastern suburbs are pictured from the air on June 5 last year.
Photo: Reuters
Foreigners are only allowed to buy new dwellings and are barred from purchasing existing residential property in Australia, but the government says there has been little enforcement of the rules.
Wealthy foreigners, many from China, have been blamed for driving up prices in Australian property markets, particularly in Sydney and Melbourne, and placing home ownership out of the reach of many Australians.
Abbott said that under the changes enforcement would be beefed up, while third parties such as real-estate agents who knowingly assisted a foreigner to breach the rules would be fined up to A$42,500 for individuals and A$212,500 for companies.
The changes come after the government earlier this year announced it would introduce fees on all foreign investment applications, starting at A$5,000 for residential properties valued at A$1 million or less.
Australian Treasurer Joe Hockey said the government was already investigating about 100 cases of illegal purchases, and one divestment order had already been issued on a property that was now in the process of being sold to an Australian.
In March, Australia ordered China's Evergrande Real Estate Group (恆大地產集團) to sell a Sydney mansion worth A$39 million that regulators said was bought illegally under foreign investment rules.
Hockey said foreign investors who have purchased illegally had a moratorium until Nov. 30 to come forward.
"They will be forced to sell their properties but they will not be subject to criminal prosecution by the Commonwealth government," Hockey told a press conference with Abbott in Sydney.
"If you do not come to us we will come to you."
Abbott said the changes were not designed to discourage foreign investment or to depress the property market, but to give people confidence that "locals are getting a fair go" in buying their own homes.
"If you play by the rules, there is no more welcoming place than Australia," he added.
On Thursday, Australia's Foreign Investment Review Board said in its annual report that China has for the first time overtaken the US as Australia's largest source of foreign investment, spending A$27.7 billion in 2013-2014 as real-estate purchases more than doubled.
China's spending in Australia for the year ending June 30 last year far outstripped the A$17.5 billion from the US — which was the biggest investor for more than a decade — and Canada's A$15.4 billion, the report said. Rounding up the top five foreign investors were Malaysia at A$7.2 billion and Singapore at A$7.1 billion, it said.
Comments will be moderated. Keep comments relevant to the article. Remarks containing abusive and obscene language, personal attacks of any kind or promotion will be removed and the user banned. Final decision will be at the discretion of the Taipei Times.