Tax won't impact sales: luxury goods makers
Luxury goods makers, including those in the home furnishings and auto businesses, yesterday said the proposed luxury tax "would not have much impact" on sales because their customers are seeking top-quality goods and could afford to pay a little extra.
That contradicts concerns raised by the European Chamber of Commerce Taipei (ECCT) that the tax could hurt car sales.
"Some clients are spending as much as NT$10 million [US$300,000] furnishing their homes. They will not frown on the extra tax," said David Hsu (徐培庭), marketing director at New World Design Center (紐約家具設計中心).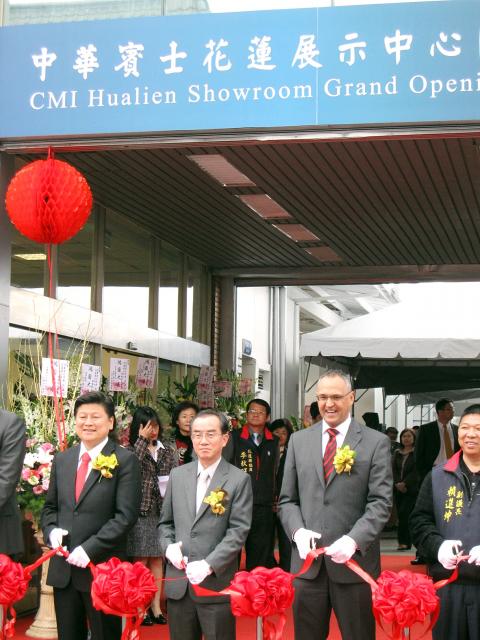 Mercedes-Benz Taiwan Ltd president and chief executive Eberhard Kern, right, and Capital Motors Inc president A.A. Khoo, left, cut ribbons to mark the official opening of a Mercedes-Benz sales and maintenance center in Hualien yesterday.
Photo: Yang Ya-min, Taipei Times
"These customers do not only buy one piece of furniture; they are purchasing many pieces at the same time. That comes out at many zeros [in dollar terms]," he said by phone.
New World Design promotes itself as an operator of top-class furniture malls.
In December, the firm launched a new five-story mall in Neihu, Taipei, that spans 7,000 ping (23,100m2). That complements its three other malls — two in Sinchuang, New Taipei City (新北市), and another in Taichung.
The Neihu mall's goal is to earn NT$1.4 billion in sales for the first year and that remains intact, Hsu added.
The Ministry of Finance has announced plans to impose a 10 percent luxury tax on the sale of certain expensive goods and services — such as home furnishings that cost NT$500,000 or more, as well as private jets, yachts and cars with a price tag of at least NT$3 million — starting in July at the earliest.
On Wednesday, the ECCT expressed concern over the imposition of a luxury tax on European vehicle importers during an hour-long meeting with Minister of Finance Lee Sush-der (李述德), Central News Agency (CNA) reported, citing ECCT chief executive Freddie Hoeglund and chairman Chris James.
CNA quoted an official at the ministry saying that 3,500 such vehicles were purchased last year and if the tax were imposed, the nation's tax revenues would be boosted by an additional NT$1.5 billion.
However, the impact could be wider than the ministry's estimates.
Automakers said that among the 32,000 high-end imported vehicles sold last year, 40 percent — or 13,000 units — were priced at NT$3 million or more.
Mercedes-Benz and BMW would take the biggest hit, said an official from Hotai Motor Co (和泰汽車) who wished to remain anonymous.
Hotai distributes the high-end Lexus models and it sold more than 6,000 cars last year, 500 of them from the LS series — the only model that carries a price tag of more than NT$3 million.
"The impact isn't that huge to us, but consumer confidence will take a hit. They will wonder why on earth they have to shoulder the extra 10 percent," he said.
Comments will be moderated. Keep comments relevant to the article. Remarks containing abusive and obscene language, personal attacks of any kind or promotion will be removed and the user banned. Final decision will be at the discretion of the Taipei Times.