Charity turns pesky cane toads into princely footwear
After donations took a dive in the wake of the financial crisis, one charity decided to raise funds in a novel way — by selling high-fashion shoes with a creepy twist
The warty and toxic cane toad may be the most reviled animal in Australia, but a charity has devised a way to make good use of the invasive pests — fashioning them into sneakers fit for a prince.
Efforts to eradicate the repulsive hopper, a prolific breeder which has spread widely in the country's tropical reaches since being introduced to kill beetles in the 1930s, have included killing them with golf clubs and driving over them.
But Rupert Noffs hopes the shoes he and his brother Matt have devised will be a kinder way of depleting the numbers of the incredibly tough amphibian which secretes a poison which can kill pets and wildlife and injure humans.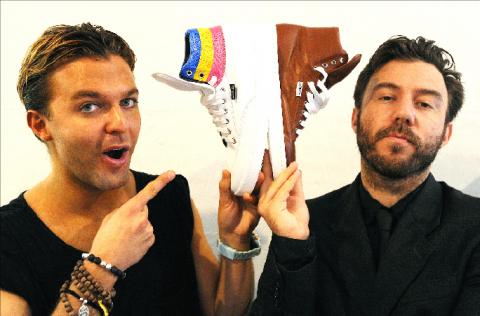 Gideon Shoes cofounders and artistic directors Rupert, left, and Matt Noffs launch shoes made from cane toads, left, and kangaroo hide, right, in Sydney on Dec. 9.
PHOTO: AFP
He says that people who have seen the sneakers — which combine kangaroo leather with a cane toad detail — are taken aback at how a loathsome creature can be converted into a fashion statement.
"Sometimes when people first see them they kinda freak out and then they go 'Actually, it's quite beautiful,'" he said ahead of the Gideon Shoes launch in Sydney on Thursday. "They dye them, we've got them in blue, gold, red, pink, black and they are actually really beautiful. They are very durable, and as we all know, they are pests, so what better way to use them after they've been put down?"
Noffs, who described cane toads as "totally gross" said even he had to be convinced that the hide would be a suitable component for the fashion line he and his brother want to use to fund their charitable works.
But having just come back from New York where the shoe's concept was well received and with celebrities such as Jay Kay from Jamiroquai taking a pair, he is hopeful consumers will take to them the way cane toads took to Australia.
He said he tells people: "Someone has kissed them and turned them into a handsome little sneaker."
Rupert, 27, and his 30-year-old brother Matt decided to make the shoes as part of a fashion line they are hoping will fund an expansion of their outreach programs for young people struggling with drug addiction, homelessness and other problems.
The name Noffs is well known in Sydney, where Rupert's late grandfather Ted Noffs established the Wayside Chapel in Kings Cross in the 1960s to offer refuge to those living on the streets.
The brothers have stuck with the family business, with Rupert setting up the "One Noffs" fashion store for recycled and redesigned clothes and brother Matt and his wife establishing the Street University in western Sydney to help young people.
"It's really just a space just for kids to find their true potential," Rupert Noffs said of the Street University. "Most of these kids have nothing, they come from these horrible backgrounds and then walk into the space — six months later they are reading the Da Vinci Code and studying at university ... or we hire them at Gideon."
More than 20 of these young people now work for Gideon on the shoes which will retail from about A$160 (US$158) for the cow leather version to up to A$450 for the premium kangaroo and cane toad sneaker.
All the shoes will be hand-stitched with about 20 to 30 produced each day.
Noffs said part of the reason for the high price was the fact that they are manufactured in Australia rather than China where labor costs are much cheaper but conditions for workers are not as good.
"So we decided to make them in Australia and, yes, they are eight times the cost of making them in China, but really it's the peace of mind of knowing that the people are getting great salaries," he said. "Not only that but they [the shoes] are also the most beautiful quality."
Rupert Noffs said the idea for shoes came as the global financial crisis hit charities such as theirs hard.
"What we were seeing was a real lack of donations, especially during the financial crisis, but what I always say is what people don't realize is that it is always a financial crisis in a charity. So my brother and I thought 'Why don't we set up a cool fashion label?'"
A bonus in selling the shoes overseas will certainly be the Australian angle, so would Noffs consider using any other animal in the fashion range such as a cuddly koala or a cute echidna?
"No way, no way," he insisted. "We would never go near anything like a koala. No way. But let's get rid of those cane toads."
Comments will be moderated. Keep comments relevant to the article. Remarks containing abusive and obscene language, personal attacks of any kind or promotion will be removed and the user banned. Final decision will be at the discretion of the Taipei Times.