Asian stocks drop on concern about China
SHAKEN CONFIDENCE: While the Shanghai Composite dropped to its daily 20 percent threshold on Friday, the TAIEX was dragged lower on concern over a Cabinet reshuffle
Asian stocks fell for the second time in three weeks as concern that China will rein in lending sent the nation's equities briefly into a bear market and as metal prices retreated.
The Shanghai Composite Index fell as much as 20 percent from its high for this year reached on Aug. 4 as a slump in new lending last month fueled concern growth may decelerate. Rio Tinto Group, the world's third-largest mining company, lost 6.1 percent in Sydney for the week as earnings missed estimates and prices for metals including copper and nickel fell. Honda Motor Co, Japan's No. 2 automaker, tumbled 5.3 percent as the US announced the end of the "cash for clunkers" subsidy program.
A plunge in new bank loans in China last month, disappointing earnings and concern Beijing will seek to damp property speculation has sapped confidence, driving down the Shanghai Composite briefly on Friday by the 20 percent threshold that signals a bear market.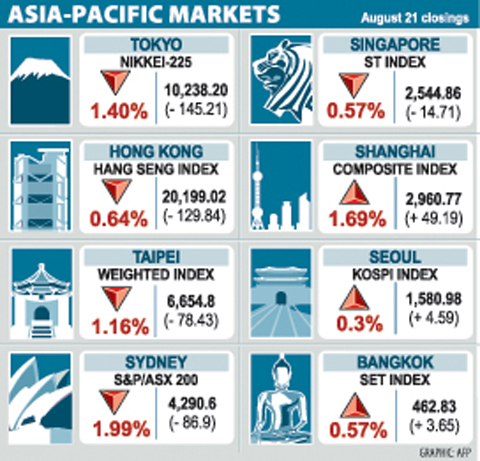 The MSCI Asia-Pacific Index lost 3.2 percent this week to 110.61, slipping from the highest level for the year last Friday. The benchmark has rallied: 57 percent since dropping to the lowest in almost six years on March 9.
Japan's Nikkei 225 Stock Average fell 3.4 percent to 10,238.20 as investors questioned the sustainability of a recovery even as data showed the economy expanded for the first time in more than a year last quarter.
Taiwan's TAIEX index this week fell 5.9 percent, the region's worst performance, on concern a possible Cabinet reshuffle next month will delay the signing of a financial agreement with China.
Taiwanese share prices are expected to face a correction next week after the market tumbled in the past week amid a lack of positive clues from corporate earnings reports, dealers said.
For the week to Friday, the weighted index fell 414.71 points, or 5.87 percent, to 6,654.80 after a rise of 2.92 percent the previous week. Average daily turnover came in at NT$92.95 billion (US$2.82 billion) compared with the previous week's NT$111.04 billion.
"The continued shrinking of trading volume signalled that investors were reluctant to build up positions," Allen Lin of Concord Securities Co (康和證券) said.
The market is also expected to react to political upheaval as ­President Ma Ying-jeou (馬英九) faces his worst criticism since coming to office over his handling of Typhoon Morakot and it aftermath.
Three senior Cabinet officials have already tendered their resignations to shoulder responsibility for the government's response to the tragedy.
"Certainly politics would be a key factor that may drag down the market in the week ahead as investors fear it may 'engulf' the Ma administration and lead to political instability," Chen Yu-yu (陳育娛) of Capital Securities Corp (群益證券) said.
Lin said that since the market fell below the 20-day moving average, it was expected to continue to dive to a range of 6,300-6,400 in the week ahead.
Comments will be moderated. Keep comments relevant to the article. Remarks containing abusive and obscene language, personal attacks of any kind or promotion will be removed and the user banned. Final decision will be at the discretion of the Taipei Times.