US foreclosure filings top 300,000 as seizures loom
BUCKET FILLING A total of 321,480 properties received a default or auction notice or were repossessed last month, an increase of 18 percent from a year ago
US foreclosure filings surpassed 300,000 for the third straight month last month and could hit a record 1.8 million by the first half of the year, RealtyTrac Inc said.
A total of 321,480 properties received a default or auction notice or were repossessed last month, up 18 percent from a year earlier, the Irvine, California-based seller of default data said today in a statement. One in 398 US households received a filing last month.
"The foreclosure bucket is filling faster than it's emptying," Jay Brinkmann, chief economist of the Washington-based Mortgage Bankers Association (MBA), said in an interview. "It will continue through next quarter at least."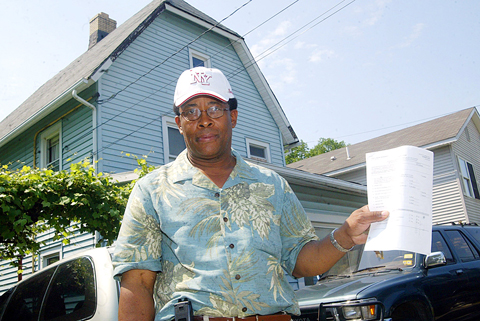 Jean Castro of Bridgeport, Connecticut, shows foreclosure papers that cite a debt owed to the city for US$51.69 in back taxes on Monday.
PHOTO: AP
Job losses and falling property prices are delaying the housing recovery as more homeowners are unable to pay the mortgage or have difficulty selling or refinancing. The unemployment rate climbed to 9.4 percent last month, the highest since 1983, the US Labor Department said last week. Prices in 20 US cities dropped 18.7 percent in March, the S&P/Case-Shiller home-price index showed.
More home loans originated in 2005 or before are likely to default as unemployment climbs, said Rick Sharga, executive vice president for marketing at RealtyTrac.
A record 1.37 percent of all loans entered the foreclosure process in the first quarter, with 29 percent tied to borrowers with prime, fixed-rate mortgages, the MBA reported on May 28. Homes in foreclosure totaled 3.85 percent of all loans in the quarter, up from 2.47 percent a year earlier, MBA said.
"The numbers are getting bigger and that's what is bothering me," said Patrick Newport, economist at IHS Global Insight in Lexington, Massachusetts. "You have banks holding these toxic loans, which means bank balance sheets are in even worse shape with the increase in delinquencies."
Additional US home foreclosures will probably total 6.4 million by the middle of 2011 and inventories of foreclosed homes awaiting sale will probably peak in the middle of next year at about 2 million properties, JPMorgan Chase & Co analysts led by John Sim wrote in a June 5 report. US prices will likely drop 39 percent on average, they said.
The total for last month was the third-highest in RealtyTrac records dating to January 2005.
Nevada had the highest foreclosure rate, one in every 64 households, more than six times the national average. California ranked second at one in 144 households.
Florida had the third-highest rate at one in 148 households. Arizona ranked fourth with one in 158 and Utah was fifth with one filing per 316 households, RealtyTrac said.
Other states among the top 10 highest rates were Michigan, Georgia, Colorado, Idaho and Ohio.
California had the highest total number of filings at 92,249, 23 percent more than a year earlier. Scheduled auctions rose 18 percent from the previous month while bank seizures fell 1 percent and defaults fell 18 percent.
Florida had the second-highest total with 58,931 filings, up 50 percent from May last year. Nevada was third with 17,157 filings, up 83 percent, as bank seizures there rose 23 percent from the previous month.
Arizona, Michigan, Ohio, Illinois, Georgia, Texas and Virginia rounded out the top 10, which accounted for 77 percent of total US filings, ­RealtyTrac said.
Comments will be moderated. Keep comments relevant to the article. Remarks containing abusive and obscene language, personal attacks of any kind or promotion will be removed and the user banned. Final decision will be at the discretion of the Taipei Times.