Conspiracy, fraud charges for ex-Bear Stearns chiefs
MALICIOUS MORTGAGE An indictment said two fund managers made misrepresentations to prevent investor withdrawal even as the funds were close to collapse
Two former Bear Stearns executives were indicted on Thursday as officials unveiled charges against 406 people in a huge probe into fraud, which helped fuel the housing crisis and infect the global economy.
The announcement was the biggest indication yet of criminal charges in response to what some say was rampant fraud aimed at cashing in on a sizzling market before last year's meltdown.
In an indictment unsealed in New York, former Bear Stearns hedge fund managers Ralph Cioffi and Mathew Tannin were charged with conspiracy, securities fraud and wire fraud. Cioffi was also charged with insider trading.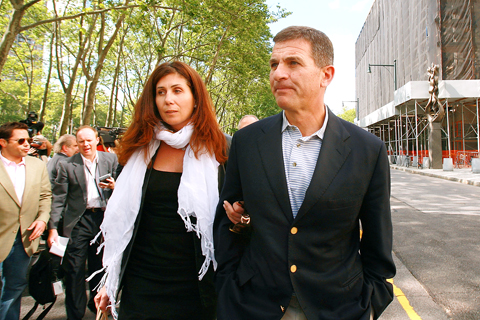 Ralph Cioffi, right, and his wife walk out of a Brooklyn court house after posting bail on Thursday in Brooklyn, New York.
PHOTO: AFP
The pair told investors that their two funds were designed "to provide a modest, safe and steady source of returns," the indictment said.
But they failed to inform investors that the funds were "in grave condition" and at risk of collapse in March last year.
The funds collapsed last summer, resulting in some US$1.4 billion in losses to investors and triggering widespread panic in financial markets about the global financial system.
The indictment said the two had "marketed the two funds as a low-risk strategy, backed by a pool of debt securities such as mortgages" and "made misrepresentations to stave off investor withdrawal" even as the funds neared collapse.
But Edward Little, a lawyer for Cioffi, said the two men were being blamed in a crisis that was not their fault.
"The subprime crisis took everyone by surprise, including the Fed and Treasury, and dozens of the largest financial institutions have lost over US$300 billion to date on the same investments," the lawyer said in a statement.
"We are shocked and disappointed that the government has seen fit to fix blame on these two decent men. The good news though is that there will be a trial and we look forward to the day they will be vindicated," Little said.
Tannin's attorney Susan Brune said: "Matt Tannin is innocent. He is being made a scapegoat for a widespread market crisis. He looks forward to his acquittal."
Meanwhile the Department of Justice and the FBI said they had charged 406 people from March 1 to Wednesday in a national probe called "Operation Malicious Mortgage" in a variety of schemes related to housing fraud.
Some 60 arrests were made in mortgage fraud-related cases on Wednesday, in 144 separate cases. The FBI estimates that the cases resulted in US$1 billion in losses.
"Operation Malicious Mortgage and the Bear Stearns case demonstrate that the Department of Justice is determined to detect and to punish mortgage fraud and to help restore stability and confidence in our housing and credit markets," Deputy Attorney General Mark Filip said.
"The cases announced today represent the ongoing enforcement work of federal investors and prosecutors from across the country who are working with more than 40 task forces that they, along with our state and local counterparts, have formed to combat this sort of fraud and related abuses," he said.
Comments will be moderated. Keep comments relevant to the article. Remarks containing abusive and obscene language, personal attacks of any kind or promotion will be removed and the user banned. Final decision will be at the discretion of the Taipei Times.