Honda expects sales to grow in all regions
Honda expects its global sales will rise 6 percent this year to a record 3.76 million vehicles on booming demand in the US, Europe and Asia, the automaker's president said yesterday.
The company also plans to invest aggressively in research for hybrids and other new technology in Japan, said Takeo Fukui, president of Japan's No. 2 automaker.
"The competition in hybrids has just begun," he said, a clear reference to Toyota, which makes the Prius, the top-selling hybrid.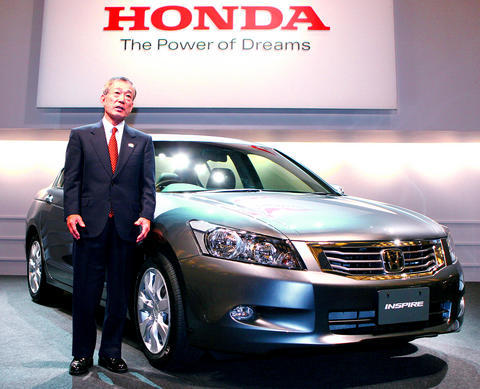 Japanese automaker Honda Motor's president Takeo Fukui introduces the company's Inspire model during a press preview at a Tokyo hotel yesterday. The new Inspire will debut tomorrow at Honda dealers throughout Japan.
PHOTO: AFP
Fukui said Honda will introduce a new hybrid model, which runs on gas and electricity, with an affordable price tag in 2009, targeting sales of 200,000 vehicles a year. The company will focus more on hybrid offerings so that overall hybrid sales will make up about 10 percent of Honda's sales by 2010, he said.
Honda expects sales to keep growing in nearly all regions around the world next year, including North America, Europe, China and even in Japan, where sales declined 12 percent this year to 620,000 vehicles. Four new models will be introduced in Japan next year to woo buyers, Fukui told reporters at a Tokyo hotel.
The automaker, which makes the Accord sedan and Civic compact, did not give an overall global sales forecast for next year. But Fukui did project North American sales to rise 3 percent to 1.59 million next year, adding to an expected 3 percent growth this year to 1.55 million vehicles.
Honda's sales projection this year is up from 3.55 million vehicles last year.
Like Toyota Motor Corp, Honda has gotten a sales boost from the recent surge in oil prices that is adding to the appeal of Japanese offerings known for their good mileage.
Honda will invest &yen48 billion (US$423.8 million) in a new research center in Japan to focus on next-generation cars, including hybrids and fuel cells, Fukui said.
The center will be partially running by 2009, and fully operational by 2010, and will also focus on research for new technology for Honda's Acura luxury brand models, he said.
Fukui said Honda's hybrid system costs less than Toyota's system, which will allow Honda to offer its planned hybrid at a competitive price. However he declined to name the price.
Demand for the new Accord was robust in the US, while in Japan the Fit subcompact was a hit, the company said.
Even in Europe, where Japanese automakers have been relative late-comers, Honda was posting good results -- a projected 23 percent rise this year to a record 380,000 vehicles. The company forecasts sales will rise another 11 percent next year to 420,000 units.
With production expansions in Brazil and Argentina, Honda's sales are booming in South America, and are expected to jump 30 percent to 118,000 this year.
In China, sales are projected to climb 29 percent on year to 420,000 vehicles, the company said.
Comments will be moderated. Keep comments relevant to the article. Remarks containing abusive and obscene language, personal attacks of any kind or promotion will be removed and the user banned. Final decision will be at the discretion of the Taipei Times.