Wal-Mart to take full ownership of Japanese unit
US retailer Wal-Mart Stores Inc will take full ownership of its Japan unit Seiyu Ltd, Wal-Mart said yesterday.
Seiyu Ltd, now 50.9 percent owned by Wal-Mart, the world's largest retailer, has posted losses for five straight years and is expected to see more red ink this year.
Japanese media reported earlier that the move was aimed at speeding up management changes and reversing the company's lagging business here.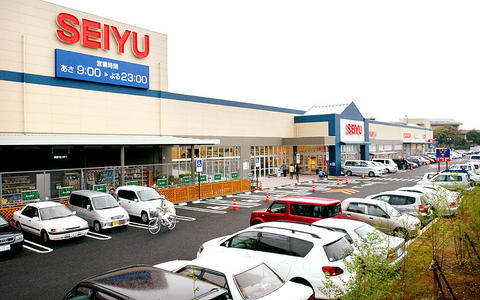 A large sign of Seiyu is pictured in front of Wal-Mart's jumbo store in Numazu, about 100km southwest of Tokyo, on March 26.
PHOTO: AP
Since entering the Japan market in 2002, Wal-Mart has been gradually raising its stake in Seiyu, which has some 400 stores nationwide.
Wal-Mart has stuck with the Seiyu brand, familiar to Japanese, instead of using the Wal-Mart name.
The offer is being made with the endorsement of the Seiyu board of directors, which passed a resolution of support yesterday, Wal-Mart said in a release.
The tender offer price was ?140 (US$1.23) per common share, the company said, representing an additional investment by Wal-Mart of up to ?100 billion yen (US$875 million).
"Today's announcement is a reaffirmation of our commitment to Japan, the second-largest economy in the world," Wal-Mart vice chairman Mike Duke said.
"The Japanese retail market is of major strategic importance to Wal-Mart and our goal is to achieve long-term success and growth in Japan," he said.
The tender offer is to commence today and remain open 30 business days, closing on Dec. 4. Wal-Mart's minimum objective through the tender offer is to achieve ownership of at least two thirds of Seiyu's common shares, it said.
Following a successful tender offer, Wal-Mart intends to take additional steps to acquire all the remaining shares, which would result in the delisting of Seiyu from the Tokyo bourse, it said.
Wal-Mart's earnings for this year have faltered because of slowing consumer spending in the US and abroad, but third quarter profits are expected to be better, because of better cost controls at its US stores.
Aside from Seiyu, Wal-Mart has also made significant investments in Japan, the world's second-largest retail market after the US, setting up a distribution facility, introducing its computerized systems, remodeling stores and opening large-scale supermarkets, which had been relatively rare in the past.
But Seiyu has continued to struggle amid intense competition from smaller retail chains, as well as from major local companies that are introducing Wal-Mart-style large-scale stores and price-cutting into Japanese retail.
Trade in Seiyu shares on the TSE was suspended early yesterday following news reports of the impending deal.
Comments will be moderated. Keep comments relevant to the article. Remarks containing abusive and obscene language, personal attacks of any kind or promotion will be removed and the user banned. Final decision will be at the discretion of the Taipei Times.