Wii boosts Nintendo earnings forecast
ON TOP OF THE WORLD The sales target for the Wii console is up 18 percent to 16.5 million units this year and six of the top 10 selling games in the US were Nintendo's
Nintendo Co, maker of the top-selling Wii game console, raised its annual earnings forecast to a record after reporting first-quarter profit surged fivefold as the company widened its lead over Sony Corp's PlayStation 3.
Net income climbed to ?80.3 billion (US$668 million) in the three months ended June 30, from ?15.6 billion a year earlier, the Kyoto, Japan-based company said yesterday.
Nintendo raised its profit forecast for the year ending March next year to a record ?245 billion, 41 percent more than its April projection.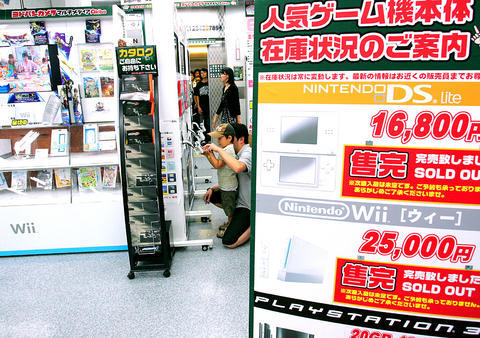 Customers play a promotional model of a Nintendo game at a Yodobashi Camera discount shop behind a sold-out sign in Tokyo, Japan, yesterday.
PHOTO: AP
Nintendo, whose market value doubled last year, plans to build on the success of the Wii's motion-sensor remote controller with new products including a steering wheel and exercise pad.
The company yesterday increased its Wii sales target by 18 percent to 16.5 million consoles this fiscal year, compared with Sony's shipment forecast for 11 million PlayStation 3s.
"Nintendo continues to knock the cover off the ball in the video-game market," Daniel Ernst, a New York-based analyst at Soleil Securities Corp with a "buy" rating, said prior to the earnings release. "Nintendo not only creates great hardware that is low-cost to make and easy to play, but also great software."
Sales, also driven by the DS portable and the "Mario" games series, more than doubled to a record ?340.4 billion. Operating profit, or sales minus the cost of goods sold and administrative expenses, tripled to ?90.6 billion.
Revenue will reach ?1.4 trillion this fiscal year, 45 percent more than the April estimate, the company said. Sales of Wii software titles will rise to 72 million units, compared with an April forecast for 55 million.
Nintendo plans to sell 140 million games for its DS portable, up from 130 million.
Six of the top 10 selling games in the US in last month were made for Nintendo's game systems, with Mario Party 8 leading the pack, NPD Group Inc said.
Nintendo today raised its full-year dividend to ?960, up 37 percent from its previous plan.
The company revised its outlook on the yen projecting the Japanese currency to trade at an average ?118 against the US dollar.
The yen traded at 118.05 per dollar and 157.33 against the euro as of March 31.
Demand for the Wii will probably continue to exceed supply this Christmas season, Nintendo said earlier this month.
Tokyo-based Sony earlier this month offered a discount on its PlayStation 3 and Microsoft Corp has been considering a price cut for the Xbox 360 to catch up with Nintendo.
The PlayStation 3, launched in late November, was outsold by the Wii by two to one in the US as of May, Port Washington, New York-based NPD Group said. In Japan, the margin is three to one, researcher Enterbrain Inc in Tokyo said.
Comments will be moderated. Keep comments relevant to the article. Remarks containing abusive and obscene language, personal attacks of any kind or promotion will be removed and the user banned. Final decision will be at the discretion of the Taipei Times.