Google seeks to make programs available offline
Millions of people enjoy free Web-based software programs that deliver e-mail, news and many other services. But those programs are available to users only when they are online.
Now Google is hoping to help make many of those programs, among them its own free Web applications like Gmail and Docs and Spreadsheets, available offline, say when a user is on an airplane.
In doing so, Google will more openly challenge Microsoft and its office productivity tools, like Excel and Word, which users must buy for hundreds of dollars.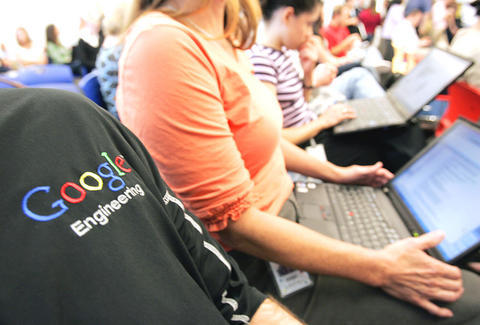 Google employees work at Google headquarters on Tuesday. In its latest attempt to extend its power beyond its Internet-leading search engine, Google Inc is introducing a new tool that will make its software applications accessible offline.
PHOTO: AP
That rivalry was heightened on Wednesday when Google released a set of tools to software programmers, which it calls Google Gears, that addresses what is perhaps the single most critical shortcoming of Web-based software.
The tools can be used by all programmers, whether they work for Google or not, to enhance their own Web-based programs for offline use. The company is making the technology available in an open-source model, so programmers can use it free, test its abilities and extend them as necessary to fit their needs.
"The whole idea of extending browser capabilities to offline is something that a lot of people are going to get pretty excited about," said David Mitchell Smith, a vice president at Gartner Research.
Google is introducing Gears during a coming-out party of sorts.
The company is playing host to what it calls its first "developer day," an event held around the world at which Google will present itself not as the world's most-used search engine, or as the biggest Internet advertising company, or even as the creator of applications like Gmail, but rather as the provider of tools that others can use to build their own programs.
It is an event that underscored Google's evolution from its roots as a search engine into a company that hopes to become central to a new way of computing in which software is delivered over the Web, often free and supported by ads, rather than bought and installed on users' PCs.
This evolution sharpens Google's rivalry with Microsoft and others who are trying to provide both new Web-based software and technology building blocks for Web programmers.
Google has been among the most enthusiastic proponents of this new computing model, and its executives say it will help usher in faster innovation because many Web applications can be created quickly by cobbling together existing components created by others.
"It is a different model," Google chief executive Eric Schmidt said in an interview. "The rate at which you can build applications is an order of magnitude faster because the components all fit together so quickly."
Google hopes other companies will use Gears to extend their own software and services.
Some Microsoft rivals, including Adobe and Mozilla, which is behind the Firefox Web browser, are collaborating with Google on the technology.
But it could also help Google's rivals. If the Gears technology proves effective, scores of software programs, including Yahoo Mail and Microsoft's Hotmail, might one day be used offline to read e-mail messages and to compose new ones.
The new e-mail messages would be sent the next time a user connects to the Internet.
Google said Gears was in early stages of development. "This is not a solution that is going to work with everything on Day 1," Smith said.
Comments will be moderated. Keep comments relevant to the article. Remarks containing abusive and obscene language, personal attacks of any kind or promotion will be removed and the user banned. Final decision will be at the discretion of the Taipei Times.