EBay posts better than expected profits
VOIP BOOST Skype, which eBay purchased in 2005 and earns money from fees to connect users to the phone system, posted revenues of US$79 million, up 123 percent
EBay Inc posted better than expected profits in the first quarter as several of its newer businesses compensated for disappointing results in its mainstay auction service.
The faster-growing units include shopping.com, a price comparison site; some classified listing sites; a service to let online merchants accept credit cards; and Skype, the online voice chat service.
"We are on track with our well-crafted portfolio," Meg Whitman, eBay's chief executive, said in an interview after the earnings report was published by the firm on Wednesday.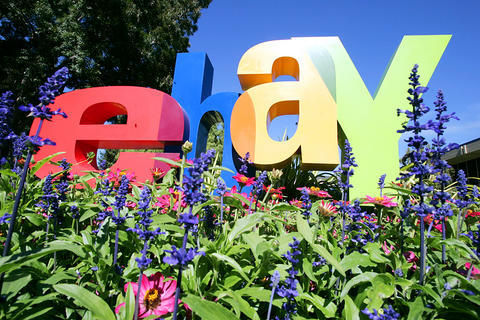 An exterior view of eBay's headquarters in San Jose, California, on Oct. 18 last year.
PHOTO: AP
The results sent eBay's stock up about 3 percent in after-hours trading.
Overall, the company earned US$377 million in the first quarter, up 52 percent from a year earlier. Excluding charges related to stock-based compensation and some other items, the company earned US$0.33 a share, above the US$0.29 average that analysts had predicted.
EBay's total revenue was US$1.77 billion, up 27 percent.
Whitman said that her priority for the rest of the year was to "reignite our core auctions in the US and Germany."
Overall, eBay's Marketplaces unit, which includes auctions, shopping.com and several classified sites, posted revenue of US$1.25 billion, up 23 percent.
In the PayPal unit, revenue was US$439 million, up 31 percent. The total volume of payments processed -- on which eBay earns a percentage fee -- was US$11.36 billion, up 30 percent. The fastest-growing part of this business was PayPal Merchant Services, which processes payments on sites other than eBay. That unit handled US$4.38 billion in payments last quarter, up 51 percent.
PayPal Merchant Services competes directly with the new Google Checkout service, as well as offerings from several banks. Whitman said eBay had yet to see significant pressure from the Google offering.
Youssef Squali, an analyst for Jefferies & Co., said: "PayPal continues to be the rock star of that business."
Skype, which earns money largely from fees to connect users to the telephone system, posted revenues of US$79 million, up 123 percent. EBay purchased Skype in 2005 for US$2.6 billion.
"This is a very young business growing very fast," Whitman said.
EBay increased its guidance for this year's results. It now predicts revenue of US$7.20 billion to US$7.45 billion. In January, the company said its revenue would be US$7.05 billion to US$7.3 billion.
Jordan Rohan, an analyst for RBC Capital Markets, noted that merchants were simply setting up their own Web sites and relying on search engines and other means to draw buyers. As a result, he said, "the total share of e-commerce that eBay commands is going down."
EBay's stock closed at US$34.45 on Wednesday, down US$0.75. In extended trading after the earnings announcement, it rose to about US$35.60.
Comments will be moderated. Keep comments relevant to the article. Remarks containing abusive and obscene language, personal attacks of any kind or promotion will be removed and the user banned. Final decision will be at the discretion of the Taipei Times.