East Asia needs to invest: World Bank
GROWTH AT RISK The World Bank warned of the dangers of a rising wealth gap and said governments should improve access to education and credit
The economies of China and other East Asian nations could see growth derailed if they fail to boost investment and cope with widening wealth gaps and pollution a decade after the 1997 financial crisis, the World Bank said yesterday.
Developing East Asia -- a region stretching from South Korea to Indonesia -- are richer and have a bigger share of the world economy than in 1997, when a crisis sparked by a plunge in the Thai baht dragged the region into recession, the bank said in a report.
Before the 1997 crisis, half the region's people lived on less than US$2 a day. Now, that rate has receded to 29 percent, it said.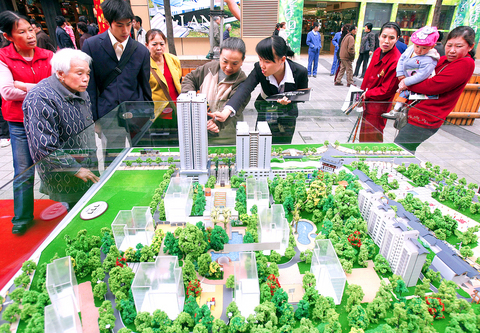 A saleswoman, third right, shows a housing model to customers in Chongqing, China, yesterday. China will see ''very strong'' growth this year, but the government does not need to be too concerned about bottlenecks and other signs of overheating, the World Bank said.
PHOTO: AFP
But many countries suffer from weak investment and a growing rich-poor gap, the report said.
"Even as the region celebrates recovery, new challenges loom, which could slow or even derail growth if not properly handled," the bank said in the report East Asia and Pacific Update.
China is expected to grow by 10 percent this year, but faces a widening wealth gap and rising pollution while also managing the financial strains from a soaring trade surplus, the bank said. It noted that China has 20 of the world's 30 most polluted cities.
Such problems "could affect China's onward development if they are left unchecked," said Milan Brahmbhatt, the bank's chief Asia economist, at a Tokyo news conference connected by video link with reporters in Beijing, Jakarta, Bangkok and other cities.
Brahmbhatt said that in other Asian economies, "growth has actually been somewhat less than in the pre-crisis trends."
"Investment has been somewhat weak and erratic. The reasons for this weak investment are not well understood," he said.
Thailand, epicenter of the 1997 to 1998 crisis, posted 5 percent growth last year, the bank said. That was down from an average annual expansion of 8 percent reported in 1985 to 1995.
Economies also face wrenching changes due to growing Chinese dominance in manufacturing, said the Washington-based bank, which lends money for development projects and alleviating poverty.
China's emergence is "creating intense competitive pressures for other East Asian economies," its report said. It said companies rate uncertainty due to such conditions as their biggest constraint on operations.
As a whole, East Asian economies last year recorded their strongest growth since the 1997 to 1998 crisis, expanding at 8.1 percent.
This year, the bank said growth in the region should slow modestly to 7.3 percent because of the looming downturn in the US economy and slowing export growth.
The report covered what the bank calls Emerging East Asia, which includes China, Indonesia, Malaysia, Philippines, Thailand and Vietnam, as well as Hong Kong, South Korea, Singapore and Taiwan.
The World Bank urged a range of reforms to help poorer Asian countries move up to higher incomes. They included boosting investment by eliminating unnecessary restrictions, expanding capital markets and liberalizing trade in services.
The region needs to invest US$200 billion annually in improving infrastructure over the next five years, the bank said.
The bank also warned of the potential dangers of a growing gap between Asia's rich and poor.
"This matters because high inequality can lead to more social and political conflict [and] can have adverse impacts on growth," Brahmbhatt said.
He said governments could ease such strains by improving access for the poor to higher education and credit to start businesses.
Today, East Asia's economies are seen as more robust and better run. The region has an annual output of US$5 billion, double the dollar value before the crisis, the bank said.
Comments will be moderated. Keep comments relevant to the article. Remarks containing abusive and obscene language, personal attacks of any kind or promotion will be removed and the user banned. Final decision will be at the discretion of the Taipei Times.