Chinese farmers diversify amid competition
CHALLENGE Faced with the tough competition from highly subsidized Western crops like grain, China has turned to fruit and vegetables to survive
Chui Songde made a life-changing decision in 2001, the year China entered the WTO. He began growing grapes -- and it is a move he has never regretted.
The annual revenue from his 10 mu (6,600m2) of fertile soil in Shandong Province has multiplied by a factor of nearly six, reaching between 50,000 yuan and 60,000 yuan (US$6,400 and US$7,600).
"We farmers have no other choice but to adapt to the new conditions," he said, standing under a low wintry sky, amid long rows of vines.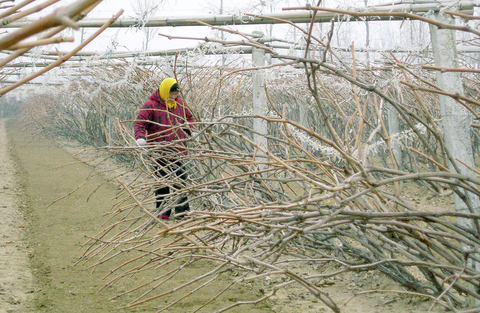 A worker checks grapevines on a vineyard in the town of Laixi in China's Shandong Province on Thursday.
PHOTO: AFP
Grapes, he said, take up just two-fifths of his farm, but are overwhelmingly the most important crop in bringing about the rapid increase in his personal fortunes over the past five years.
"We can't totally give up grain, since we all have to eat something, but at the same time, we absolutely have to diversify and modernize," the father of two children said.
Shandong Province juts out into the Yellow Sea like a vast natural jetty, giving its 92 million people easy access to the world markets.
It is an environment where the fast and nimble may prosper, while those not attuned to changes in the global economy, symbolized by China's opening up and membership of the WTO, are more likely to turn up on the losing side.
For Bing Huanjian, the prospect of back-breaking labor on the farm was simply too much to bear.
Together with his two brothers, he decided to leave his rural home to look for odd jobs in Laixi, a city of 200,000.
"Over the past three years, the countryside has changed," Bing said. "The farmers have turned their attention to fruit and vegetables. It pays better."
But Bing and his family seem a world away from the prosperity enjoyed by well-off farmers like Chui.
His parents are like most farmers in still overwhelmingly destitute rural China -- they have just 3 mu on which to feed themselves, essentially carrying on the age-old economics of subsistence farming in China.
Chui, on the other hand, may know little about China's international commitments or the impact of the nation's WTO membership, but he knows instinctively that growing grain "doesn't pay."
China's farmers have been rattled by the impact of large crop imports from abroad, grown on large, highly mechanized and highly subsidized farms in the US and elsewhere.
In the period from 2003 to last year, the price of wheat dropped by 10 percent. Soybean from Brazil, the US and Argentina costs between 5 percent and 10 percent less.
Even though the market for crops has picked up recently, driven mainly by a spectacular boom in bio-fuels, Chinese farmers have had to rely on government intervention.
The Chinese authorities have been forced to buy up approximately 45 million tonnes of crops in the first nine months of the year, according to official data.
The situation may not be sustainable in the long run and some economists argue that policymakers in China had better take two basic facts into account -- China has lots of people and little land.
Its population is one-fifth of humanity, but it controls just one-fourteenth of the world's arable land. The logical conclusion, experts argue, is to turn to horticulture and aquaculture, which are labor-intensive rather than land-intensive.
"You cannot mechanize small farms. That's why an ample labor force is our main trump card. Labor is necessary for fruit production," said Feng Xiaoyan, head of Sanfeng Fruits, a company started in 2000.
It mainly exports apples, pears and grapes, and has grown by 10 percent a year since it was founded.
Sanfeng Fruits has helped peasants such as Chui convert to their new more profitable forms of production.
"Competitiveness depends on quality and we're very demanding," Feng said. "In return, we offer a guaranteed price to the peasants."
Sanfeng Fruits has been a success -- selling apples to French hypermarket chain Carrefour's Asian outlets for the past four years -- but Feng hopes it can become an even bigger success.
"It's difficult to export to the United States and Canada. Certain nations in Asia also remain closed to us," Feng said.
Comments will be moderated. Keep comments relevant to the article. Remarks containing abusive and obscene language, personal attacks of any kind or promotion will be removed and the user banned. Final decision will be at the discretion of the Taipei Times.