Australia's Qantas places orders for eight more A380s
Australian flag-carrier Qantas Airways Ltd announced yesterday that it had placed firm orders for eight more Airbus A380 "superjumbos" in a major buying spree involving more than 130 aircraft.
The vote of confidence in the A380, the world's largest passenger aircraft, came after Airbus announced a series of delays putting the first deliveries for Qantas's original 12 aircraft about two years behind schedule.
"Our decision to increase our order [to a total of 20] has been made after an extensive review of the recent problems at Airbus and the delivery schedule delays of the A380," Qantas chief executive Geoff Dixon said in a statement.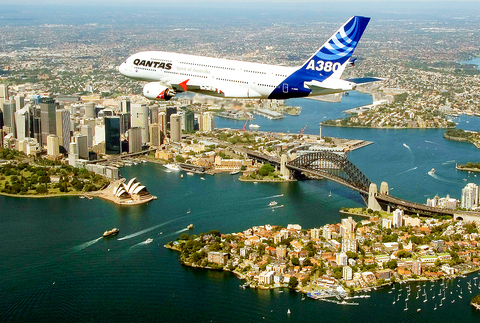 An Airbus A380 passes over Sydney, Australia, on it's way to Sydney International Airport on Nov. 13. Qantas Airways, Australia's flagship airline, announced yesterday it has ordered an additional eight Airbus A380s.
PHOTO: AP
"We are convinced that these problems relate to industrialization issues at Airbus and will be remedied, and in no way relate to the technical capacity of the A380," he said.
"The A380 has breakthrough technology and everything we have seen reinforces our view that it is the best available aircraft for Qantas," Dixon said.
The A380s will be deployed on dense longhaul routes from Australia to the US, Britain, Europe and possibly the Middle East.
The 20 airliners are due to be delivered between August 2008 and 2015, Dixon said.
"We have negotiated an attractive package to firm up eight more A380s," he said.
"The package also includes an additional four A330-200 aircraft which will help Qantas mitigate capacity concerns associated with the delay of the airline's first A380s. The four A330-200s will be delivered between December 2007 and December 2008," he said.
Dixon said the terms of the new contract provided, among other things, protection against any further delay in the A380 delivery schedule.
Qantas had also contracted with Boeing to acquire up to 115 B787 aircraft from 2008, he said, describing the new generation aircraft as having "the very latest technology for aircraft in the 300 seater range."
The Airbus A380 will be capable of carrying 840 passengers.
"The Boeing 787 and the Airbus A380 both have up to 20 percent lower operating costs than existing aircraft and will form the nucleus of the fleets out to 2015 for Qantas and our low cost airline Jetstar," Dixon said.
Qantas would use a combination of outright purchase and operating leases in acquiring the aircraft.
"All the costs of these new aircraft will be met by operating cash flows," he said.
Qantas had also decided to buy five more Boeing 737-800 aircraft for delivery from February 2008.
"The Boeing 737-800s will be used along with our existing 33 B737-800s in Australian domestic operations and will replace older B737-400s," Dixon said.
Comments will be moderated. Keep comments relevant to the article. Remarks containing abusive and obscene language, personal attacks of any kind or promotion will be removed and the user banned. Final decision will be at the discretion of the Taipei Times.