It's business as usual in Mumbai
ALL IN THE PAST Indian stocks surged on Wednesday despite the bombings the day before, proving that terrorism is something investors have come to tolerate
Foreign and Indian business leaders say the world has learned to live with terrorism, and the bombings that rocked India's financial hub, Mumbai, are unlikely to slow the country's fast growing economy or harm investor confidence.
Reflecting that optimism -- and defying worries about a sell-off -- Indian stocks surged on Wednesday, with the Bombay Stock Exchange's 30-stock Sensitive Index, or Sensex, rising 315.74 points, or 3 percent, to 10,930.09.
"These cowardly and dastardly attacks cannot break our will or resolve," Finance Minister P. Chidambaram told reporters on Wednesday. "India's growth story is intact. No need to worry about the Indian economy."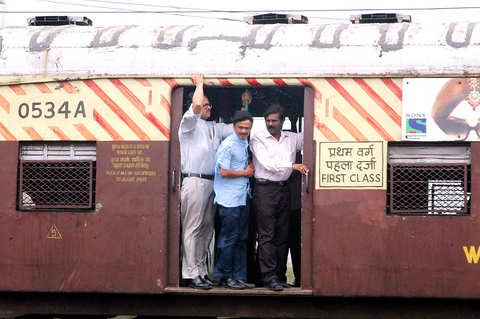 Commuters travel on a train in Mumbai on Wednesday.
PHOTO: EPA
Chidambaram said that foreign investors "still have confidence" in India and should continue to do so.
"Solitary attacks cannot set back economic activity all over India, and even in Mumbai," he said.
The rise in Sensex was led by gains in technology shares after software bellwether Infosys Technologies reported better-than-expected quarterly results.
Many market players had expected shares to fall sharply following the blasts, which occurred during the evening rush hour on Tuesday and left 200 dead and more than 600 wounded.
"The sharp rise took most people by surprise," said S. Tulsian, an investment adviser in Mumbai. "Not just Infosys, many other large caps also rose sharply amid good volumes. It appears that there is a change in the market trend, with the pessimism that one saw over the past one month disappear in just one trading session."
Market sentiment was also helped by official data showing the country's industrial output grew a robust 10 percent in May, driven by strong performance in the manufacturing sector, a key index in India's economy that has been expanding about 8 percent a year, making it one of the world's fastest growing.
Foreign companies ranging from IBM Corp to Merrill Lynch joined Indian firms in denouncing Tuesday's bombings on Mumbai's commuter rail network that killed 200 people during the evening rush hour.
"This stuff happens everywhere. We have learned to live with it," said William Ireland, a director at IBM in India.
Speaking in Bangalore, a southern city that is the hub of India's lucrative high-technology and outsourcing industries, he said the bombings had no impact on the services that IBM offers to 250 global clients from its India.
"All investors live with this risk [of terrorism] today," said Andrew Holland, a Merrill Lynch executive based in Mumbai. "A year ago it was London, now it has happened in Bombay [Mumbai]."
Holland said the market's resilience was reflection of strong fundamentals of the Indian economy.
On Wednesday, India's software companies reported more work being transferred by global companies to India.
Infosys Technologies Ltd. said it added 38 new clients during the April-June quarter, adding that its net profit jumped 44 percent to US$174 million, surpassing expectations.
Projecting strong outsourcing orders in the year ahead, the company also raised its earnings forecast for the fiscal year through March.
Indian business leaders vowed not to let the attacks derail the economy.
"No factory is shut, schools are open, people are going to jobs," said Rahul Bajaj, chairman of Bajaj Auto Ltd. "We have to carry on with life."
Comments will be moderated. Keep comments relevant to the article. Remarks containing abusive and obscene language, personal attacks of any kind or promotion will be removed and the user banned. Final decision will be at the discretion of the Taipei Times.