Sony head tries to reassure investors
SHAKY CONFIDENCE CEO Howard Stringer said Sony was `on track' for a turnaround, but investors continued to worry whether the firm could ever regain its past glory
Howard Stringer, the first foreigner to head Sony, yesterday tried to allay investor worries about the future of the Japanese electronics and entertainment company by pointing to a budding recovery in its core electronics business.
Stringer, wrapping up his first year at the helm of Sony, was facing shareholders for the first time as CEO at an annual meeting in Tokyo.
Speaking in a hotel packed with more than 7,000 shareholders, Stringer stood with Sony president Ryoji Chubachi, and assured stockholders Sony Corp, founded in 1946, was "on track" for a turnaround.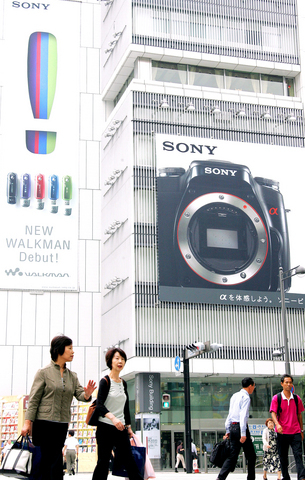 Pedestrians cross an intersection in front of Sony Building decorated with the electronic entertainment giant's new billboards in Tokyo's ritzy Ginza shopping district yesterday.
PHOTO: AP
"Now in its 60th year, Sony has entered a period of re-emergence," he said at the meeting, shown to reporters by monitors.
Stringer said Sony had succeeded in cutting costs and reducing losses in its electronics sector. The company will focus on key products to achieve further growth, such as high-definition TVs, digital content and the next-generation computer chip called "cell," he said.
Foreign chief executives are still relatively rare in Japan, and Welsh-born Stringer has drawn a great deal of attention here -- part of the reason why some shareholders showed up at the meeting for the first time.
Stringer faced some disgruntled investors who demanded to know why Sony was losing money. In the January-March quarter, its losses widened to ¥66.5 billion (US$578 million) from a loss of ¥56.5 billion a year ago.
The questions from the floor seemed to reflect the larger doubts that have arisen recently about whether Sony would ever regain its past glory epitomized by the Walkman portable player.
Sony shares have lost nearly half their value over the last five years. Yesterday, the stock rose 3.6 percent to ¥4,940 (US$43).
One shareholder, who identified herself only by her surname Kasahara, said she bought Sony shares at ¥14,000 yen (US$120).
"I bought shares in mighty Sony," she said, stressing her unhappiness about their plunge. "What are you going to do about this?"
Sony has been struggling to boost profits amid intensifying competition from cheaper Asian rivals, including booming Samsung Electronics Co of South Korea. It also got beaten by Apple Computer Inc's iPod in portable music players -- once Sony's stronghold with its Walkman players.
Sony has also fought to catch up in flat panel TVs, where global demand is growing, by setting up a joint venture to produce liquid-crystal displays with Samsung.
Nobuaki Tsubouchi, a 64-year-old retired salesman and individual investor in Sony, said he was disappointed by Stringer's explanation.
"I wasn't convinced how he was going to bring back the legend of Sony," he said after the shareholder meeting. "There's this big gap with our image of Sony from the past. We have such big hopes."
Both Stringer and Chubachi acknowledged that more work remained to be done.
In addition to cutting costs, the company is focusing on key sectors and ditching barriers between operations for speedier communication, the officials said.
The new line of flat-panel TVs has proved a hit, and Sony is also counting on good returns from The Da Vinci Code in its movie business, they said.
Sony's losses have been largely due to massive restructuring costs, including job cuts, plant closures and dropping money-losing units, as well as research and development expenses for its usually profitable game division.
Uncertainties about Sony's video game business have weighed on investor sentiment. Sony has a lot banking on the PlayStation 3, the upgrade for the successful PlayStation 2, but delayed its introduction by several months to November.
Although Sony's electronics profits are gradually improving on solid sales of flat panel TVs, digital cameras and camcorders, worries remain over the risks in the gaming business, which requires expensive investments but may not turn a profit for years.
Comments will be moderated. Keep comments relevant to the article. Remarks containing abusive and obscene language, personal attacks of any kind or promotion will be removed and the user banned. Final decision will be at the discretion of the Taipei Times.