Refineries mostly escape hurricane's wrath
Hurricane Rita caused some damage to oil refineries near the Texas-Louisiana border and raised the prospect of gasoline shortages and higher prices during the arduous process of restarting refineries all along the Gulf Coast. But it did not cause the widespread destruction of the energy infrastructure that some had feared.
On the edge of this workaday city of refineries and modest ranch houses near Galveston, a flare burned silently from a tower at the large BP refinery on Saturday afternoon, evidence that it was largely unscathed.
Up and down the energy corridor between Galveston and Houston, industry officials said refining locations had managed to avoid extensive damage from the hurricane, which made landfall to the east, near the Louisiana border.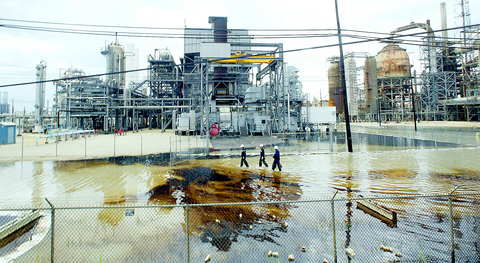 Workers at Valero's Port Arthur, Texas, refinery inspect an oil spill after it was flooded by Hurricane Rita on Saturday.
PHOTO: AP
Refineries sat waiting for workers to return to assess their conditions. In Texas City, there were no signs of wind damage or flooding at any refining installations.
Egrets gathered in the marshes in the shadow of refineries and petrochemical complexes owned by energy giants like Valero, BP, Marathon-Ashland and Praxair. A toppled sign from a Phillips 66 gas station was the only indication that a hurricane's edge had passed through.
The situation was less sanguine in and near Port Arthur, Texas, and Lake Charles, Louisiana, near the Texas-Louisiana border, where officials said they expected refineries and industrial plants to be out of service longer because of heavy wind damage, power failures and scattered flooding.
Depending on how much of the US' already stretched refining capacity is affected and for how long, that could cause shortages of gasoline and other fuels and push up retail prices again.
"It looks like we may have dodged some of the bullet in terms of the impact," said John Felmy, chief economist for the American Petroleum Institute. "It certainly is better than if it had hit some of the bigger refining centers."
Chuck Dunlap, who rode out the storm with 50 others at Pasadena Refining Systems, just outside Houston, said that at first glance, his plant and other facilities in the area appeared to have sustained limited damage. But even so, it will take a few days for his plant, which normally processes about 100,000 barrels of crude oil a day, to return to full speed.
"We are now actually walking through the plant and doing a more detailed inspection," said Dunlap, the refinery's president. "We won't be at full operations till midweek."
As the hurricane approached Texas on Friday, Galveston and Houston seemed directly in its path, and had the storm plowed into those cities, laden with petroleum-tank farms, refineries and natural-gas processing plants, insurance experts feared that losses could have run to US$30 billion. But initial estimates put insured damage at US$5 billion or less.
With hurricane winds extending 110km from the center of the storm, Galveston and Houston got heavy rain and strong gusts of more than 120kph, and they sustained scattered damage. Royal Dutch Shell and Valero Energy said their Houston-area plants would be restarted as workers returned and power was fully restored.
Companies shut down 16 big refineries that make up about 23 percent of the nation's capacity in the days before Hurricane Rita struck. Less than half of the facilities that closed were in or near Port Arthur or Lake Charles.
Valero and Shell both said the wind knocked down cooling towers and power lines at their Port Arthur refineries, but they reported minimal damage from flooding. Valero said it would take two weeks to a month to complete repairs and restart the plant.
Comments will be moderated. Keep comments relevant to the article. Remarks containing abusive and obscene language, personal attacks of any kind or promotion will be removed and the user banned. Final decision will be at the discretion of the Taipei Times.