Art student makes the ulimate product for consumers
Inside a dark room, realistic-looking "human body parts" are stacked on shelves and hanging on meat hooks. The place looks like a mortuary or the lair of a serial killer, but in fact, it's a bakery.
What appears to be putrefying body parts are the bread sculptures of 28-year-old art student Kittiwat Unarrom.
"Of course, people were shocked and thought that I was mad when they saw the works. But once they knew the idea behind it, they understood and became interested in the work itself, instead of thinking that I am crazy," said the fine arts masters-degree student.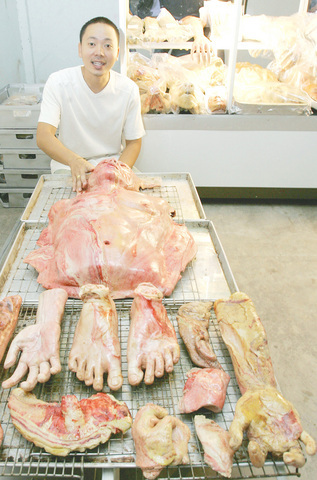 Some of the ``human being parts'' made by Thai art student Kittiwat Unarom at his studio in the Potharam district of Ratchaburi Province.
PHOTO: AP
He hopes his realistic artwork will make people ponder whether they are consuming food, or food is consuming them.
"Everyone's life is rushed nowadays, even when it comes to eating," he said. "When we eat, we don't think about our health or safety, we only think of our taste buds."
As an undergraduate, Kittiwat started painting portraits. He then moved to mixed media and finally dough -- a natural medium for him since his family runs a bakery.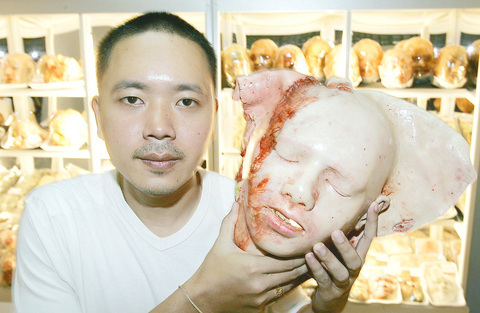 Kittiwat Unarom, 28, poses with one his ``human being parts'' made of bread, at his studio in Potharam,Thailand, on Friday. The art student, a son of the bakery owners, said he spent about six months to create his eatable works with the concept of ``do not believe in what you see'' for an exhibition, but he has been selling some of the pieces.
PHOTO: AP
Along with edible human heads crafted from dough, chocolate, raisins and cashews, Kittiwat makes human arms, feet, and chicken and pig parts. He uses anatomy books and memories of visiting a forensics museum to create the human parts.
He now is receiving regular orders from the curious and from pranksters who want to surprise their friends or colleagues, but that's a minor sideline.
By the end of the year, Kittiwat's confectionary slaughterhouse will go on display at Bangkok's Silpakorn University. It's his final dissertation, and he hopes it will secure him a master of arts degree.
"When people see the bread, they don't want to eat it. But when they taste it, it's just normal bread," he said. "The lesson is `don't judge just by outer appearances."'
Comments will be moderated. Keep comments relevant to the article. Remarks containing abusive and obscene language, personal attacks of any kind or promotion will be removed and the user banned. Final decision will be at the discretion of the Taipei Times.