French wine crisis worsens as exports tumble
SHARP SLIDE French wine growers appealed to the government for help as exports dropped 13 percent in volume in the first quarter amid stiff global competition
French wine exports sank again in the first quarter of this year, confirming a downward spiral which has plunged the sector into crisis and brought thousands of wine-growers out onto the streets in protest.
"Global over-production in 2004, which is put at between 10 to 20 million hectoliters, is pulling prices down and adding to the problems of French wines which are being asked to become simpler in taste to meet growing world consumption," said Louis-Regis Affre, an official from the French Federation of Exporters of Wines and Spirits (FEVS).
Apart from champagnes and sparkling wines, exports of French wine dropped some 13.0 percent in value and 13.2 percent in volume in the first quarter of this year compared with the same period last year, FEVS said.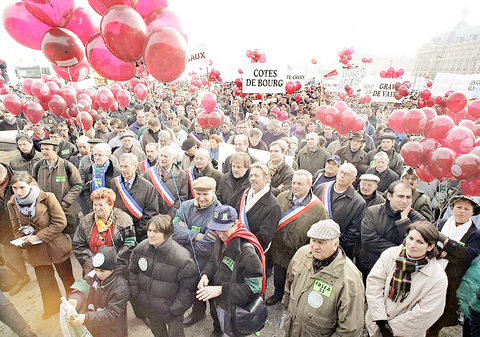 French wine-growers stage a protest last December in the southwestern French city of Bordeaux, to demand government aid to offset a crisis of collapsing markets.
PHOTO: AFP
This adds to the misery seen last year, when French wine exports lost some 9.2 percent in value, of which some US$943 million were lost in just the first quarter.
The French government recently unlocked seven million euros in aid in a bid to throw a lifeline to the country's wine producers, but for many it is merely a drop in the ocean.
"It's very little in relation to what is actually needed, and the framework to implement it isn't even in place yet," said Affre.
On Wednesday, thousands of producers took to the streets of the southern city of Nimes in the Languedoc-Roussillon region -- where exports have fallen 16.7 percent apart from table wines -- demanding further emergency measures to save wine-growers from disaster.
"For some people the only solution is to pull up their vineyards and it is with tears in our eyes that we ask you, Mr Minister, to help them," said Philippe Vergnes, head of the Aude regional wine-growers union.
French Agriculture Minister Dominique Bussereau has pledged to organize a meeting in July to take stock of the measures put into place in July last year.
The worst hit regions are Cotes du Rhones, which has seen its exports drop by 34.7 percent in value, Bordeaux down some 17.7 percent apart from the grand crus which have seen exports rise 9.4 percent and Beaujolais, where exports have slipped 18 percent.
The wines bearing the brunt of the downturn are the so-called "appelations d'origine controlee," meaning they meet tough French quality standards.
Affre said producers of table wines had made great efforts in recent years to improve the quality of their beverages.
Champagnes have also seen exports continue to rise some 14.4 percent in value in the first quarter, whereas spirits are up some 5.7 percent and liqueurs too have been buoyed by a 4.2 percent increase.
"Champagnes and spirits have based their success on their brand names. The appellation wines must no longer take an elitist approach to the market, but must do more marketing to highlight their labels and let market leaders emerge," said Affre.
A glimmer of hope is on the horizon for next year which experts say will see a smaller global harvest.
But wine-producers are demanding that a series of fiscal measures be put in place now to protect them from future over-supply, as well as the strong competition from the New World wines being produced in Australia, Argentina, Chile, South Africa and the US.
"We need to tax foreign wines," said Maurice, a wine producer from Beziers, attending the Nimes protest, which attracted between 7,500 and 11,000 protestors.
"Wholesalers can go to Spain and buy wines at half price, but I don't have the right to go there and buy half-price pesticides," he added.
Comments will be moderated. Keep comments relevant to the article. Remarks containing abusive and obscene language, personal attacks of any kind or promotion will be removed and the user banned. Final decision will be at the discretion of the Taipei Times.