Tax won't help Philippines: experts
EMPTY MEASURE The legislature's move to raise the corporate tax rate by 2 percent is not likely to improve the country's troubled economic picture, analysts said
No matter what spin the Philippine government tries to put on it, the new value added tax (VAT) bill will do little to solve the country's chronic fiscal deficit and debt problems, analysts say.
They say the fact the government had to raise US$750 million on the international markets recently to help bridge this year's US$3.3 billion budget deficit shows there is no clear policy to bring down debt.
Instead of increasing the value-added tax (VAT) on goods and services to 12 percent from 10 percent as envisioned by the government to boost revenues, the country's lawmakers approved a bill that will keep VAT at 10 percent and increase corporate income tax from 32 percent to 35 percent.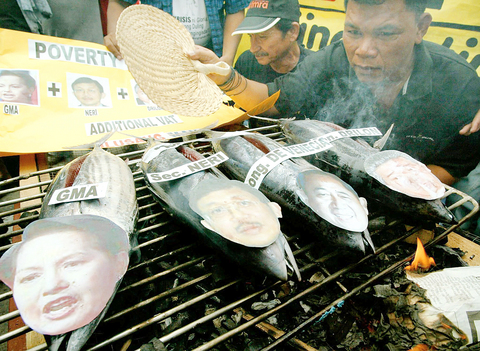 Filipino protesters grill dead fish representing President Gloria Macapagal-Arroyo (GMA) and other government officials during a demonstration outside the Senate building in Manila in February. After the protests, the legislature nixed a plan to raise taxes on consumer goods -- which activists said would only hurt the poor -- and instead passed a bill that raises taxes on corporations by 2 percent, while giving Arroyo the power to raise taxes on consumers, if she deems that necessary.
PHOTO: EPA
True, they did give President Gloria Arroyo authority to raise the VAT to 12 percent from January next year under certain conditions and remove exemptions enjoyed by certain industries, but she will have to take the political flak for what is sure to be a very unpopular move.
At the same time, no one really knows just how much revenue the new measures will produce. Published estimates vary widely from 35 billion to 150 billion pesos (US$650 million dollars to US$2.77 billion) this year but one factor remains constant -- the government's inability to collect its taxes.
"It is all window dressing," said one economist who asked not to be named.
"The so-called sin tax legislation [on tobacco and alcohol passed last year] has been so watered down by the House Representatives, playing to powerful vested interests groups, that it will raise seven or eight billion pesos rather than the 14 to 18 billion originally projected. And this was one of the cornerstones in [Arroyo's] revenue policy," he said.
"The VAT bill has left the onus on Arroyo to raise VAT next January and it was Arroyo herself who warned legislators a few weeks ago that it was 12 percent or nothing. Now she is left to raise the VAT herself."
The economist said raising company taxes was a surprise to many as there had been no consultation on the issue or on how it would affect business.
"It is easy to say `yes, but we will drop the rate to 30 percent in three years time.' That won't help small businesses that have gone to the wall between now and then. One has to question whether or not our politicians have the people's best interests at heart or their own," he said, pointing to elections in 2007.
The end result is that the Philippines, one of the smallest economies in the region, now has one of the highest corporate tax rates in Asia. In communist Vietnam it is 32 percent; Indonesia and Thailand 30 percent, Malaysia 28 percent, Taiwan 25 percent, Singapore 22 percent and Hong Kong 16 percent.
Donald Dee, a businessman and president of the Philippine Chamber of Commerce and Industry (PCCI), described the increase as "uncalled for" and said it would send the wrong signal to investors wanting to come into the country.
At the same time, the PCCI said increasing corporate tax to 35 percent could see many small- to medium-sized businesses close and more people added to the growing unemployment line which currently stands at around 11 percent.
The cost of electricity, transport and oil is rising, adding to consumer and business costs, while trade union groups are pressing for higher wages in a country where over 40 percent of the population live on less than two dollars a day and the daily minimum wage in Manila stands at 280 pesos (US$5.18).
Comments will be moderated. Keep comments relevant to the article. Remarks containing abusive and obscene language, personal attacks of any kind or promotion will be removed and the user banned. Final decision will be at the discretion of the Taipei Times.