McDonald's marks 50th
BIRTHDAY Love it or hate it, the American icon has endured and today celebrates the 50th year since the opening of the first restaurant in a Chicago suburb
Open a newspaper and find stories about people suing McDonald's because its food supersized them, its coffee burned them and its fries were secretly cooked in beef-flavored oil.
Turn to the dictionary for a word that means low-paying, low-skill work and find "McJob" -- a term that makes McDonald's a bit McAngry.
Walk into any business school in the US and chances are students are studying the company.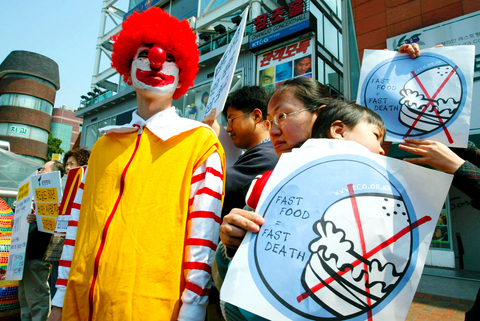 A South Korean dressed up as the trademark character of McDonald's fast food restaurant chain, Ronald McDonald, takes part in a rally opposing the company's child-targeted television advertising campaign in Seoul, South Korea yesterday. The protesters also aimed to discourage the consumption of fast food, which they claim is unhealthy, ahead of the 50th anniversary of the establishment of popular fast food chain McDonald's.
PHOTO: EPA
Watch TV and get bombarded with commercials that stick in your head so well that parents can still recite "Two all beef patties, special sauce, lettuce, cheese, pickles, onions on a sesame seed bun" years after the ad went off the air.
The Golden Arches are everywhere -- and it started 50 years ago today, when a milkshake machine salesman opened his first McDonald's in this Chicago suburb and began turning a small chain of hamburger stands into an empire that would include 30,000 restaurants, serve 50 million people a day, and become a symbol of the US all over the world.
"It is one of those few businesses that transcend selling products and services," said Edward Zajac, a professor at Northwestern University's Kellogg School of Management. "They are kind of a slice of the US, like Coca Cola."
It would be tough to overstate Americans' fascination with McDonald's Corp. For starters, it is what Americans think of as a uniquely American success story.
In the early 1950s, Ray Kroc traveled to San Bernardino, California, to find out why in the world Richard and Maurice "Mac" McDonald bought 10 milkshake mixing machines for their hamburger stand. He saw a revolutionary method of preparing food called the Speedee Service System and decided it could be replicated all over the country.
Another reason for McDonald's success: It was well-positioned for America's changing lifestyle. In the 1950s, as more Americans were climbing into cars, McDonald's was there to satisfy the demands of a busier, more mobile country. Later, as more women went to work and mothers were increasingly hustling kids to after-school events, McDonald's told busy parents: "You Deserve a Break Today."
McDonald's also shrewdly recognized what people like to eat and how much of it they want.
"They connect with biology because most people like foods with high amounts of sugar and fat," said Kelly Brownell, a Yale University nutrition expert.
It is a formula that still works, despite recent dips. After several years of stagnant US sales and its first-ever quarterly loss in 2002, McDonald's has been surging for the past two years. Its profits jumped 55 percent last year from the year before to US$2.28 billion.
On Wednesday, the company said it expects to post profit of US$0.56 per share, up 40 percent from a year ago.
McDonald's refuses to take the blame for obesity and other health problems, saying those are the result of the choices people make.
"It's all about personal responsibility," said spokeswoman Lisa Howard.
As McDonald's continues to make such changes, it remains the face of the fast-food industry and the face of American values, American capitalism, and, some say, American culinary imperialism. The Golden Arches have become a target of protests and violence around the world.
"Our size works for us," said Irwin Kruger, who owns seven McDonald's restaurants in New York City, "and sometimes it works against us."
Comments will be moderated. Keep comments relevant to the article. Remarks containing abusive and obscene language, personal attacks of any kind or promotion will be removed and the user banned. Final decision will be at the discretion of the Taipei Times.