Japan eases 10-month ban on US beef
BACK ON TRACK In a matter of weeks, Japan will allow beef imports from US cattle under 20 months old, ending the outright ban caused by a case of mad cow disease
US beef exports valued at more than US$1.7 billion last year will resume in a matter of weeks after Japan agreed to ease a 10-month ban on the meat prompted by a lone case of mad cow disease in Washington state. \nJapan will allow beef imports from cattle under 20 months old, US Department of Agriculture Undersecretary J. B. Penn said in Tokyo after three days of talks between the two countries. Full beef trade may resume after a review in July, he said. US officials are heading to South Korea and Taiwan today for negotiations on reopening those markets. \nJapan, the biggest overseas customer for US beef, and more than 40 other nations suspended imports of the meat in December last year after the government announced the first case of mad cow disease in US history. The import bans threatened more than US$3.8 billion in annual US exports and eroded profit for beef producers such as Tyson Foods Inc and Cargill Inc. \n"This agreement is kind of the gateway to all the other markets that haven't opened yet," said Gregg Doud, an economist with the National Cattlemen's Beef Association. \nDoud said he expects Korea, the third-biggest overseas buyer of US beef with more than US$500 million of purchases last year, to resume imports once Japanese shipments begin. "The Koreans have signaled for some time that they were waiting on the US and Japan," he said. \nCattle futures in Chicago plunged 12 percent between Dec. 23 last year, when the US disclosed its mad cow case, and Feb. 4 this year, when prices closed at 71.375 cents a pound, the lowest this year. Since then futures have gained 23 percent on strong domestic demand for beef, fueled by the popularity of high-protein, low-carbohydrate diets. \nYesterday, cattle for December delivery finished at 88.025 cents a pound, up 1.2 percent from a year ago. \n"We're talking here a matter of weeks" before Japan begins importing some US beef, Penn said. "We are very eager to once again be able supply high-quality, safe beef products to Japanese consumers." Beef trade may expand once procedures for confirming the age of cattle that qualify for import are reviewed with participation from the US, Japan and World Health Organization and other experts in July next year, Penn said. \nUnder the agreement, Japan will also be allowed to resume beef exports to the US from cattle under 20 months old. The US banned beef from Japan after that country found the first of more than a dozen cases of mad cow disease in September 2001. \nJapan had been shipping between 70 tonnes and 100 tonnes of beef, mostly premium Kobe beef, annually before the ban. \nJapan purchased more than US$1.7 billion worth of beef and beef products last year, according to a statement today from the US Department of Agriculture. The US Meat Export Federation put the figure at US$1.5 billion. \nUntil now, Mexico, the second-biggest buyer of the meat, had been the only major US trading partner to resume purchases. \nTaiwan, the sixth-largest buyer of US beef, is also expected to reopen its markets shortly, said Lynn Heinze, a spokesman for the Denver-based US Meat Export Federation. \nTaiwanese officials completed a review of US safety standards last week and the island nation expects to host a technical team from the US in the next few weeks, he said. \n"Taiwan looks pretty good," Heinze said.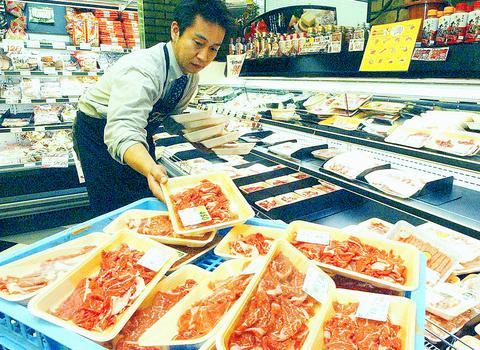 A supermarket employee last year removes packaged US beef imports from shelves in Kyoto, Japan in this December file photograph. After a 10-month ban, Japan has agreed to allow the import of US beef from cattle under 20 months old.
PHOTO: AP
Comments will be moderated. Keep comments relevant to the article. Remarks containing abusive and obscene language, personal attacks of any kind or promotion will be removed and the user banned. Final decision will be at the discretion of the Taipei Times.