Beijing launches crackdown on SMS
CONTROL The new standards are reportedly aimed at weeding out pornographic and illicit messages but activists see it as another attempt to silence dissidents
China has issued new regulations on the filtering of mobile phone short-text messages in a move that expands its censorship controls over wireless technologies and the Internet, state press said yesterday.
The "Self-Discipline Standards on Content in Mobile Short Messaging Services" were issued recently and are aimed at weeding out pornographic, fraudulent and illicit messages, Xinhua news agency reported.
The standards provide the framework for China Mobile Corp, the country's largest mobile phone service provider, to contract out the policing and filtering of short messages for content deemed unhealthy or fraudulent, the report said.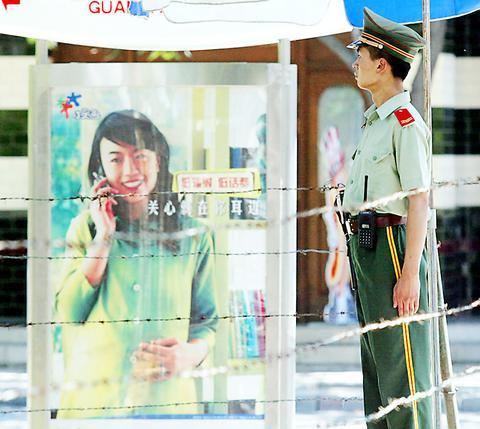 A paramilitary police officer stands guard near a billboard for a telecommunications company outside a foreign embassy in Beijing yesterday. China recently issued new regulations on the filtering of mobile phone short-text messages.
PHOTO: AP
So far 10 such companies have begun the policing work in 20 categories of content that are spelt out in an earlier agreement or "treaty" on content between the government and Internet Service Providers.
China maintains some of the toughest Internet regulations in the world and has reportedly up to 30,000 people policing the Internet for subversive political content and pornography.
"Cyber-dissidents" who post political views on the Internet that are opposed to official Communist Party views are routinely rounded up and jailed for subversion.
According to the Paris-based Reporters Without Borders, the new short-messaging regulations could further lead to the crackdown on political dissidents sending messages via mobile short messages.
"The Chinese authorities are making ever greater use of new technology to control the circulation of news and information. In the past months we have been witnessing a real downturn in press freedom particularly on the Internet," the group said in a statement.
"The international community should react against this hardening by the Chinese regime," the statement said.
It said that instant text messaging helped expose the governments attempts to cover up the SARS outbreak last year.
According to the group, the Chinese firm Venus Info Tech Ltd, has already begun to filter mobile phone messages for key words to pinpoint "reactionary" text senders.
"Its surveillance system would allow it to home in on `false political rumors' and `reactionary remarks' among others," Reporters Without Borders said, citing a press release from the company.
According to Xinhua, over 220 billion text messages were sent in China last year, making up some 55 percent of the world's text messages.
Comments will be moderated. Keep comments relevant to the article. Remarks containing abusive and obscene language, personal attacks of any kind or promotion will be removed and the user banned. Final decision will be at the discretion of the Taipei Times.