Companies hint at expansion of wireless services
ON THE MOVE The most intriguing announcement at a trade fair in Atlanta was that Samsung would deploy wireless broadband technology later this year
The promise of high-speed wireless Internet service edged closer to reality for a larger swath of the US with a series of somewhat vague announcements at the annual cellular industry trade show.
AT&T Wireless and Verizon Wireless both delivered scraps of new detail Monday about their plans to roll out true broadband speeds in at least some cities by year's end.
But more intriguing, equipment maker Samsung revealed the likely North American deployment of another broadband wireless network technology later this year by an undisclosed cellular company.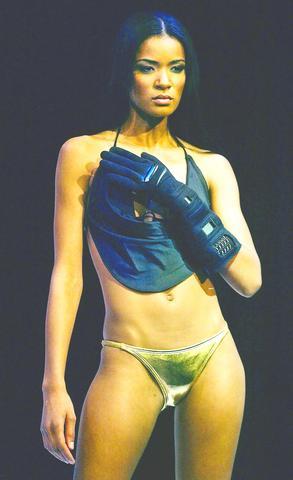 A model walks the runway during the Fashion in Motion Show at The Cellular Telecommunications and Internet Association trade show in Atlanta, Georgia, on Monday. The show incorporates wireless Internet technology into fashion, lifestyle, health and security applications.
PHOTO: REUTERS
While the South Korean firm was tight-lipped about which carrier might launch the technology, known in the industry as EV-DV, the announcement was enough to prompt some educated, if not anxious, guesswork that it might come from Sprint.
Sprint reiterated Monday that it is still evaluating technologies, though it most likely will go with an EV-DV rollout by 2006.
The potential rollout would add fuel to a wireless arms race being waged by the major US carriers since the fall.
The long-awaited services are intended to provide wireless downloads to a laptop between five and 10 times quicker than a dial-up connection over a regular telephone line.
Because the signals can cover an entire city, the new cellular services could provide stiff competition for Wi-Fi, which is much faster, but only carries for about 90m.
At US$80 per month, the high-speed cellular services may be a bit pricey as a replacement for a home broadband connection such as DSL or cable modem.
But the added mobility could prove especially attractive to business users, who pay as much as US$30 a month to connect with Wi-Fi at coffee shops, book stores and airport lounges.
In addition to improving laptop connections, cellular companies hope snappier data services will finally make Web surfing on a phone or handheld computer appealing, boosting sales of the multimedia handsets and services that were on display at this week's show.
Only two national mobile-phone companies in the US use the "CDMA" technology standard on which EV-DV is based -- Verizon Wireless and Sprint Corp.
Since Verizon Wireless has already committed to a related technology called EV-DO, Samsung's announcement of a possible North American rollout by late fall or early winter was seen as a strong indication that Sprint may bring out EV-DV earlier than expected.
Since Sprint has generally introduced new services only when its entire network is upgraded, a launch of EV-DV could mean that Sprint will offer its customers national broadband capabilities before its rivals.
By contrast, AT&T Wireless and Verizon Wireless have chosen to introduce their next generation of technologies market-by-market.
On Monday, Verizon provided the first update on its January announcement that it planned to extend its rollout of EV-DO, which so far is available in Washington and San Diego. The service will be available across 30 percent of its addressable market by year's end, executives said.
The company also announced where a major chunk of the US$1 billion it is investing in the upgrade will go: US$525 million to Lucent Technologies and US$167 million to Nortel Networks.
Comments will be moderated. Keep comments relevant to the article. Remarks containing abusive and obscene language, personal attacks of any kind or promotion will be removed and the user banned. Final decision will be at the discretion of the Taipei Times.