Australian cattle industry set to cash in on US misfortune
Australia's A$3.7 billion (US$2.73 billion) a year export beef industry is set to cash in after the US reported its first case of mad cow disease, industry experts said yesterday.
Taiwan, which has already announced its intention to temporarily ban beef imports from the US, wants to increase its imports of healthy Australian and New Zealand beef to make up the shortfall.
Importers in South Korea, Japan and Mexico have indicated they may follow suit and Australian exporters believe some of the other 15 countries which have also moved to ban imports of US beef may do likewise.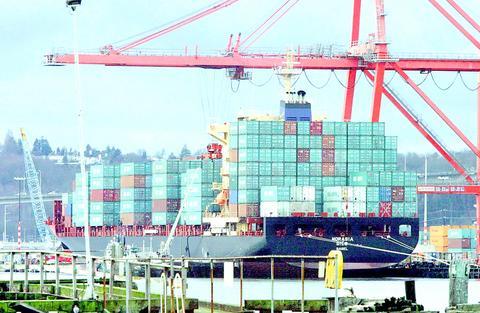 A containier ship is loaded on Sunday at the Port of Seattle, but it will contain no beef because of import bans implemented to contain mad cow disease, as it is headed to Asia. The US has lost 90 percent of its beef export business because more than two dozen foreign nations have banned the product.
PHOTO: EPA
West Australian Pastoralist and Graziers Association president Barry Court said while the case of mad cow disease is bad news for the US, it should drive up the price of Australian beef overseas.
"There will be a big demand, especially in America but [also] worldwide now for Australian beef, which is very disappointimg for the United States but a plus for us, especially with the free trade agreement due to be signed in the next few weeks," Court said.
Australia, which is among the countries which have already banned US beef products, hopes to complete negotiations for a free trade agreement before elections in both countries late next year.
Agriculture Minister Warren Truss says although there is a risk of a damaging international consumer backlash because of renewed fears of mad cow disease, bans on US beef will provide opportunities for Australian exporters.
Premium products such as hamburger beef for the Japanese market will obviously be in great demand, he said.
The US, which exports more than US$1.0 billion in beef to Japan alone, is also Australia's largest export beef market, worth about A$1 billion a year.
Japan and South Korea are Australia's second and third-largest export markets.
Richard Rains, chief executive of beef exporter Sanger Australia, said that since Christmas the company has enjoyed unprecedented demand from Japan and Taiwan, with Japan alone looking to more than double its order of beef.
"I would not be surprised to see the demand for Australian product increase if America is shut out of the market," Rains said.
Comments will be moderated. Keep comments relevant to the article. Remarks containing abusive and obscene language, personal attacks of any kind or promotion will be removed and the user banned. Final decision will be at the discretion of the Taipei Times.