Takenaka vows to clear bad loans
CABINET RESHUFFLE Economic and Financial Services Minister Heizo Takenaka kept his job yesterday -- and said he would move ahead with structural reforms
Heizo Takenaka was reappointed to his positions in charge of banking and economic policy by Prime Minister Junichiro Koizumi and said he'll push ahead with efforts to clean up US$384 billion of bad loans at Japanese lenders. \n"Bad loans have started to fall significantly," Takenaka told reporters in Tokyo after being reappointed financial services minister and minister for economic and fiscal policy. \n"It's necessary to continue pushing ahead with restructuring," he said. \nKoizumi reshuffled his Cabinet yesterday in preparation for a general election after keeping his post as head of the ruling Liberal Democratic Party (LDP) last Saturday. He named Sadakazu Tanigaki, a 58-year lawyer, to replace Masajuro Shiokawa as finance minister. \nThe appointments signal that Koizumi will take on opponents within his ruling party and fulfill two-and-a half-year old pledges to curb spending, clean up bad loans choking Japan's banks and take other steps to restart the world's second-largest economy after three recessions in 12 years, investors said. \n"Keeping Takenaka suggests that Koizumi is set on pursuing the structural reforms that he's made central to his policy," said Taiji Yoshida, who helps manage the equivalent of US$23.8 billion in assets at Yasuda Capital Management Co in Tokyo. \n"Now the onus is on Koizumi to actually carry out some of the policies that he has been advocating," he said. \n"Markets were afraid that reforms in the banking sector would be watered down if a conservative politician took over the banking regulator's job," said Nozomu Kunishige, a bank analyst at BNP Paribas Securities Japan. \nJapan's economy expanded at an annual rate of 3.9 percent in the second quarter, the fastest pace since Koizumi took office in April 2001, as Toyota Motor Corp, Sharp Corp and other exporters increased capital investment to meet growing demand for Japanese cars and flat-screen televisions in the US and other markets. \nTanigaki, currently in charge of the Industrial Revitalization Corp of Japan, must pursue two potentially contradictory goals, analysts said: curbing the developed world's largest public debt while also protecting a recovery from the nation's third recession in 12 years. \n"Koizumi has already mapped out the country's fiscal and economic policy and promised to keep spending tight, so there is little room left for a new finance minister to maneuver," said Akio Yoshino, who helps manage the equivalent of US$14 billion in assets at SG Yamaichi Asset Management Co. \nTanigaki will also direct Japan's currency policy. Japan sold a record ?9.03 trillion (US$80.5 billion) between January and July to stem the yen's strength and protect profits of exporters such as Toyota and Sharp, whose sales have driven the economic recovery. \nShiokawa cut spending on roads, bridges and other public works by 10 percent in the fiscal year that ended on March 31. The cuts angered LDP leaders who have long favored public works spending to stimulate the economy.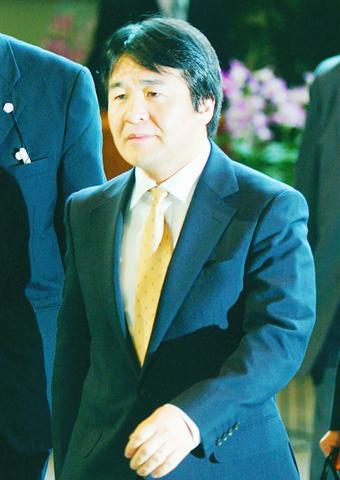 Japanese Economics and Financial Services Minister Heizo Takenaka, who retained both his key posts in Prime Minister Junichiro Koizumi's cabinet shake-up, arrives at the premier's official residence in Tokyo yesterday.
PHOTO: REUTERS
Comments will be moderated. Keep comments relevant to the article. Remarks containing abusive and obscene language, personal attacks of any kind or promotion will be removed and the user banned. Final decision will be at the discretion of the Taipei Times.