Monster.com's rivals get ready for an uphill battle
TOP RECRUITERS Despite the slow economy, one online job-finding company manages to make a profit while expanding overseas and absorbing key rivals
From the outset, Jeff Taylor has stopped at almost nothing to get Monster.com's name in front of the public. \nThe company's mascots -- colorful bug-eyed beasts with sharp teeth -- scream from the sides of buses, in subway stations, and on blimps. The chief executive himself has become known for his public stunts, including blimp water-skiing in response to a challenge from Virgin Group founder Richard Branson. \n"I believe enough in this brand that I'll put myself in front of it," said Taylor, a 40-year-old marketing mastermind who admits that delivering on his promise to Branson was not his "most relaxed moment." \nTaylor's aggressive marketing has helped make Monster.com the leading online recruiting site. The company is not only making money, it's even flourishing in the current slower economy, expanding overseas, and absorbing key rivals on the Internet. \nTMP Worldwide Inc, the New York recruiting firm that bought Monster.com about six years ago, credits the online job-recruiting service for fueling its growth. \nWhile many Internet companies are hemorrhaging money, Monster.com has been profitable for more than a year. In the second quarter, Monster.com contributed more than a third of TMP's commissions and fees, and posted an operating profit of US$36.1 million. \nStarting from a rudimentary job-listing board in 1994, Monster.com has expanded its offerings to include a resume database, searches for "prescreened" executives, career advice, and an automated recruiting Web-based software that filters candidates from a stack of resumes. \nTaylor likes to tell the story about how he once invited newspapers to join him on the Net. They never took him up on the offer. But now that the rah-rah Internet days that fattened newspapers are fading away, it looks like he is eating some of their lunch. \nA report last month by William G. Bird, a publishing analyst with Salomon Smith Barney, suggests that Monster.com is the leading or number two help-wanted franchise in the US, with as much as a 10 percent market share in the top 25 major markets. In highly wired cities like Boston, San Diego, and San Francisco, its market share is much larger. \n"While we do not believe newspapers face obsolescence any time soon, a more likely outcome is sliding market share followed by reduced ad pricing and margin compression," Bird wrote. "In many respects, the Internet represents a phantom menace to the newspaper industry." \nWhile some analysts believe Monster.com has become an unbeatable force in online job recruiting, not everyone agrees. Like other Web companies that soared to phenomenal heights, Mons-ter.com is watching its growth rate slow as the economy cools and the Internet matures, turning into an essential yet familiar technological tool. \nWith hiring slow and the short-term economic outlook uncertain, some corporate customers have avoided signing long-term contracts. That means Monster.com's days of triple-digit sales growth, which have been fueled by acquisitions, may be waning. \nIn the second quarter which ended onJune 30, Monster.com reported commissions and fees of US$142.2 million -- a 64 percent increase over the US$86.5 million in the year-earlier period. \nThe company makes most of its money by charging companies US$295 or more to place ads online. \nAt the same time, Monster.com faces increasing competition from newspapers, niche job sites, and companies offering recruitment management tools. \nCareerBuilder Inc, for one, is trying to play catch-up by creating more newspaper alliances. This year, the online job-search site backed by media giants Tribune Co. and Knight Ridder Inc added the St Petersburg Times, The Dallas Morning News, and The Providence Journal to its roster of newspaper partners. \n"What's happening is that a larger percentage of job listings are moving online," said Barry Lawrence, a spokesman for CareerBuilder, based in Reston, Virginia "Our newspaper partners are obviously aware of this. They are placing more money behind their online products." \nBut if newspapers truly wish to "squash the monster," they must pool their resources and become better online matchmakers for job seekers and employ-ers, Lawrence said. CareerBuilder executives, though, must convince the holdouts, which include The Washington Post Co, The New York Times Co, and Herald Media Inc. \nErin Purcell, executive vice president of Herald Media's digital unit, said there's little incentive to form alliances with other newspapers as long as stand-alone sites such as Herald Media's Jobfind.com, created in the mid-1990s, continue to grow. \nShe also says the vast majority of job searches are local, which makes national and international recruiting efforts too costly and time consuming for many companies. \n"These [human resources] people spend a lot of time searching," Purcell said. "Then, they find out that the person is not even willing to relocate or doesn't have the ability to work in the US." \nMany large employers agree. "The single biggest thing to deal with is the volume from the Internet," said Carl Lopes, employment vice president at Staples Inc, based in Framingham, Massachusetts "On one hand, it's wonderful. On the other hand, it's almost impossible to deal with." \nNew York Times Digital, the Internet unit of The New York Times, has not ruled out forming more partnerships with "companies that can add new tools and functionality to our classified sections," said Jason Krebs, vice president of sales for the online division. \nBut Times Digital executives also say it makes sense to grow the classified business by drawing on their base of high-end users, as well as internal "brick and click" advantages that give employers and job seekers the best of both the online and offline worlds. That combination means companies can attract "passive" job seekers who might be perusing the parent company's newspapers or surfing the publisher's Internet properties like NYTimes.com and Boston.com, said Martin A. Nisenholtz, chief executive of New York Times Digital. Last fall, The Boston Globe also introduced job site Boston-Works.com and its BostonWorks newspaper section. \n"The strength we bring is that we offer a suite of products in an integrated selling setting," Nisenholtz said. "Monster can't do that. No online-only job board can do that." \nMonster.com also faces challenges from a host of online niche recruiters such as Dice.com for high-tech jobs and digital services offered by BrassRing Inc, partly owned by The Washington Post, Tribune Co., and Gannett Co. Inc. Overwhelmed with Internet job candidates, companies like Staples have been turning to Waltham-based BrassRing for software that helps pluck the best candidates from piles of resumes. \nLopes, of Staples, said he has considered using a similar service offered by Monster.com but found that BrassRing better addressed his company's needs. \nEven so, Staples's experiences with Monster.com have been positive, Lopes said. Although Staples uses newspaper classifieds to fill most store jobs, listings for corporate positions already have migrated to the Web. Of 199 online-generated corporate hires last year, 123 came from Monster.com. \nMonster.com's Taylor says he is not concerned about the competition -- nor the raised eyebrows that has followed the executive known for his informal demeanor and public persona. \nAlthough newspapers say that Monster.com's weakness is its inability to serve local markets, Taylor disagrees with this assessment. "Newspapers said, `Monster is not a threat to us because it's national,'" he said. "But Monster is made up of hundreds of micro-markets." \nMeanwhile, the company is shoring up areas of its service that users have criticized. Monster com is policing classifieds to ensure they are up to date and reflect the advertised positions, a spokesman said. \nLast fall, it introduced ChiefMonster, which includes select and screened executives at the vice president level and above.Monster.com's acquisition spree isn't over, either. Taylor is trying to make good on his promise of making Monster.com the "lifelong career and information resource." \nThe company has purchased Jobline International AB of Stockholm for a piece of the European market, job-search site FlipDog.com, and college site FastWeb. It also plans to devour top rival HotJobs.com later this year for about US$460 million in stock. \n"The idea is to introduce the Monster brand earlier and earlier in people's lives," Taylor said. "And we want to develop that relationship throughout their career planning."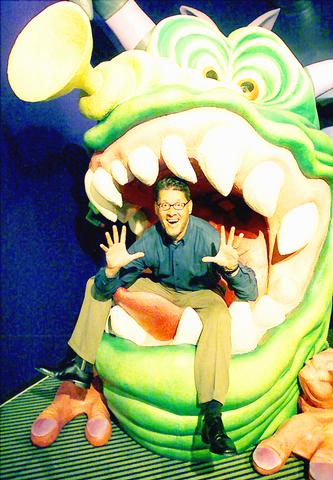 From the outset, Jeff Taylor, chief executive at Monster.com, has stopped at almost nothing to get his company's name in front of the public. Taylor with the company mascot at corporate headquarters in Maynard, Massachusetts.
PHOTO: NY TIMES
Comments will be moderated. Keep comments relevant to the article. Remarks containing abusive and obscene language, personal attacks of any kind or promotion will be removed and the user banned. Final decision will be at the discretion of the Taipei Times.