ISS welcomes its first astronauts from Saudi Arabia
A SpaceX capsule carrying two Saudi Arabian astronauts on Monday docked with the International Space Station (ISS), as part of a private mission chartered by Axiom Space.
Rayyanah Barnawi, a scientist who became the first Saudi Arabian female to go into space, and Ali al-Qarni, a trained fighter pilot, are the first two people from their nation to fly to the orbital outpost.
"Greetings from outer space, I'm here not only representing myself, but representing the hopes and dreams of everyone back home, everyone in the region," Barnawi said.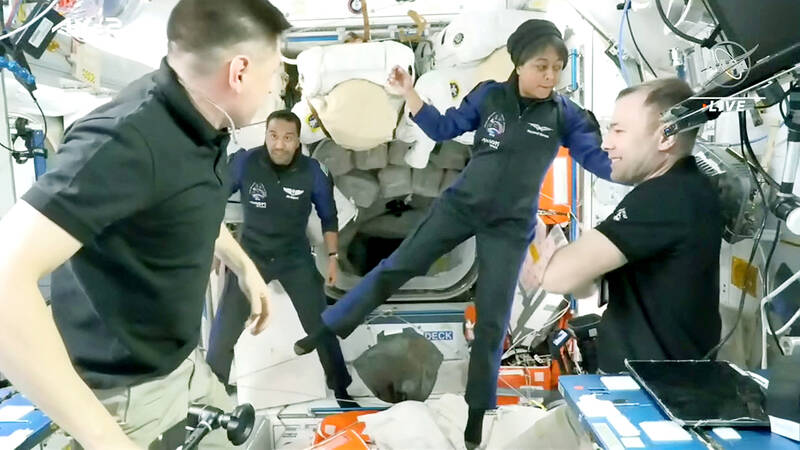 Ax-2 mission specialists Ali al-Qarni, second left, and Rayyanah Barnawi, second right, arrive on the International Space Station on Monday.
Photo: NASA TV / Reuters
READY TO WORK
"We really are excited to be here," added mission commander Peggy Whitson, a former NASA astronaut who made the voyage three times in the past. "It was a great launch, a great ride, we had a lot of fun on the way up and we're really excited to get a lot of work done up here."
The fourth crew member is US businessman John Shoffner.
About two hours after docking, the quartet entered the ISS, where they joined the seven astronauts — three Russians, three Americans and an Emirati — already on board.
The SpaceX rocket blasted off from Florida on Sunday and the trip to the ISS, which orbits about 400km above the Earth, lasted about 16 hours.
SPACE ECONOMY
The mission, named Ax-2, is the second fully private mission to visit the ISS.
The members of Ax-2 are to stay about 10 days and carry out 20 experiments.
NASA is trying to seed a commercial space economy in the region of space known as low Earth orbit, allowing it to focus its own energies on missions deeper into the solar system and beyond.
The Ax-1 mission launched in April last year, with the seats for three private astronauts accompanying an Axiom-employed astronaut reported to cost US$55 million each.
The cost of seats for Ax-2 has not been disclosed.
Comments will be moderated. Keep comments relevant to the article. Remarks containing abusive and obscene language, personal attacks of any kind or promotion will be removed and the user banned. Final decision will be at the discretion of the Taipei Times.