Thai reform plans do not mention insult law
An alliance led by Thailand's progressive Move Forward Party hopes to draft a new constitution, end monopolies and allow same-sex marriage, among other aims, according to a draft of objectives that made no mention of a divisive royal insult law.
The opposition Move Forward and Pheu Thai Party dominated last week's election in a resounding defeat of conservative parties backed by a royalist military that has controlled the government since a 2014 coup.
They are seeking to form a coalition government with six other parties, all of which were due to sign the agreement on their objectives yesterday.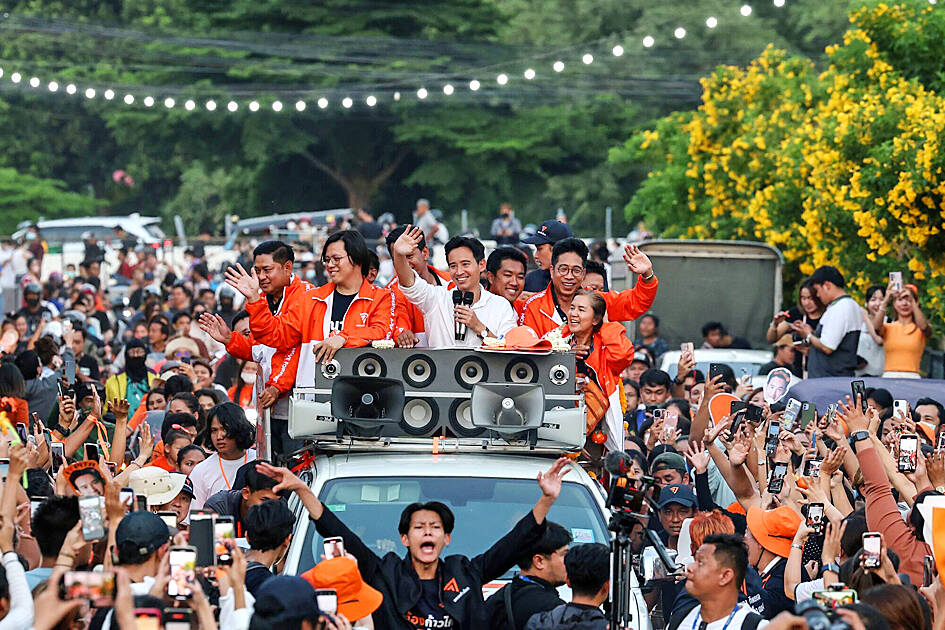 Move Forward Party leader Pita Limjaroenrat, center in white, greets supporters during a rally in Bangkok on Thursday.
Photo: Bloomberg
The signing takes place on the ninth anniversary of a military coup against a democratically elected government that ushered in phase of military rule that the winners of the polls on Sunday last week hope to end.
Move Forward was the surprise election winner, emerging with the most seats with the help of young voters excited by an agenda that puts the party at odds with some conservative big business interests and institutions, including a plan to amend a lese majeste law that punishes perceived insults of the monarchy with long jail sentences.
Other alliance members have had reservations about tampering with that law.
Asked about the preliminary list of proposals drawn up by Move Forward and circulated among all prospective coalition members, senior Move Forward official Bencha Saengchantra said that alliance members were in agreement on 80 to 90 percent of the plans, "but it can still be adjusted."
The party had on Friday said that lese majeste would be included only if the eight parties backed it.
Bencha said that Move Forward would seek amendments in parliament independently.
The draft includes most of Move Forward's flagship polices, such as a push for decentralization of power and budget, and to "cancel monopolies and support fair competition in trade in all industries."
It also takes aim at the military, calling for an end to mandatory conscription and reform of the armed forces as well as the justice system and civil service, "corresponding with democratic principles with emphasis on transparency, up-to-date effectiveness and prioritizing the public interest."
Thailand's military has staged 13 coups since the end of absolute monarchy in 1932 and confrontation between the generals and civilian politicians and activists has been at the heart of recurring instability over the years.
The alliance would also seek to reform welfare and education, a balanced foreign policy and pursuit of laws to both control and endorse the use of cannabis, which Thailand legalized last year, despite confusion over regulations.
Comments will be moderated. Keep comments relevant to the article. Remarks containing abusive and obscene language, personal attacks of any kind or promotion will be removed and the user banned. Final decision will be at the discretion of the Taipei Times.